AdultTime Review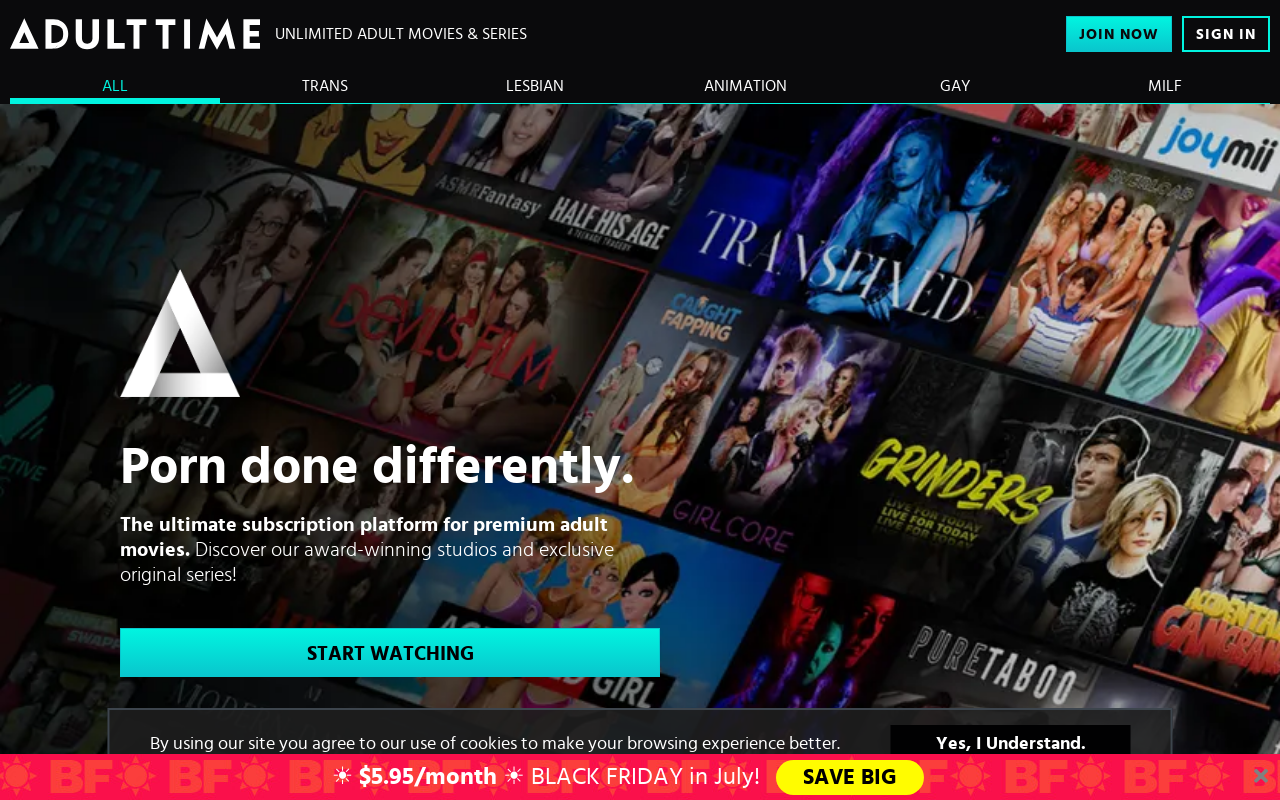 Fetish Dude gives his opinion on AdultTime
Out of all the big sites that people talk about, AdultTime is probably the newest. I mean, it released in 2018, but when you consider that a lot of its competition is close to two decades old (and some even older than that), it goes without saying that the growth of this place has been pretty impressive. What's brought along this growth, you ask? It's likely the fact that when you want quantity, they're here to deliver. No matter what niche you're into, there's something for everyone! Anyway, I want to be thorough with my analysis, so please read down below and I'll give you my full thoughts and feelings on what this place has to offer.
First thoughts on AdultTime
So I want to let you know ahead of time that while there are some original releases here, a lot of what AdultTime has is licensed material from third-party studios – many of which you're probably familiar with. How many porn scenes does it have in total, you ask? Well, I did a rough estimate and it would appear to be just over 60,000. Yeah – that's many years of porn if you watched it all back to back, so I'm pretty sure that anyone reading this will never get even close to exhausting what's available here. As you can probably imagine, they also add new content to their archive multiple times per day too – check back every 24 hours and you'll be handed quite the assortment of goodies.
AdultTime isn't exactly selective when it comes to content: especially when you look at the niches that they're able to provide content for. It really does not matter what gets you hot under the collar, there's something for everyone here at AdultTime. Love all-girl adventures? Then their lesbian flicks are the obvious choice. Perhaps you're more interested in older ladies? Visit their MILF catalog and have fun with these scenes that feature hot mature women! Some of the studios that you'll find who have contributed content here include Pure Taboo, Burning Angel, Fantasy Massage, JAV Hub and more. Like I said: no matter what puts blood between your thighs, it's going to be provided here at AdultTime.
A note on AdultTime's quality
Since the content hosted here comes from third-parties, it's not always as simple as saying that all of the scenes here are of a certain resolution. What I can promise you is that there are 4K releases, so if you want the very pinnacle of quality – this place delivers. At the very least, you're going to get your hands on 1080p downloads, though you can choose to stream if you want the convenience of that. I found that the buffering was instantaneous and when I did download a release, it came at a speed of over 12 MB/s. I could have probably gone quicker, but that's the limit of my Internet connection! All videos are delivered in MP4 and there are some photo sets too, although these come in such a variety of sizes that I won't bother covering those so much. They're zipped for your convenience though – sweet.
Fantastic website design
I do mention design in passing quite often, but rarely do I give an accolade to a destination for making it easy to get around. In the case of AdultTime, I think it's warranted. Look: they're sitting on such a huge cache of material that they really need to make accessible, and that's exactly what they've done. I had no issues finding scenes from specific studios, within various categories or just starring my favorite babe. Speaking of pornstars: how about I tell you some of the girls that you'll find in the scenes hosted at AdultTime?
Some of the girls that you'll see here include the likes of Kiara Cole, Alina Lopez, Aibgail Mac and Angela White. I really don't think it matters who you're interested in – because they've cast their net wide in terms of accessing content, you'll see them at AdultTime without a shadow of a doubt. The site also makes it convenient and simple for you to filter through the uploads they have for each pornstar – this is exactly what I want when it comes to this type of hub: easy access to the best porn from my favorite girls!
Other AdultTime details
I did say earlier that they update daily: it's not just with a few scenes, though. In fact, in the last 24 hours alone, they've added 50 videos. That's a huge quantity of content, and it's all material that has been shot recently too! You cannot say fairer than that: especially when it comes from world-class studios that know how to make a skin flick. They've also got some behind the scenes content if you're interested in that, as well as a blog where they discuss new details about the platform and detail some big channels that are added into the mix.
What about downsides? Well, if you want to download content – you do have to pay extra. You're also limited to 300 GB per day, but honestly, who's grabbing that much content in the first place? It's quite generous, all things considered. I also couldn't find a way to just look at the originals AdultTime had put up – there's the chance that some porn hosted here is really awesome, but since it's only attached to their studio, it's difficult to find clearly.
AdultTime: my final word
Did I have a good time at AdultTime? You bet your ass I did! Look: if this site isn't able to satisfy your intense desire for hardcore pornography, I don't think any spot on the Internet is going to be able to do it. They've got themselves an incredible hub and I'm convinced that you're going to feel the same way I do. Check out the tour but honestly – just try it out for a month and if you regret the decision, Fetish Dude will give you a blowjob. Okay, maybe I won't – but I really do stand behind this platform and think that the deal is simply awesome. Thanks for reading my AdultTime review: see you soon and happy hog squeezing!
Huge content archive
50+ daily updates
Fast servers
4K content supported
Downloads cost extra
300 GB daily download limit