RealityKings Review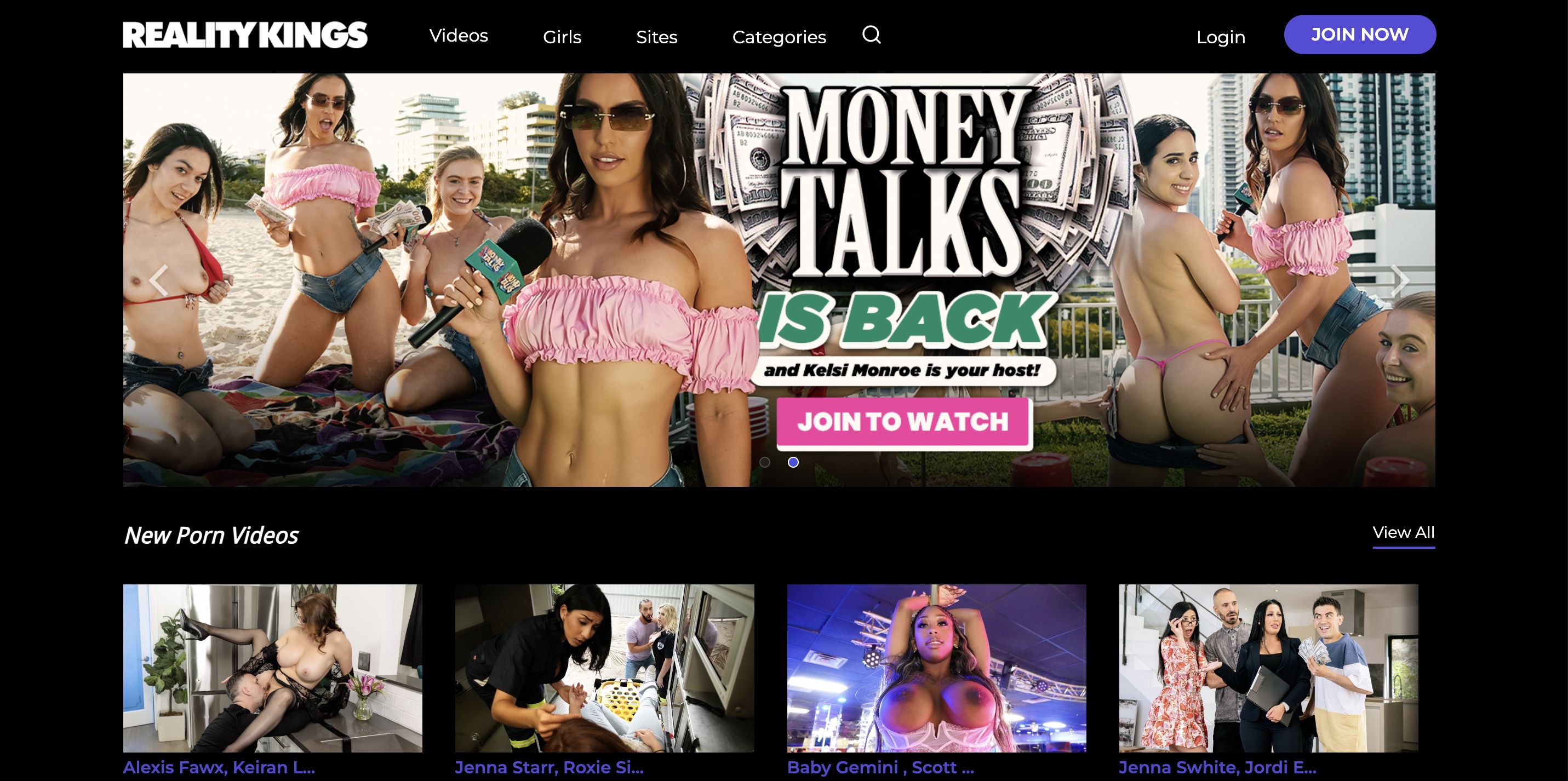 My visit to Reality Kings
Fetish Dude knows a lot about RealityKings: believe me when I say that this portal has been around for a very long time, and they're known for their ability to produce some truly impressive hardcore content. In fact, RealityKings first launched way back in 2006, so it's close to two decades of smut creation that the guys here are all about. Chances are you've seen some of their content before – it's just that great. Anyway, I want to give you a complete look at what's on offer here, so if you want the full story, keep reading. Fetish Dude is ready to bust this puppy open so you can get a good look inside.
First details on RealityKings
So, what is RK? Basically, it's a website that's populated with thousands of exclusive porn scenes – all of which they've produced themselves. I'd go so far as to call this place a megasite, because they've done some truly incredible things since they first begun and yeah, the content numbers here are just wild. Now, when you log in, you'll be presented with the latest uploads that have been added to their content library. Currently, you'll find around 10 new uploads on a weekly basis: that's a great rate, and with at least one new smutty upload per day, you're going to have a whale of a time here, even if you're an XXX content addict.
The overall design of the member's area is nice and clean: they're doing a good job with regard to navigation and ensuring that you can get your hands on everything that you need. I do want to let you know ahead of time that you can download content from RealityKings, but it costs you a little bit more on the membership. I guess a better way to think about it is that if you just want to stream, you can do so – and it'll save you a few bucks! Fetish Dude needs to be a bit more of an optimistic person: I'm working on it, okay? Just like I'm working on my cock watching these incredible porn videos that RealityKings has put out.
Studios at RealityKings
Alright: let's go ahead and talk about the channels here, which are essentially sub-sites that you get access to with your membership. It's all niched in such a way that the character, or the action, falls within a particular studio's grasp. Let me give you an idea of what I mean: RK has a studio called We Live Together, and it's completely devoted to group sex between girls. That's right: if you've ever wanted to watch lots of ladies get it on with one another, there's no better spot. To date, We Live Together has curated over 600 scenes, and they continue to publish some truly world-class lesbian gangbang scenes that I know for a fact you're gonna cream yourself over.
Other studios here include Teens Love Huge Cocks if you like barely legal brats getting dicked down by hung studs, MILF Hunter for those who are into older babes and Money Talks – a studio that's all about giving everyday girls some monetary motivation to part with their clothes and fuck. Suffice to say, there's something here for everyone and since I'm Fetish Dude, I really do like this approach to adult content access. What more could a punter want, right? You're spoiled for choice at Reality Kings – whatever type of hardcore content you could possibly want, it's all here for you to beat your meat over!
Details on the RealityKings content
At the time of writing this review, RealityKings had just passed the 10,000 scene mark. Pretty damn impressive, right? And, given that each one is around 30 minutes in length, that's 5,000 hours of viewing material – at least. I don't know about you, but I'm pretty sure I'd struggle to even watch 500 hours of porn from a single source in a year. Maybe you're more of an addict than me? Do let me know: I love hearing about all of my freaky readers out there.
When it comes to objective quality, content can be streamed in 1080p resolutions and at a bitrate just above 10 Mb/s on average. Sadly, it doesn't appear as if Reality Kings has any 4K releases – yet. They might start to record in a better resolution in the not too distant future, but it appears that when it comes to this leading reality-style megasites, Brazzers is the one that's going above and beyond for quality. As mentioned earlier: you can download content here, and the servers were good enough to utilize the full 100 Mb/s that I have available. Given these are 1080p releases, you're going to get them in just a few minutes with a good connection.
The stars of RealityKings
I think it's always a good idea to talk about girls who appear on these types of websites, so let me go ahead and do exactly that! Some of the pornstars who have scenes on RealityKings include the likes of Angel Young, Little Angel, Roxie Sinner, Luna Star and Jenna Foxx. Some of these girls have a huge number of scenes and yeah – that's pretty fucking awesome if you ask me. A girl like Lulu Chu has well over 30 releases, so I wouldn't be surprised if your favorite star had a decent chunk of content on RK for you to jerk yourself silly over.
A final say on RealityKings
Did I have a good time inside the member's area of RealityKings? Yeah, absolutely – and I think that you're probably going to feel the same way when you check this spot out. They've got a huge selection of adult releases, it updates often with fresh flicks and you can watch some of the best stars around get fucked in full HD. I wish they had 4K scenes, but what you get with a membership as-is is more than enough. So, this hub gets Fetish Dude's seal of approval – plenty of world-class fuckers here getting down and dirty. Just the way we like it!
Over 10k videos
Fast download speeds
Daily content updates