EvilAngel Review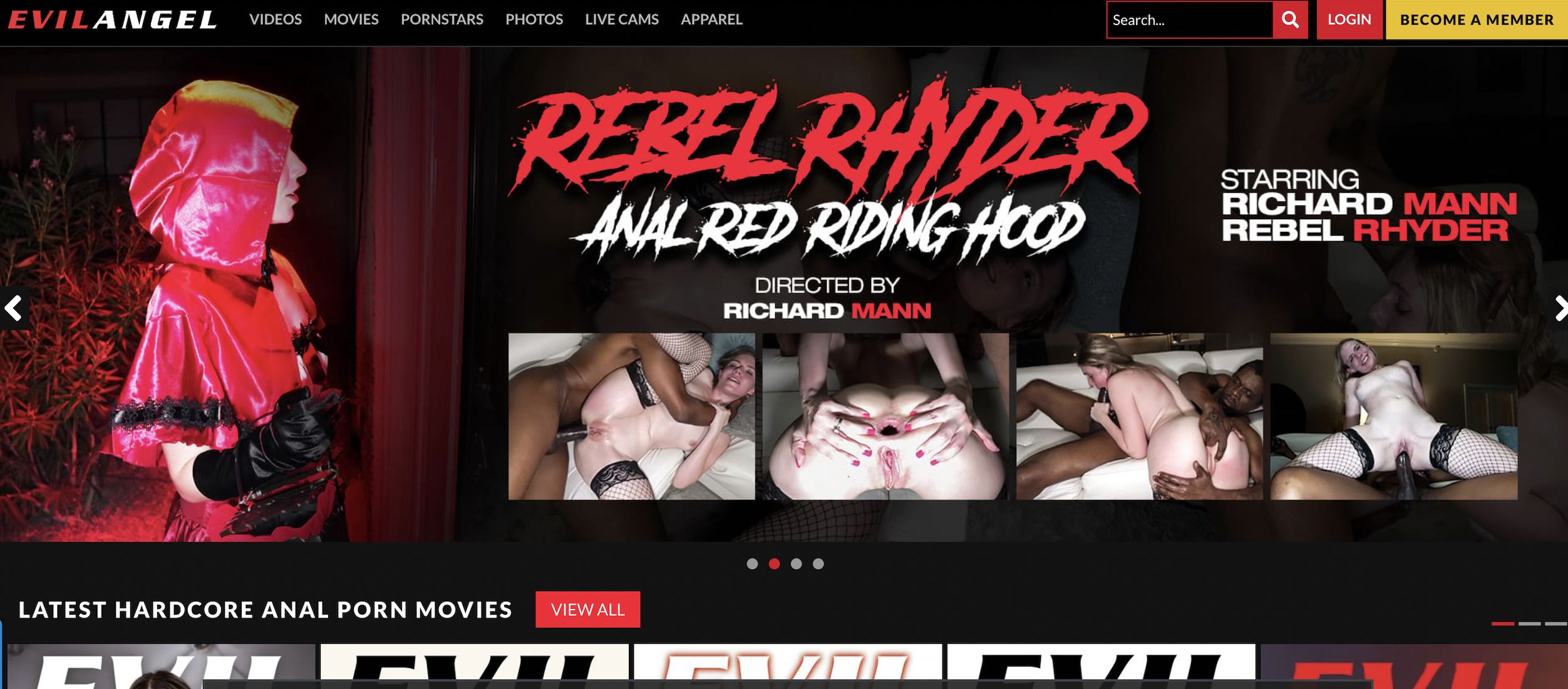 Evil Angel: let's review it!
I tend to go into websites with a relatively neutral position, but I have to say: I've spent some time inside Evil Angel in the last few months and yeah – it's really awesome. This website started around 2 decades ago and their focus for content is quite a unique one. See, they're obsessed with bringing kinky smut that's almost always focused on anal sex. Additionally, they like their talent to be hot as fuck – big fat asses, nice hips, delicious lips and whatever else. It's a truly impressive spot and I'm looking forward to providing you with a full written review. So, with that in mind – let's get down to business and explore what Evil Angel is all about.
The EvilAngel member's area
What's it like inside EvilAngel? Overall, I'm impressed at the design – it's relatively convenient to get around to all of the key locations and the header navigation makes a lot of sense. On the homepage, you'll see the latest uploads that they've added to their archive. What's sweet about EvilAngel is that despite having a very focused genre – they upload at least one new scene on a weekly basis. I'd estimate that around 12 new releases are available here every week, so that's a decent chunk of material and yeah – I think you're going to love it if seeing the latest babes getting down and dirty is your cup of tea. I always give credit to spots that update with new releases – so many sites no longer do this, and it's a damn shame. Don't worry though: EA is bringing the freshness, that much I can guarantee!
Looking at EvilAngel's studios
Content here is segmented into various studios as well as DVD-style releases. This is a great way for you to find something that caters toward your specific erotic interests. For example, there's Hookup Hotshot eGirls if you want to see tattooed, slutty girls with piercings and a love of submission taking hot cock. You've also got Rocco's Sex Clinic: this guy loves group sex and most of the uploads here have lots of holes and cocks to go around! In terms of quantity, I'm pleased to report that EvilAngel is absolutely killing it: they just passed 20,000 uploads and they're exclusively made by this studio. That means that you won't find these full-length releases anywhere else on the Internet!
Objective quality analysis at EvilAngel
Look: if you go back to the scenes they put on the Internet a decade ago, it's not going to be the highest in terms of quality. They made the switch to HD relatively early and that's a good thing, but the real star of the show when it comes to the production team is the support for 4K uploads. You're going to be able to watch a hell of a lot of hardcore material here in 4K – since many rival studios are capped at 1080p, this gives an obvious edge to EvilAngel. Believe me: Fetish Dude is really quite serious when it comes to 4K being the new standard for porn sites. It used to be 1080p and that was acceptable, but even 1440p monitors are relatively mainstream now – these sites have to start offering content that I'm going to be impressed by. If you can't do that – well, you're not going to get rated so highly by me. Sorry, those are just the facts!
Pornstars at EvilAngel
I do like to talk about pornstars, so how about I mention a few of the professional fuckers that you'll be able to see perform at EvilAngel? There are a lot of girls here – close to 4,000 have profiles on the website, in fact. Names that you'll probably be familiar with include Adriana Chechik, AJ Applegate, Jada Stevens and Abella Danger. What's cool about the pornstar section of the website is that you're able to further refine by category and they have a whole host of them for you to check out. We're talking ass to mouth, airtight, high heels, JOI and golden shower to name but a few. Yeah – they've got plenty of wild girls here at EvilAngel who are willing to do some very crazy things in front of the camera. It's just as well that they managed to record all of it for us horny fucks to beat our meat over, right?
Other thoughts on EvilAngel
Since they have such a huge amount of content, I do appreciate the fact that navigation is relatively simple and they're packed with some truly epic scenes. The update schedule is tight too – being able to come back every day to find at least one new upload is what Fetish Dude loves. The download servers are speedy and I do appreciate that – the quicker I can get my hands on the good stuff, the better.
In terms of negatives, you are capped at how many videos you can download. It's 300 GB in total, but it resets after 24 hours so, not the end of the world. Who's grabbing that many scenes anyway? It works out to be close to 60 4K releases – there's something wrong with you if you're grabbing that much smut! EvilAngel could probably do with some better biographies on the pornstars too: there's very little information on them, but again – the tagging is great, so if you want to find scenes of your favorite girl doing particular things, you can.
A closing statement on EvilAngel
Am I suggesting that you visit the tour of EvilAngel and consider signing up? Of course I am. The fact of the matter is that there's a decent bank of adult content here and you can always come back whenever you want to jerk your sausage. I had a fantastic time looking through the full archive of material offered by EvilAngel and I think anyone with half a brain would feel the same way. There are so few downsides and yeah – whatever you want, it's likely going to be here. Anyway, that's it for this review – thanks a bunch for reading and please, go check out Evil Angel for yourself. This review is 100% honest: you're going to love what you find.
Daily updates
Fast download speeds
Great channel niches
300 GB daily download limit
Average model biographies