XNXX Review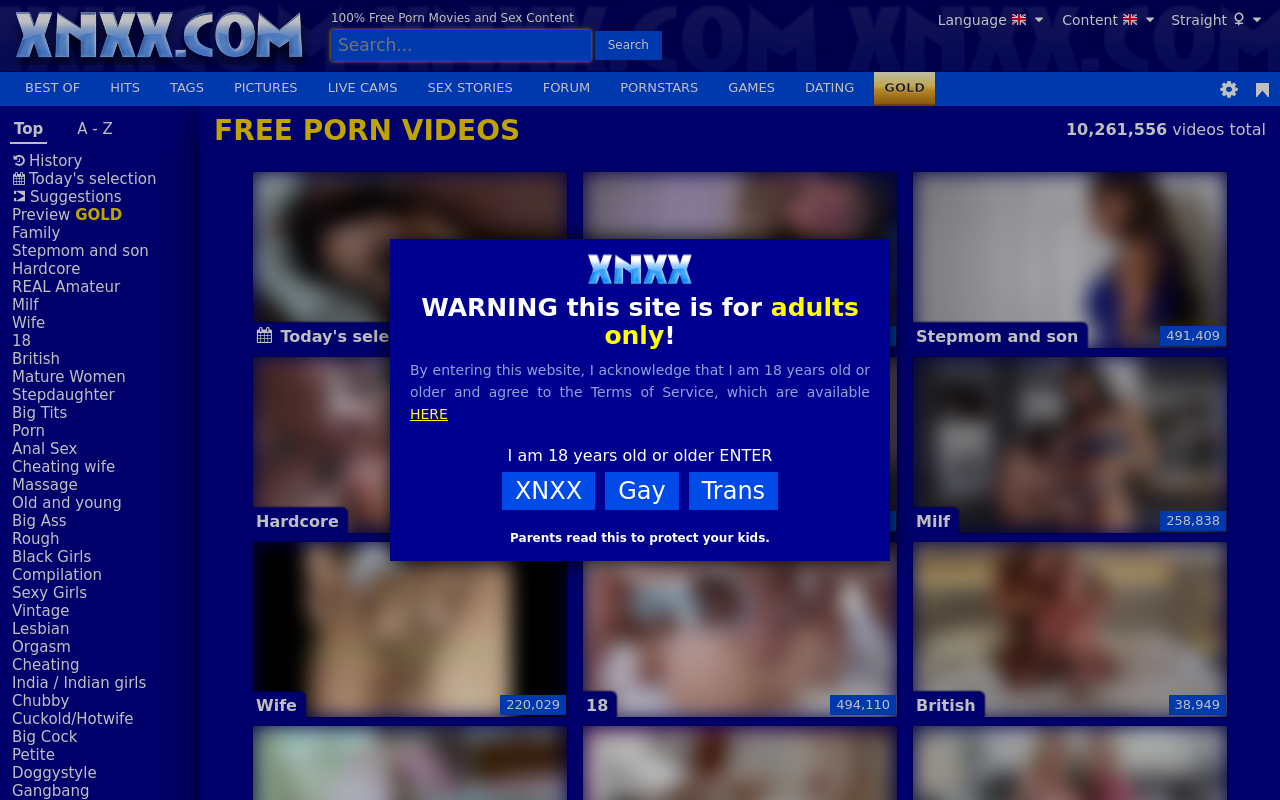 Fetish Dude reviews XNXX
While a lot of tube sites all look the same and don't have too much by way of design differences, I think that most people who've visited XNXX in the past are pretty familiar with this place. The reason owes to the fact that they have one of the worst color schemes around – it's heavily blue and uses white as text. It's not entirely clear what made them go down this road, but here we are! Turns out that XNXX is an incredibly active destination for erotic videos though, so I'm keen to head on over for the purposes of review. Want to find out more? Continue reading – I'll give you the full story.
First thoughts on the XNXX homepage
So from the get go, I want to talk about the fact that when you visit XNXX for the very first time, you're presented with a list of niches on the homepage as opposed to videos. I'm not entirely sure what the purpose of this approach is, but as someone who's heavily invested in pointing people toward the erotic material they want, I guess it's fine. The niches that you'll find on offer from the homepage include Asian, anal, mature, amateur, vintage, teen and so on. Right at the top of the homepage, they've also got a counter for the number of scenes inside: can you believe that these dudes are sitting on 8.5 million uploads? It's an absolutely insane amount and Fetish Dude is pretty confident that very few people will even be able to make a dent in the archive. Suffice to say that if you're looking for a place that absolutely kills it in the quantity department, XNXX is it. They've got the huge database of smut that's going to make you bust nuts all over the place!
Exploring the pornstars on XNXX
While sometimes it's nice to go ahead and look at specific niches, you can also browser material from XNXX with a direct focus on the pornstars that've featured in the productions. This is an interesting approach that I think a lot of people are going to love. It really allows you to get to the bottom of your interests and get your greasy mitts on the best broads in the business. The pornstar page layout shows you what I assume to be trending chicks, although you can see all of the girls they've got who're popular on the left-hand side of the page. Names here include the likes of Foxy Di, Sadie Pop, Brianna Love, Riley Reid and Alex Black. They've even got a few categories for celebrities too, so if you want to check out Iggy Azaelea or Kim K, you can do that with relative ease.
After clicking on the pornstar of your choice, you'll be presented with a list of scenes that they've appeared in, which I think is sorted by default based on a combination of rating and reviews. Sadly, it's not possible to organize the XNXX library that you come across by any other metrics – this really sucks, and I hope that in the future, XNXX decides to introduce a lot more flexibility when it comes to giving their users access to the best material out there. When some pornstars have over 1,000 uploads, you really don't want to be manually going through them all one by one when it ought to be as simple as clicking a button to see what's the best in slot.
The quality deal at XNXX
One interesting feature that I found here was that in each of the scene preview panes, you've got your standard porn thumbnail, title, length and rating metrics, but XNXX also offers you a quick look at the highest resolution format of the video that they have available for you to watch. This is great, because believe me when I say that there's a big difference between seeing a porn flick in 360p as opposed to 1080p. It's also possible to use the settings wheel in the top right-hand corner to increase the size of the thumbnails (or decrease them, if you really want to). This is an interesting approach and I think that a lot of readers are going to like the levels of customization that this affords them. Don't go thinking that XNXX isn't modern – although the design is ugly as sin, they have a pretty good grounding when it comes to offering access to the best of the best.
Some sex stories at XNXX
So it turns out that as well as having a lot of videos here for you to masturbate over, XNXX also has a bunch of erotic texts that you can check out in the 'sex stories' section. Do note that this isn't a locally hosted collection, but rather redirects you to a place by the name of SexStories. It's still very much owned and managed by the XNXX crew though: that much is obvious because it's still got the blue theme! It would appear that there are just over 30,000 stories here for you to read, all of which are 100% free to check out. Lots of niches, including BDSM, blackmail, mind control, Latina, lesbian and incest. Pick your poison and you're going to get a hell of a lot of erotic storytelling on the other side. This is a nice bonus to a large collection of porn videos, that's for sure!
My XNXX conclusion
Fetish Dude doesn't think that XNXX is the best tube around: it has clear issues and I think that even they'd agree in terms of functionality, they're lacking quite a bit. Still, this is a good alternative to the bigger places since they've got a huge library of porn for you to look at. The quality metrics displayed on the archive pages is a nice touch too: I wish more tubes did this! Anyway folks: I think that Fetish Dude has just about finished up everything that he wanted to say on this particular topic. Thanks for reading and if you want information on more great tubes, check out my category devoted to the topic!
Shows scene resolutions
Huge porn video archive
Free bonus sex stories
Ugly color scheme
No advanced sorting