xHamster Review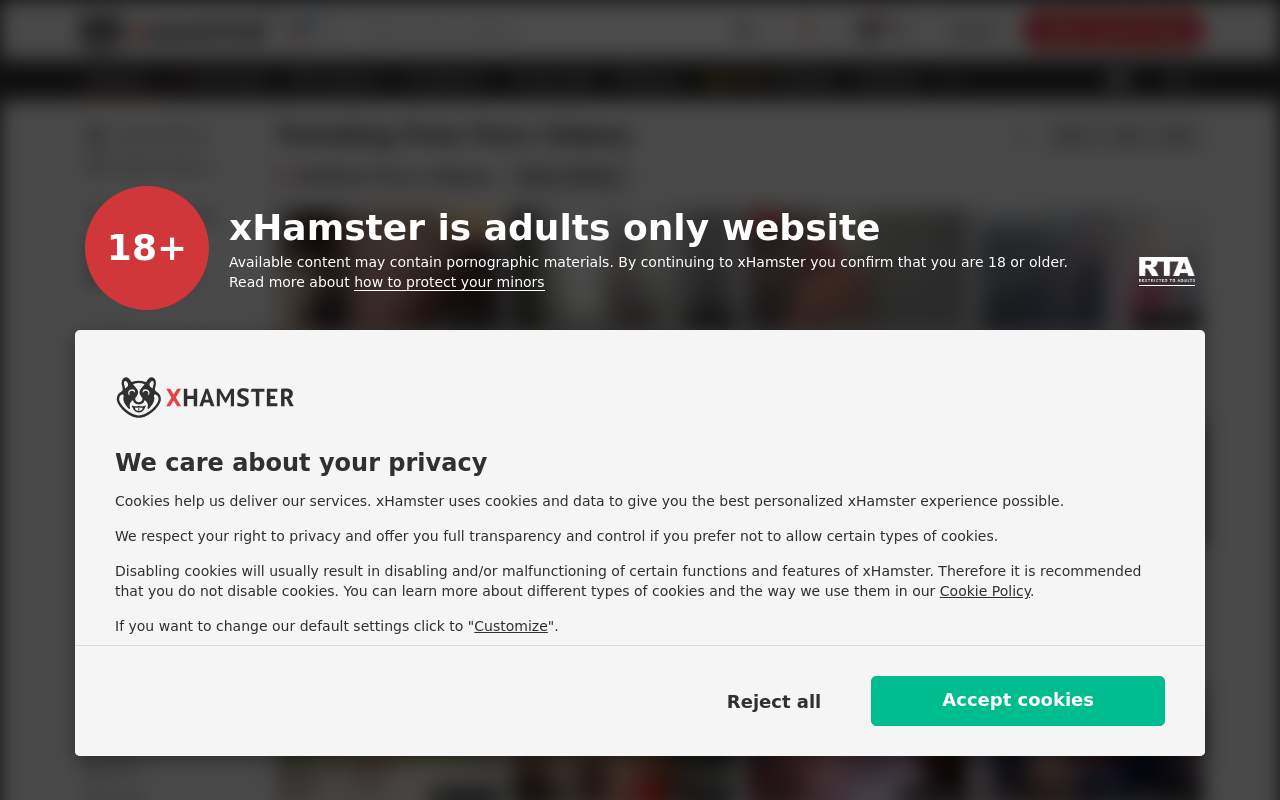 Fetish Dude: my review of xHamster
Now I think we all know that when it comes to accessing porn online, tube sites are some of the best places to go for the content that we want. Today, I'm going to be looking at a place that gets a bunch of attention and clicks for offering what they claim to be the biggest, best collection of XXX videos around. Now I'm not going to pretend that I haven't visited xHamster before, but this isn't my daily driver when I'm in the mood for some wild action. As a result, I want to go ahead and write up a full review on what's offered here – so let's do exactly that!
The homepage of xHamster
The first thing I'm going to do whenever looking at a tube website is inspect the homepage, since we can learn a hell of a lot when coming to a spot like this. The first content pane area that you'll come across is 'hot porn videos', which I'm guessing shows you the best of the latest uploads, similar to the style that Reddit has adopted: you want to see what's great and what's new, right? Note that in this section, you've mainly got full-blown HD clips from big ticket studios, although you will also find some amateur uploads from time to time. In the top right-hand corner, you can actually flick over to only display content on the homepage which is available in HD, 4K or VR. Go right ahead and decide what you want – it's pretty cool how seamlessly the homepage flicks over to give you what you want.
Going further down, you'll see the latest clips added to the archive, although I think that this is also based on a verified system, as user uploads didn't seem to get a listing here. One cool thing about xHamster is that they also have country-based preferences, which you're able to change! This means that you can go ahead and see what's popular in Italy, France, Canada and Australia all with the click of a button. Hell, they've even got data on the preferences of Pakistanis, so if you want to see what those folks are jerking off to, now you can!
The category situation at xHamster
Now there is a header dropdown that you can utilize if you want to look at specific niches, but it's also possible just to utilize the sidebar on the homepage, which I think is pretty cool. Anyone who's hungry for standard genres is going to be covered here, with sectional support provided for anal, ebony, blowjob, threesome, MILF and massage porn to name but a few. When you click in a category, xHamster will then give you the ability to sort based on a couple of metrics. The default is 'featured', although you may want to go for newest or best if that's your cup of tea. Again, just like the homepage, it's possible to go ahead here and filter out material that isn't HD, 4K or VR. They don't have a huge amount of virtual reality content just yet, but the fact they support it in the first place is pretty cool. I think we can all rest assured that going forward, xHamster is going to adapt to the industry and bring us the juiciest porn in whatever format we demand.
xHamster : channels for studio content
If you hit the 'channels' link right at the top of the website, you'll be presented with content that comes from the most popular studios out there for professional porn. You'll likely have a history with these places, since the names include the likes of Family Strokes, Exxxtra Small, Moms Bang Teens, Kink and Sis Loves Me. I don't want to constantly repeat myself, but yeah: the same sorting features and filtering options are offered for the channels, so that's quite cool. Plenty of these channels also have a huge amount of uploads. Reality Kings, for instance, is sitting on 1.9K uploads. That's a huge quantity of material! Most of it is also available in HD too, so it's pretty clear that xHamster is making moves when it comes to giving people the very best in adult material.
Exploring xHamster's pornstars
For a lot of people out there, access to the best pornstars in the business is what they want. The good news for you is that xHamster has a full database devoted to a lot of the biggest names in the business. We're talking about Piper Perri, Cory Chase, Eva Notty, Lisa Ann, Kendra Lust and one of my personal favorites: Dakota Skye. They've covered a huge number of different niches here for chicks too, so if you want to see who's big into femdom, gangbang or Asian action, that's pretty easy for you to do. Note that xHamster also documents a few of the amateurs that they've worked with over the years. Many of these ladies have official profiles on xHamster and upload exclusive material. It's quite a cool deal and while they don't have as much verified homemade smut as PornHub, they're still giving the titans a run for their money. So, all in all, I think that the model angle of xHamster is more than taken care of.
Wrapping up the xHamster analysis
I don't think you really need Fetish Dude to tell you that this is a great project and it's well worth checking out if you want access to free porn videos. xHamster has been around long enough and you likely already know what they're capable of offering. Sure, it's not perfect, but what is in this business? Fetish Dude doesn't want to focus on the negatives when in all likelihood, you'd spend 15 minutes here and cum incredibly quick. I'm confident that moving forward, most people who click on the link and go visit xHamster are going to love it. This only gives me one option: to openly endorse the tube site! Stop wasting time and go get the XXX videos that you want: xHamster has hundreds of thousands for you to check out and enjoy! Thanks for reading yet another Fetish Dude tube review: happy fapping.
Free porn video database
Lots of categories
Great 4K quality filter
Some adverts
Limited extreme niches