XFreeHD Review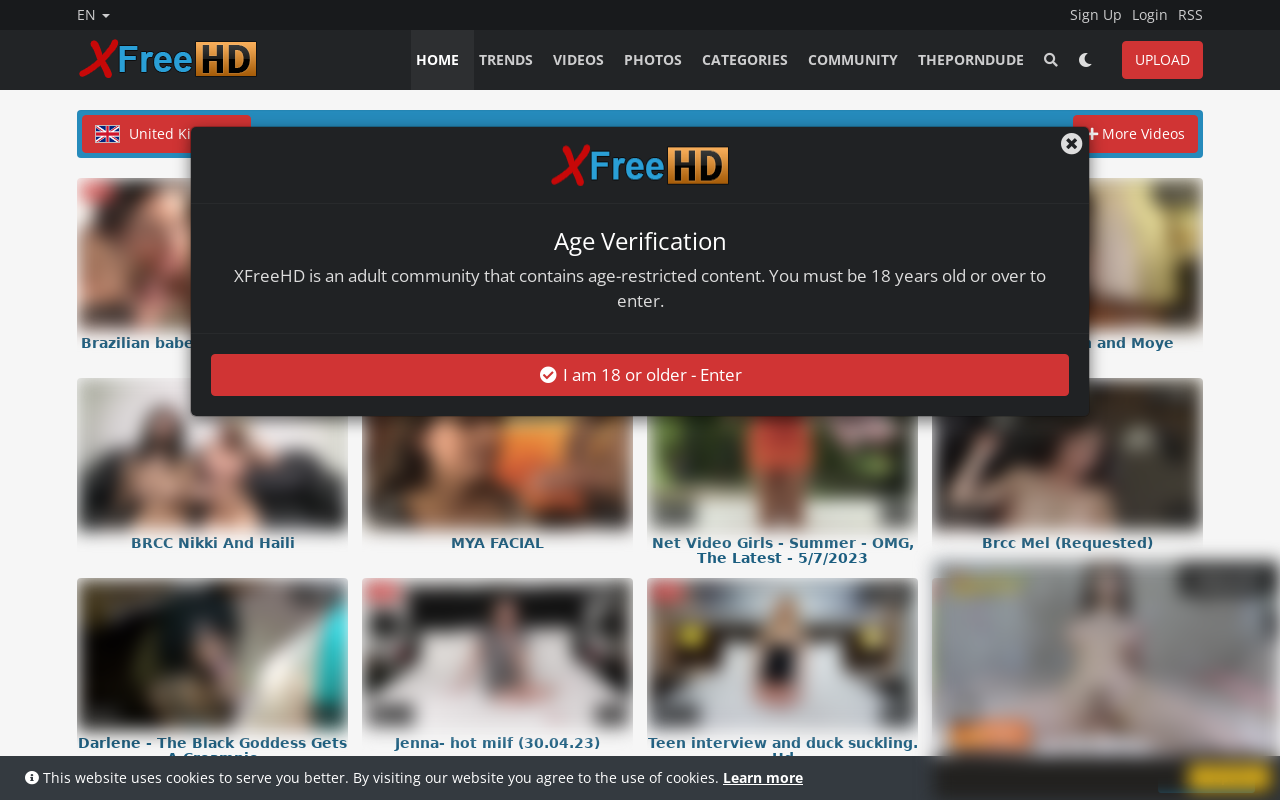 Fetish Dude visits XFreeHD
I don't know about you, but when I'm promised access to free porn videos that are available in HD, I'm generally the type of person to get a little bit excited about the prospect. Today, Fetish Dude has the honor of checking out a hub by the name of XFreeHD to determine whether or not this is a great place to come if you're feeling like jerking off. Will my judgement be positive here, or will I cast XFreeHD to the hells of poor porn websites? Only one way to find out for sure, so let's get a good look at the project and what it has. Read on – Fetish Dude is about to write up a complete review on XFreeHD.
A look at the XFreeHD homepage
As many of you probably know, I like to start reviews on homepages as often as possible, since there is where a lot of people spend a lot of their time. XFreeHD sticks to the traditional approach here and gives you a full look at videos instead of categories – something I'm very thankful for. The first content box that you'll come across organizes the material here based on what's currently being watched, which I think is pretty cool. This is basically a way for you to discover what other people are jerking their sausages over, so the results are a little varied and you can never be sure what you'll get, but at least you know someone else is trying to bust a nut over the video in question.
If you scroll down a little, you'll come across a 'new and popular' section, which is essentially a look at the best videos that've been added to the archive in the last few days. Think of it as being somewhat similar to Reddit in this sense: you'll be able to access a bunch of great stuff that's completely new. Further down and XFreeHD goes ahead and displays us the latest content added to the library. Perhaps my favorite section of all, because it lets us know that new smut is constantly being added to XFreeHD. It's also nice to see a diversity of niches, but we'll talk more on that in the next paragraph, since it's probably worth devoting a chunk of time to!
The categories at XFreeHD
So if you hit the 'category' link at the top of the page, XFreeHD will go ahead and show you all of the potential genres that you could see material from. They've done a pretty good job of giving you access to the finest stuff, with sections for celebrities, bondage, Asian, anal, MILF, teen and POV content. They do have some less popular options, but I think most people who come here are going to do so because they want a vanilla experience that appeals to the highest number of people. Note that next to all of the titles, you've also got a scene count. Some are admittedly relatively low on available scenes (POV with just under 5,000) whereas others aren't doing too shabby (teen with 36,000).
After clicking on a niche that interests you, you'll be transferred to a new section on the site that shows you all of the related material. Once that's done, you're given additional options with regard to filtering and sorting. Perhaps the weirdest thing I noticed here was that you cannot click the buttons if you have an advert blocker enabled – it really stumped me at first! All of the key sort features are offered by XFreeHD, including recent, most viewed, number of comments and top rated. Since there are thousands of videos to go through, it's good to have these choices available to you. XFreeHD also gives you the option to only display material which has been added within the last week, month or 24 hours. I guess if you're really looking for some of the freshest material around, X Free HD can assist.
The average video on XFreeHD
To put the library to the test, I figured it would be a good idea to go ahead and pick out a bunch of different scenes from various genres and time periods. Overall, I'd say that XFreeHD has done a great job of curating some fantastic high definition sex videos. I must stress that your fingers will have access to HD here: almost everything I saw was either in 720p or 1080p. It's an utter delight to find a tube committed to top-tier objective quality, so yeah – excuse my constant praising of XFreeHD here. I just feel like in the modern age, a guy ought to be able to enjoy free high definition porn without it being an issue. Call me crazy, but that's just the type of Internet world I want to live in!
The downsides of XFreeHD
While they're doing lots of things right here, I do think it's a good idea for me to go ahead and offer up some constructive criticism to the people behind XFreeHD. For a start, I really would appreciate it if they added a section here so that people can navigate through all of the pornstars who have scenes on the platform. Right now, you have to use the search feature, and that doesn't always give the most accurate of results. Also, to download scenes, you will need to sign up for an account: I've never liked this method of getting people to stick around.
Wrapping up the XFreeHD analysis
X Free HD isn't perfect, but I would be lying if I said it wasn't pretty damn close! After you remove all of the tiny issues, I feel like XFreeHD is one of the best places I've found for jerking off to great porn. They've got a good mixture of niches, the streaming situation is great and so on – it just gives you the vibe that they know how to choose their videos and always do what's best for the surfer. So, for this reason, I'm going to put my official stamp of approval on this place. Check out XFreeHD now if you want to masturbate to high definition sex videos: they're going to help you out!
Lots of HD content
Can download scenes
Good genre sorting
Decent search results
A few adverts
No model database
Account needed to download