WorldSex Review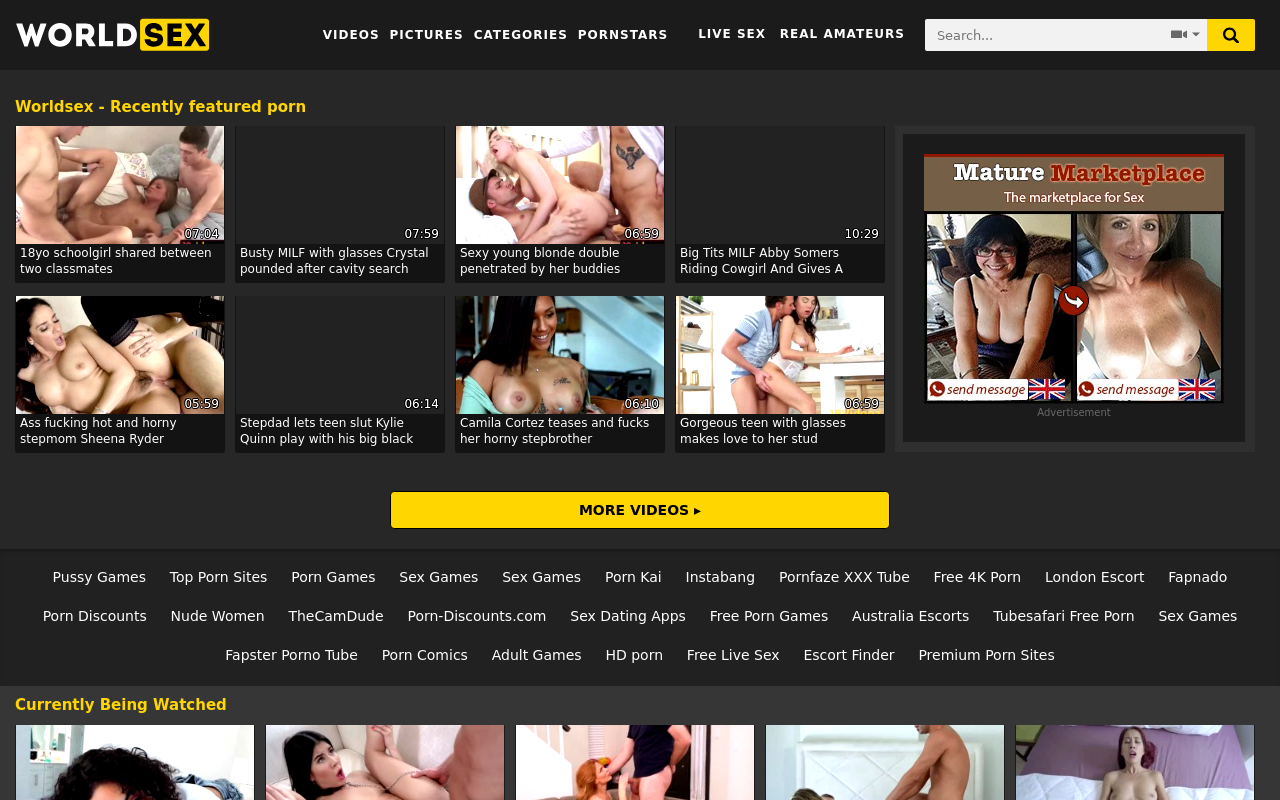 WorldSex: my professional analysis
World Sex is a free tube website that claims to give you access to some of the best porn around in video format: sounds good, right? Well, it's not like these types of places are exactly rare on the Internet. Sure, maybe 10 years ago it might have been a struggle to get this type of place on your PC, but the modern era has made it so easy for all of us to get world-class adult entertainment with relatively little effort. This is why I'll be checking out WorldSex today for the purposes of deciding if I'm going to recommend it or not. So please: continue reading below and you'll get my full, professional take on WorldSex.
The WorldSex homepage
It's pretty customary for me to go ahead and look at the homepage of any website that I review, so let's begin there, shall we? First of all, I'll give a general advisory here: the design feels a little on the dated side. This place might have been fine a dozen or so years ago, but these days, I think they need to seriously adapt to the modern aesthetic. Don't get me wrong: navigation and whatever else at World Sex is totally fine, but I just don't feel like it's giving me that glossy feel that a number of other tubes do. I also feel like the fonts are a little too small – bumping those up ought to help me with my reading of every scene title that's displayed!
Anyway, the homepage itself has a large content area at the top which focuses on the featured uploads they have available. Fetish Dude isn't sure whether these are hand-picked or just decided by an algorithm, but a quick glance did show me that these are the types of clips that a majority of porn consumers are going to be interested in. Further down, you'll see a new section which hosts scenes currently be watched. I guess it's cool knowing what other people are jerking off to, right? Perhaps not for everyone, but you've got to remember that if some other dude is taking the time to check out a clip, it's probably at least worth giving a quick look at yourself. Below that, you'll also find scenes from a specific category, which I think changes every day, although potentially not. Speaking of categories: let's go niche hunting, shall we?
Categories at WorldSex
It's an absolute requirement these days for sites that have porn videos to allow folks to go ahead and check out very specific genres that they're interested in. WorldSex does this in their 'categories' area, which allows you to explore concepts such as BDSM, anal, fisting, cumshots, teens and shemales. They've got a decent number of available genres here, but nothing is too specific that it's outside the realm of enjoyment for most folks. Basically, they try to provide as much as they can for the average surfer that's not looking for anything too avant-garde or freaky. That said, they have got a cosplay and anime area, so if you consider yourself to be a weeb, you're in luck!
The content experience at WorldSex
After selecting a category, you'll be taken to a new page where all of the videos associated with that genre are rendered. One of my favorite things here is the fact that they support the ability for you to sort based on a bunch of different characteristics. The default organization is chronological, but you can select to see scenes based on the number of views, its average rating and even length. I did find one major drawback, though: if you're running an ad blocker, the preview planes won't show. I'm not entirely sure why this is, but I do think that it's a bit of a pain in the ass. Sure, I know they want to maximize their revenue, but there are perfectly good reasons for having an ad blocker in the first place. Just because you want me to look at them doesn't mean that I want to look at them!
WorldSex content watching
Individual embed pages at World Sex are pretty good: you don't have to scroll down in order to watch the video and the default sizing is incredibly large. You don't have too much by way of gadgets and gizmos in the interface itself, like the ability to change qualities or playback speeds, but I wouldn't describe it as terrible either. Perhaps the best indication of how good it is here is a quick mention of the fact that you can scrub through the material with very little issue: something I know a lot of people are going to love. Oh, and perhaps my favorite feature: you can right-click on any scene and save it locally without the need to have an account or anything else – incredible!
Improvements for WorldSex
Fetish Dude always wants to balance out reviews with criticism where possible, so I should stress that World Sex has a few issues I'd like to see fixed. Firstly, their pornstars section doesn't have any sorting functionality, even though they've got a bunch of filters and whatever else to see girls based on nationality, ethnicity, height and so on. The search could also be improved so that you're able to filter out anything which isn't available in high definition. These aren't major problems, but still: if you're going to devote yourself to a website like this, make sure it's perfect.
My final word on WorldSex
I don't have much else to talk about with specific regard to World Sex, so I think I'll go ahead here and just finish off the review. In my professional opinion, I do believe that you're going to struggle to find anything quite as good as what this place has to offer anywhere else. It doesn't require a degree in computer science to understand this, so yeah – my advice is to just head on over and start tugging your sausage to the porn videos they've got.
Thanks for reading yet another high quality, professional analysis from Fetish Dude. I hope you have a similar experience to me when you visit WorldSex – cheers.
Lots of pornstar filtering
Plenty of categories
Fast loading speeds
Easy scene downloading
No pornstar sorting options
Ad-block issues
Low average scene length