VePorns Review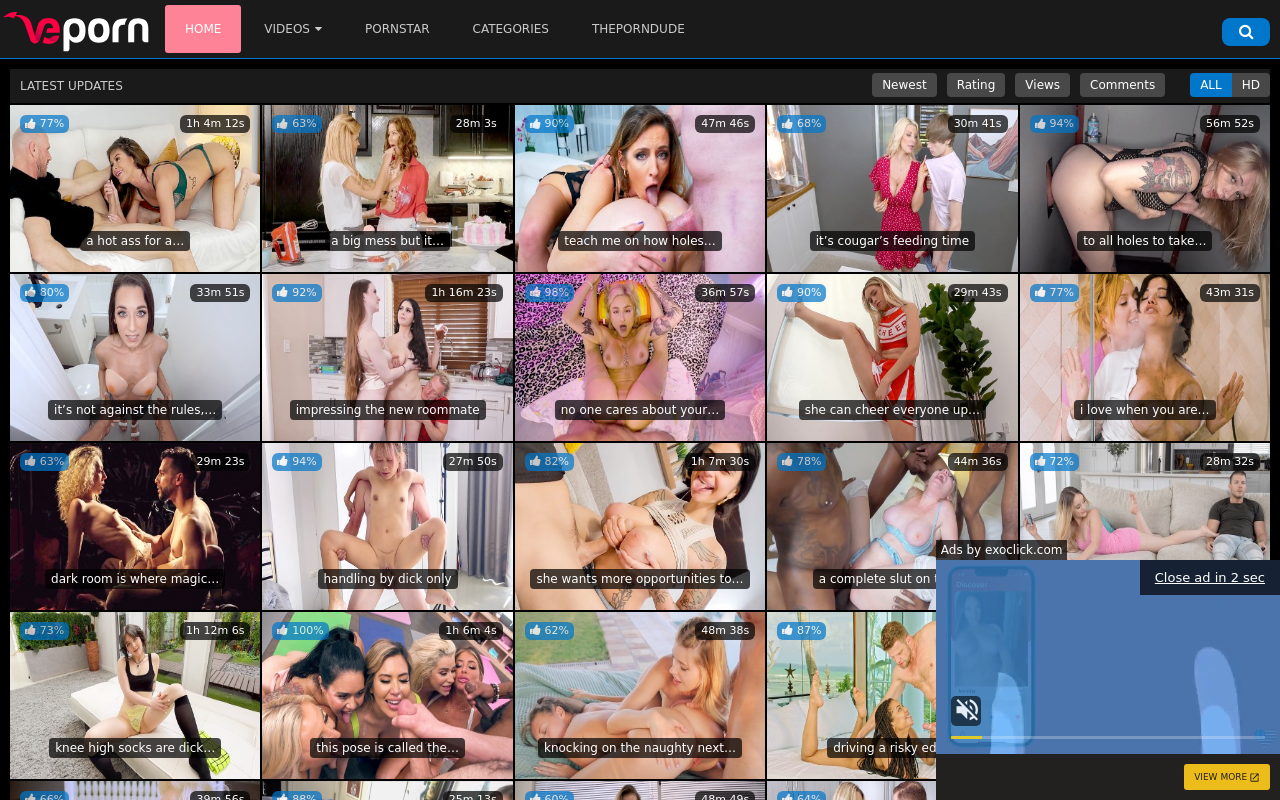 Fetish Dude reviews VePorns
What's going on, buddy? It's Fetish Dude back at it again with another porn website review! Today, I'm going to be investing my time looking at a spot by the name of VePorns. I think we all know by now that it's not exactly hard to find free porn streaming destinations, so the question is really whether or not the places I'm finding are better than average. I've got a lot of experience in determining the pros and cons of free XXX hubs, so let's go ahead and see what VePorns has to offer. For my complete, professional analysis on this site, continue reading!
My first thoughts on VePorns
When you land on the homepage of VePorns, you'll be presented with a relatively non-standard display area for a website of this nature. Right at the top, you've got a scrolling banner that shows you the latest uploads that are available in HD. This isn't too strange in terms of content focus, but the fact that it's a slider instead of a static embed has me scratching my head. Below that, you'll find some of the highest rated material from VePorns, as well as the ability to look through all over their 40,000+ uploads based on different sorting metrics.
By default, you'll see the videos in this area based on their upload date, but you can go ahead and check out the highest rated or even random clips if you'd prefer. One feature that's missing is the ability to see the most commented or longest releases: these aren't required for me to be happy, but they sure would make the browsing experience for your average pornographic punter just that little bit better. The preview panes here are probably a little too large for my liking though: there's a lot of dead space and cluttering problems. At least they do show you pornstars and channels though, which I'll get to explaining a little bit later. For now, we're going to hunt for categories!
The categories of VePorns
If you're like me and you enjoy looking at porn based on different categories, it's probably a good idea for you to visit the niche area of VePorns. Well, it would be if they actually contained any standard genres – instead, it's devoted to the studios that provide content to Ve Porns. I guess they do at least mix in a few common desires, but this approach is just so messy. You'll see classic niches such as Asian, POV, MILF, anal and lesbian mixed in with outlets for smut, including the likes of Petite Ballerinas Fucked, First Anal Quest, Czech Garden Party and Hegre Art. Suffice to say that they derive a lot of their material from a wide array of sources, so that's pretty cool. After clicking on one of these, you'll also have the ability to sort all scenes based on upload date, rating or just randomly if you're not sure what you want. There are a decent number of videos here, as well as regular uploads, so that's quite good too.
Pornstars of VePorns
Sometimes, you just want to look at one particular girl, right? Well the good news is that VePorns can assist in that regard because they do have a categories area you can visit. You'd be surprised at just how many tubes miss this feature, so I do have to give credit where it's due: they're far better than average for providing this section. They've also got a decent range of girls that you can watch in action. Some of the names I saw here included Layla Love, Alexis Zara, Lala Ivey, Cindy Shine and Ava Black. Hell, they've even got some uploads from Ashley Aleigh! According to the header area, around 9,000 pornstars have scenes associated with them here, so that's pretty damn cool. As with the categories, you can sort all of the content based on various metrics. My only major complaint is the fact that male pornstars are included here: I don't think anyone wants to see that.
A look at the VePorns content
Ve Porns is pretty focused on giving you access to professional material that comes from the biggest studios out there. Sure, you might be able to get your hands on amateur smut, but that's not the focus of what they provide. Average scene length here is really quite impressive, plus you'll find a hell of a lot of HD footage if you're keen on seeing things in high definition. One of my favorite features that I just have to mention is the ability for punters to download content locally if they want – no account required! The servers are pretty speedy too, so if you're the type of person that wants to keep something local, you can do that with relative ease. Buffering and scrubbing are all decent, so you won't find it hard to skip instantly to the good bits that'll make you cum immediately.
Improvements for VePorns
The homepage thumbnails are a little on the low quality side, plus I feel like too much area is wasted before you're actually shown preview scenes. I tried out the search and it left a lot to be desired, but I don't know how many people actually bother with typing anything in when they can just use the categories and pornstars pages to get what they want. There are adverts here, but they're not annoying – just a standard level of inconvenience, all things considered.
My conclusion on VePorns
Fetish Dude is pretty much done here: I can't think of anything else that I want to say about Ve Porns. Overall, I did have a good time exploring their database and I feel like going forward, they'll continue to provide visitors with access to world-class smut. Their commitment to HD content is quite obvious, plus the ability to download is something you cannot overlook. So, in short, Fetish Dude is happy to give VePorns his official gold-rated seal of approval. This isn't the best tube I've ever come across, but it's certainly one of the better ones.
Thanks a bunch for checking out my analysis on VePorns. Come back to my review platform whenever you want fresh suggestions for the hottest spots out there for porn!
Lots of HD content
Explore multiple categories
Simple downloading available
Average homepage design
Some adverts