TubXPorn Review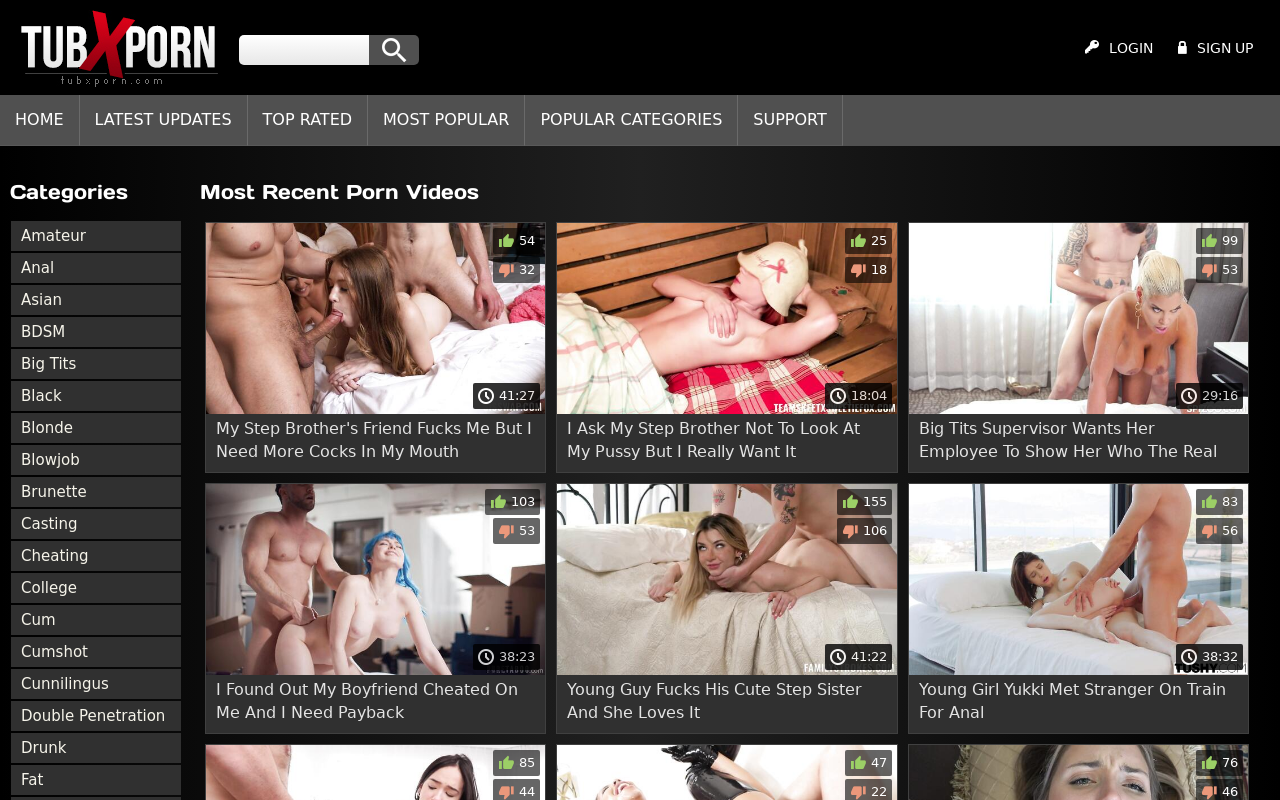 Fetish Dude reviews TubXPorn
I know that the name here isn't exactly the best, but that doesn't mean TubXPorn is a destination that we ought to avoid completely! It ought to be known to most that in the adult entertainment business, you're never more than a few clicks away from a glorious website that makes you shoot thick ropes all over the damn place. In this particular analysis, I want to determine whether or not TubXPorn is the type of place you ought to visit if you want to cum time and time again. It looks good on the surface, but I want to write up a complete review to really understand what's going on here. So, without further ado, let's get down to the task at hand!
My first thoughts on TubXPorn
The first important thing to realize here is that the entire TubXPorn platform is completely free for you to access. This is basically a tube where you come and enjoy as many videos as you want: pretty good stuff, right? On the homepage, you'll see a number of videos that have recently been uploaded to the website's database. These are sorted by default based on when they were added, so you're basically seeing the freshest flicks and nothing else. In terms of the preview panes, they consist of a thumbnail, title, like ratio and length. Not too deep with the information, but also not shy about telling you what each video has to offer. One thing I must give credit here for is the fact that you can see all of the titles in their complete lengths – nothing is chopped off early, so that's quite cool.
Filtering options across TubXPorn
Are you the type of person that likes to look at content based on various different sortable characteristics? Then I think it'd probably be a good idea for you to hit the 'top rated' button right at the top of the website. As the name suggests, this is your first port of call whenever you want to see what the general masses out there are jerking off over. Note that TubXPorn also has a similar destination with the most popular uploads instead, which I think are sorted based on the number of views combined with the upload date. Overall, Fetish Dude is very happy to see these two choices here, because it essentially allows you to explore what's on offer at the highest ends of the platform. You'd be surprised how many tubes don't have these features, so props to the gang behind this particular project: they've got a great idea of what to do, that's for sure!
Exploring the categories at TubXPorn
Are you the type of person who enjoys categorized content? Fetish Dude does, so he's going to hit the 'categories' link at the top of the page so he can take a look at the various niches on offer here. As a general point of reflection, I found it interesting that the genres are displayed in a dropdown menu here, as opposed to having their own area where you can look through all of the available options. I'm not entirely sure why they opted for this approach, but the good news is that you're able to look at all of your favorite genres, including greats suck as fisting, teen, anal, Asian, swingers and feet. Suffice to say that no matter what it is that gets your cock hard, TubXPorn is likely sitting on material that's going to assist with the task of getting you horny as fuck. My only suggestion would be to actually have a page here when you can visit in order to look at all of the niches in one solid section. It's a little erratic with how it's currently structured, so that could be a hell of a lot better if you ask me.
Watching the content at TubXPorn
When you finally decide on a video that you want to watch, click on the thumbnail to be taken through to its embedded archive page. Tub X Porn hosts all of its material locally, which means you're never going to have to worry about hitting up a third-party source in order to get what you want. TubXPorn has recently updated to a new player, but you can revert to the old one if you really want to – the choice is yours. You can download scenes here, plus you don't actually have to have an account in order to do it. This is a big bonus for me: I love having the ability to keep things local if I really want them to be on my computer. It's also impressive that you have a full range of qualities, which in some cases goes from 240p all the way up to 1080p. They've thought of everything here when it comes to watching porn.
A note on the TubXPorn material
I think it's totally fair to say that TubXPorn specializes in giving you access to premium-tier adult entertainment that comes from some of the biggest studios out there This isn't exactly the best spot to come for amateur smut, since their full-length skin flicks have named attached to them such as Team Skeet, Naughty America, MYLF and so on. One thing I do want to stress is that these are actually lengthy uploads – we're talking 30 to 60 minutes for your average release at TubXPorn. There aren't too many tubes that can promise that, so again, props to Tub X Porn.
A final word on TubXPorn
It brings me great joy to explore the library of material here: I do believe that it's in your best interests to immediately visit this tube and make it your regular go-to source for masturbation material. They've really nailed the most important things when it comes to this type of smut and I have little doubt that going forward, they'll continue to offer visitors with access to world-class adult productions featuring their favorite pornstars in action. So what are you waiting for, exactly? Head on over to Tub X Porn now and start jerking it to stars like Dani Lynn, Ella Reese, Amber Chase and other quality fuckers!
Thanks a bunch for taking the time to read a full tube review here on Fetish Dude. Your patronage is very much appreciated!
Length porn videos
High average quality
Plenty of categories
Simple downloading available
Not much amateur smut
No pornstar pages