TubSexer Review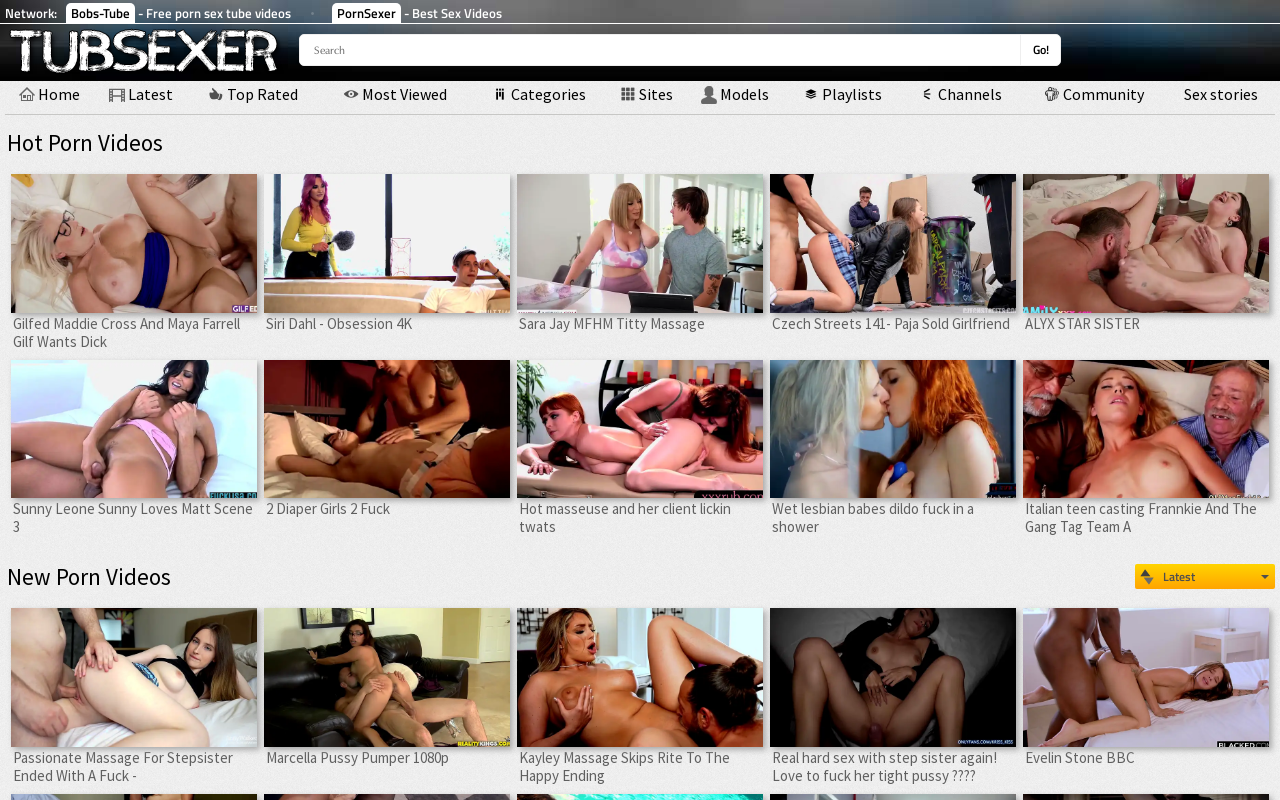 A review of TubSexer
I'll be honest with you guys here from the get go: I don't think that TubSexer is actually all that much of a good name for a website. Sure, it might give you an idea that it's devoted to XXX videos in a free to access format, but is that really the best title that they could come up with? I'm keeping my fingers crossed that the porn experience here is better than the name might have you believe, but in order to determine that, I'm going to have to write up a full analysis on what TubSexer has to offer. Let's do that now – I can't wait to go over their focus and to ultimately decide if I like what they've got to offer!
My initial thoughts on TubSexer
When landing on the homepage here, you'll be presented with a fairly typical tube experience. Your first preview pane content box consists of scenes which are considered 'hot' – likely some combination of the upload date, rating and view count. I'd describe the preview panes as incredibly basic, with just a display of a thumbnail and title – that's literally it. Fetish Dude would prefer it if more was added here, but I'm not going to cry about what they have provided, because all things considered, it's pretty damn good.
Below the hot clips, you'll see a list of albums that various pornstars have had added to the archive. I don't know why TubSexer has decided to offer you access to images, but I guess they're there if it's something that might interest you. Going down a bit further, you'll see that they've also got a section devoted to new porn videos, so if you want to get your hands on the freshest flicks, just look here and you'll be presented with some new porn that's bound to make you rock hard. This sub-area also has a dropdown if you're more interested in sorting content based on view count, rating, length or number of comments. Pretty good features for a tube, so Fetish Dude is happy to see them there.
Exploring TubSexer pornstars
I've realized lately that a bunch of folks really like to look at porn based on the girls who feature in the productions. That's why I'm chuffed to see that Tub Sexer has a 'models' section where you can go to look at all of the best ladies in the business and the scenes that they've featured in. There's a decent mixture of girls here, including names such as Elle Ryan, Jemma Valentine, Hannah Hays and Aubrey Black. My biggest issue here is the fact that they include male pornstars, which I don't think many dudes are actually all that interested in. Sure, maybe some of the folks out there like to pick their smut based on the dick that appears, but it seems like a relatively uncommon desire. Maybe I'm just a big stupid head who doesn't understand the audience, but nah – I'm confident that I've hit the nail on the head here. Send Fetish Dude an email if you search for porn based on the dicks, by the way – I've got some serious questions to ask you!
The TubSexer channels
A lot of the porn that you'll find on TubSexer comes from professional studios that output a lot of content for their premium services. While you don't get the full-length productions, you will see enough so that you can bust fat nuts if you want to jerk off to good quality XXX material from the best outlets around. Believe me when I say that with the likes of FTV MILFs, Hot Guys Fuck, Reality Kings, Barely Legal and Cum 4K offering you porn videos, it's only a matter of time before your cock starts getting really excited. These are some of my favorite producers right now and TubSexer has plenty of HD content from them: doesn't really get much better than that now, does it?
My final words on TubSexer
I think it's probably best if I just leave my review there, because I can say with confidence that the experience provided by TubSexer is absolutely solid. They've shown themselves to be decent sources of XXX enjoyment and I wouldn't be surprised if they soon became a world-class tube that everyone visits for the purposes of hardcore jerking action. There are improvements to be made here, but they're relatively minor and I've got little doubt they'll take care of everything as and when it's required. So, in short, go right ahead and massage your shaft to what TubSexer has – these guys rock!
Fantastic HD porn videos
A pornstar database
Lots of channels
Limited advertising spam
Average navigation tools
Average buffering speeds