TubeXClips Review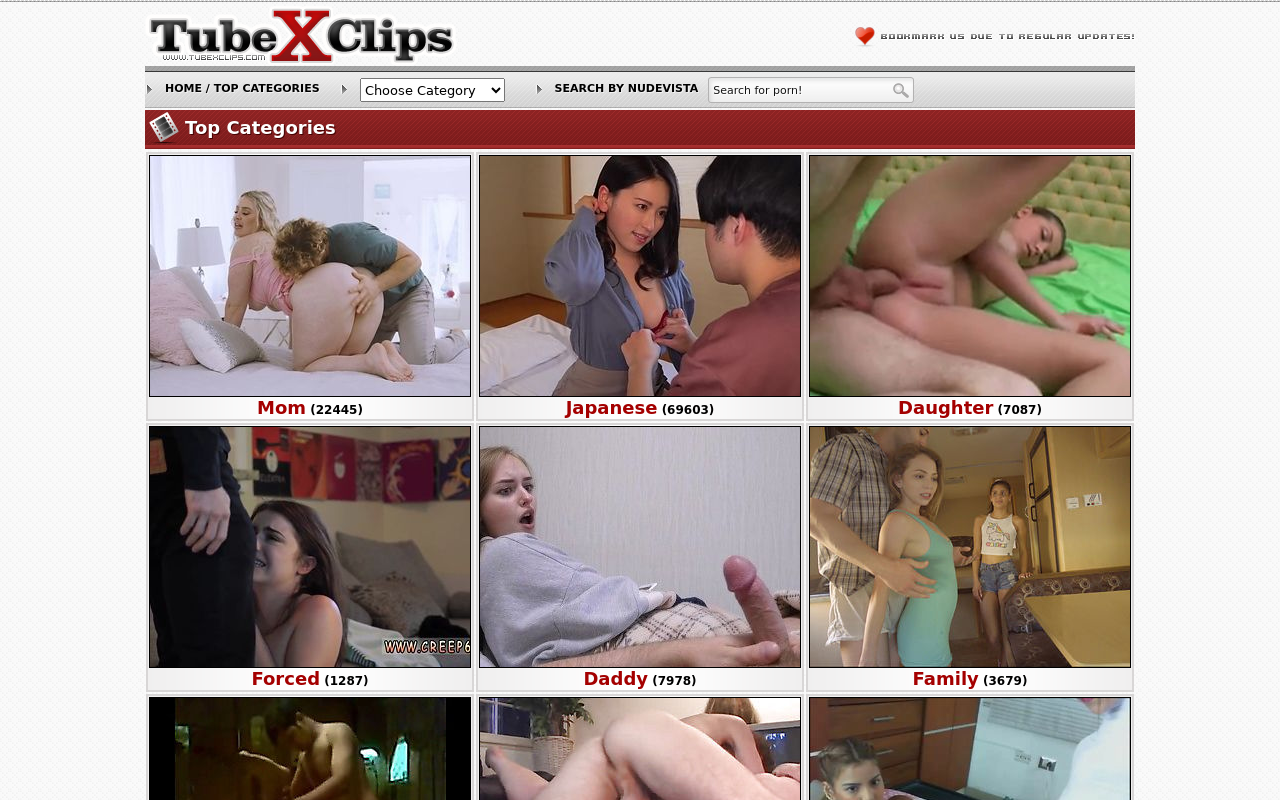 Paying a visit to TubeXClips
Howdy friends: it's TubeXClips up for review today and Fetish Dude is excited to see what's going on over at this promising XXX hub. It ought to come as no surprise that I've discovered a whole treasure trove of top-tier smut online, but I'll never stop in my quest to get my hands on even more great places so that you can be fully informed as to what your options out there are. With that in mind, let's get down to the naughty task of exploring TubeXClips. Read below if you want my full, professional, expert analysis – Fetish Dude is set to write up a storm!
A homepage look of TubeXClips
When landing on the homepage here, you'll be presented with a huge number of categories that you can look through that basically give you access to any niche you could possibly want. They seem to be somewhat appropriately sorted based on popularity, so you'll see stuff like sister, teen, mom, Japanese and anal quite near the top. That said, I did peep a few right near the upper part of the website that seems oddly placed, such as Araba and granny. Okay, I understand that some guys reading this have a preference for those niches, but I wouldn't think any of you would argue that they're extremely in demand, right? That's how Fetish Dude sees it anyway – maybe I'm just dumb, but I don't think that's the case at all.
The niche exploration of TubeXClips
After you've decided on a niche, click on it to see all of the videos that TubeXClips has associated with them. On these individual archive pages, you'll come across a bunch of preview panes that spread the entirety of the length of the website, which basically gives you complete priority over the visual accessibility of the content that you might want. You can scroll down and go deeper into the archives, but sadly, you have no ability to sort by any unique metrics – it's just based on what I'm guessing to be popularity. I think I also ought to mention the unique circumstances of content access here, because it's unlike what most other tubes do.
The content model of TubeXClips
Tube X Clips doesn't actually have any scenes stored locally, which might seem weird, but the fact of the matter is that they only bother to display content which you can then go and access via third-party distribution services. We're talking about the likes of xHamster, PornHub, Tube8 and so on. Essentially, TubeXClips acts as a bit like Google, although instead of gathering up websites, they instead gather up videos for you to watch. This isn't exactly a terrible thing to do, but it can have problems further down the road. For now, I'm happy to say that it's mainly of benefit to you because you can explore dozens of different tubes (and all of their porn) from one central location. This naturally means that you end up with huge archives of XXX entertainment, which I know a number of you are going to be exceptionally happy about. Suffice to say that Fetish Dude is a fan of this too – the more numbers, the better!
Limitations at TubeXClips
No site is perfect, so I do want to touch on a few of the issues that TubeXClips has when it comes to giving you access to the porn that you want. Firstly, the inability to filter out non-HD uploads is a little bit disappointing, since I'm the type of person who always wants to enjoy something in high definition. They also lack a section on their website where you can see porn from specific models, so you'll have to use the search feature in these circumstances if you're really looking to get something from a particular girl. Additionally, TubeXClips doesn't have much by way of sorting or filtering: it's relatively barebones in that regard, which I think is going to disappoint a lot of the punters reading this now.
My final words on TubeXClips
Is this website bad? No. Is it the best one around? Also no. Fetish Dude did have a good time here, and he's confident that if you proceed to visit yourself, you will get yourself in touch with something that can only be described as porn heaven. I've had a fantastic time looking at all of the videos and while I probably won't use this service myself, the ability to look through dozens of tubes – all from one spot – is very much a major selling point. So, although improvements can be made, I'm comfortable with giving this spot my blessing for the time and being. Thanks for reading yet another professional Fetish Dude review – may your next hog squeeze at Tube X Clips be the best one yet!
Lots of categories
Huge content archive
Regular new video releases
No pornstar catalogue
Third-party hosting
Limited filtering options