TubePornstars Review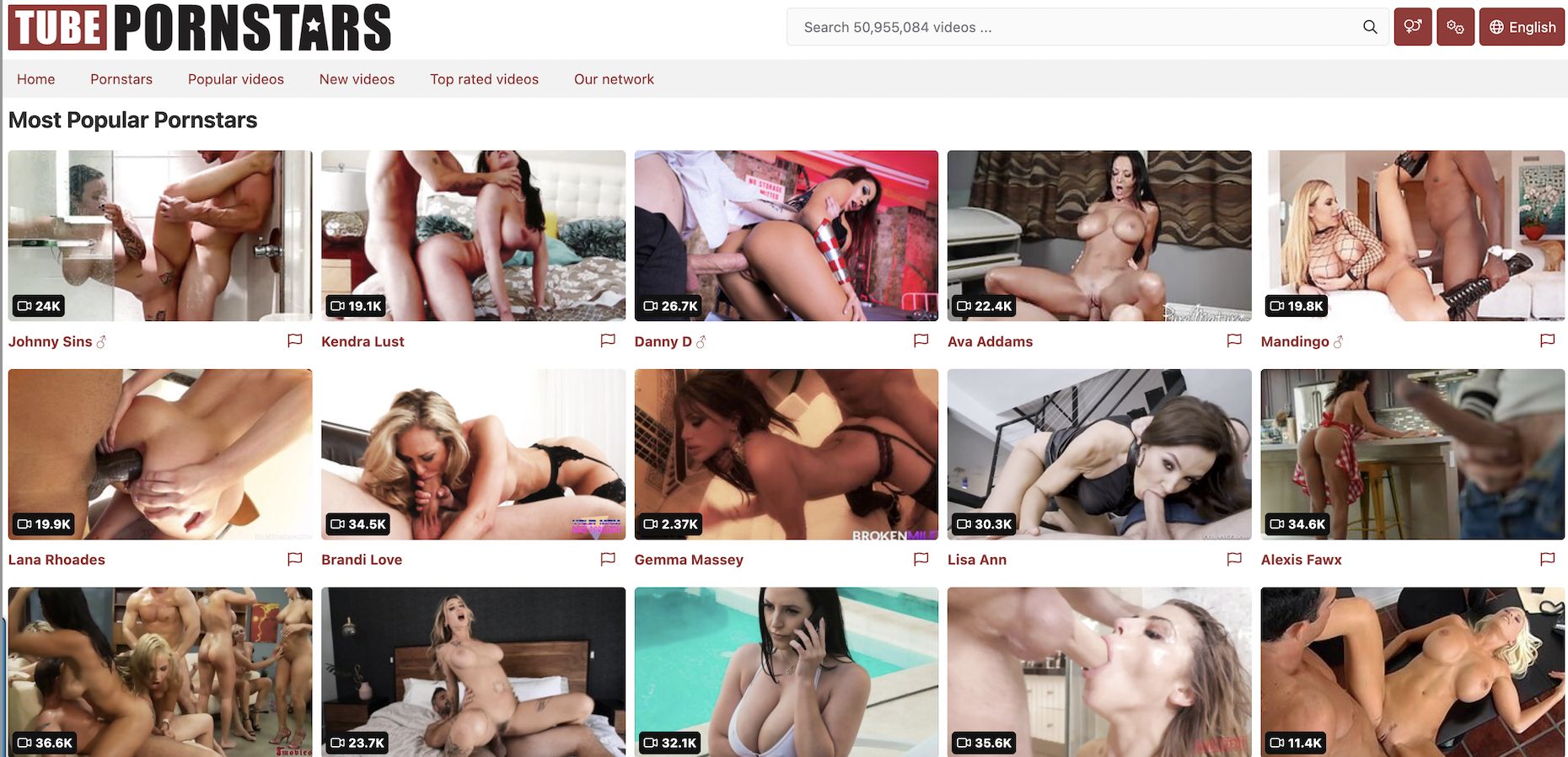 Fetish Dude visits Tube Pornstars
Howdy friends – it's Fetish Dude here and yes: it's that time again! I want to look at an all-new place for you to go in order to access some of the best XXX video entertainment around, since I've been coming a lot of potential destinations that might kick ass in the content department. I think it's safe to say that I've always been on the cutting edge of the best content out there and today, we'll be heading on over to TubePornstars. I've yet to check this place out for more than just an initial glance, so it should be interesting to see what's going on here and whether or not the experience is a good one. Let's get to it, shall we?
My first thoughts on TubePornstars
After hitting the homepage here for the first time, you'll be shown a collection of famous pornstars before anything else. I'll be honest: I think this is the first time I've actually seen a site that focuses on the models as opposed to the videos or the genres when you visit them! It's an interesting situation to be in and I feel like TubePornstars is sticking to its name – something we can all be pretty happy with, right? Now I should probably mention that you can look at scenes if you want, with a 'popular videos' and 'top rated videos' link duo provided in the header. I'm not sure how functional these are going to be, since the main purpose here is to come and look for your favorite broads, but the ability is there to do this if you want.
Just a few of the pornstars that you'll find on TubePornstars include Brandi Love, Angela White, Kendra Lust, Asa Akira, Julia Ann and Sara Jay. Now while it's all well and good having these chicks in the top 30 or so performers, one problem I did find was that there were a couple of dudes here too. Okay, it's fine to allow people to check out content that stars their favorite male performer, but how many people visiting TubePornstars actually want to do this? I suspect it's not all that many, so I'm a little confused as to why Tube Pornstars decided to do this. I think the better approach is to have it as an option, with it being disabled by default. Note that as you scroll down to the bottom of the page, you'll see a much larger number of pornstars that you can click on. There are hundreds of girls here, so it should be trivial to pluck out any broad who's semi-popular.
The pornstar pages on TubePornstars
When you click on a pornstar, you'll go through to their own individual page that shows you all of the scenes that they've been involved with. I do want to mention at this point that TubePornstars sorts the material by default based on popularity, but you can instead switch this over to date, duration or rating if you'd prefer. There are also a number of filters here, with my favorite being the ability to only look at the videos which are offered in HD. If you're like me, you'll know that when watching free porn videos of your favorite model online, few things are able to beat getting it in high definition. You can also pick from a number of sources, which leads me into the next thing I want to mention: what exactly the site structure here is.
TubePornstars: the database approach
I've noticed a relatively large increase in the number of places that act as index services as opposed to straight-up places for you to access porn. What do I mean by this, exactly? Well – TubePornstars merely points you toward third-party tube destinations which have the videos you want to watch. They essentially go and collect the content you want from the likes of xHamster, SpankWire, RedTube and others. There are dozens of destinations here and they're all pretty damn popular, although obviously, you'll be able to access all of the content that every single one has just by visiting TubePornstars. This comes with a bunch of pros and cons, but ultimately, I think it's a good idea if you do want to do the pornstar method of content access. Some of the biggest tubes only have a few dozen clips of many of the biggest names in the business, but by visiting Tube Pornstars, this won't be an issue at all. Additionally, because you get a wide variety of sources, you'll get varying lengths and studios that contributed to the database of the pornstar in question. Interesting service that most people don't get to experience, that's for sure.
The downsides of TubePornstars: what's bad here?
I don't like to sing praises without being objective, so perhaps it's a good idea for me to go ahead here and talk about some of the downsides of TubePornstars. Firstly, I think it's somewhat disappointing that you can't look at categories here. I understand that this isn't their focus, but why not just let us have a little look at the most popular genres, such as MILF, Asian, teen, anal and that type of thing? I also think that the thumbnail size could be improved somewhat, since on a standard 1080p monitor, they're a little hard to get a good look at. My eyesight is fine, but I still zoomed in just to make TubePornstars a little more enjoyable.
Final thoughts on TubePornstars
Well gang – I think that's all I really have to say on the specific topic of Tube Pornstars. I don't think I've got much choice here: it just makes sense for me to go ahead and give this spot a recommendation. The focus on pornstars is a big bonus to people who only like watching a few broads in action, plus anyone who's actually struggling to find the name of their favorite chick. I like the size of the database and while the porn clips are hosted by third-parties, this seems to be more of a benefit than a burden. So, in short, do yourself a big favor and go check out Tube Pornstars!
Lots of pornstars
Fast loading speeds
No adverts
No category pages
Small thumbnails