TubePornClassic Review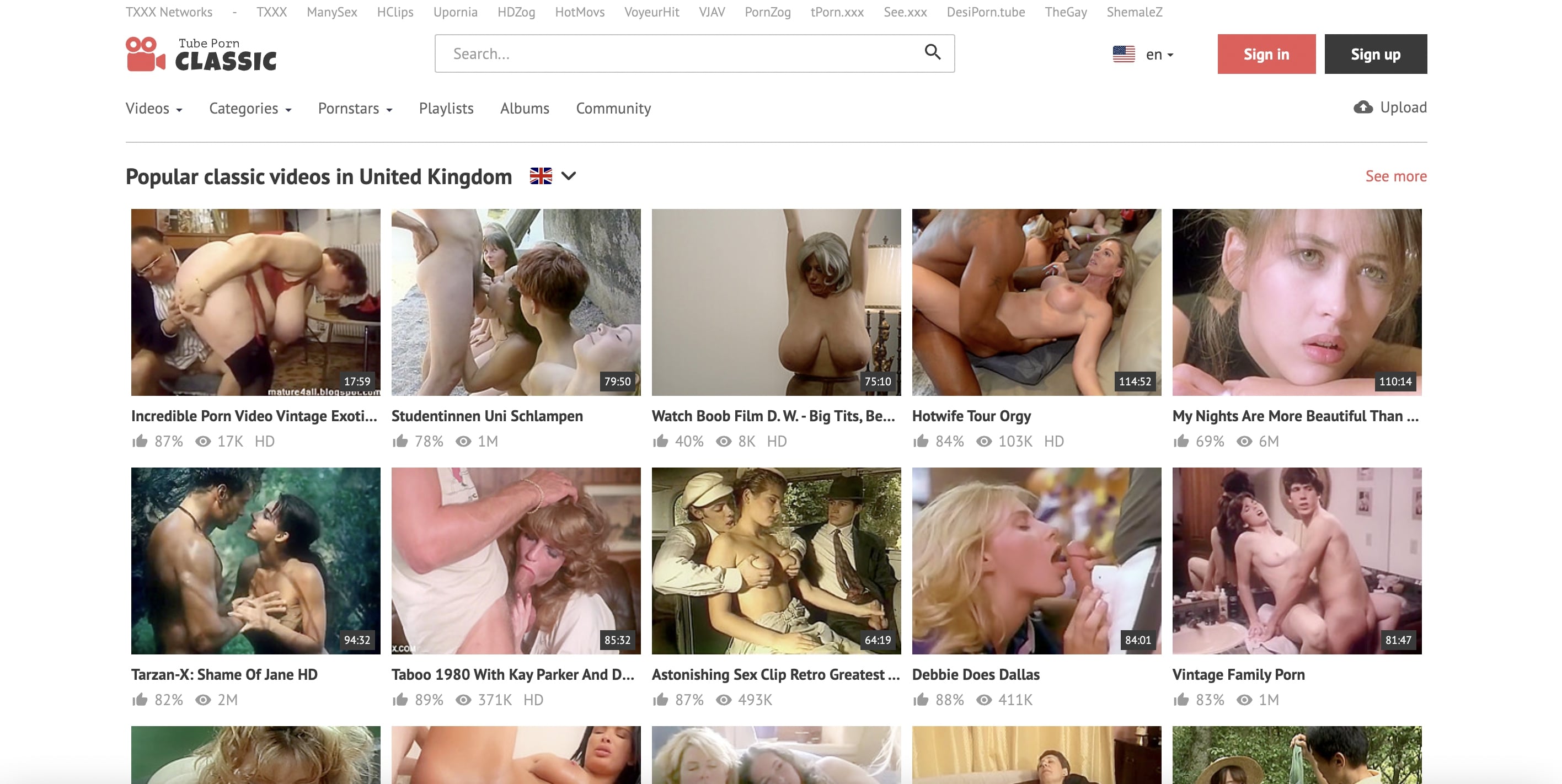 TubePornClassic: a review
Greetings friends – Fetish Dude here and yes, you know what time it is, right? I'm going to be talking about a place called TubePornClassic in this particular analysis because I want to work out if I think the juice is worth the squeeze with regard to visiting. There are so many competitive tubes out there that you really need to be good if you're going to attract my interest: let's find out, I guess? Continue reading and in no time at all, I'll be speaking a whole host of truths on TubePornClassic and eventually letting you know if I endorse the platform. Let's get to it!
My first thoughts on TubePornClassic
I'm pleased to find straight off of the bat that TubePornClassic has my preferred method of content access, where they show you a bunch of preview panes of scenes you can watch. Other places opt for categories first and that is less than enjoyable – so I guess it's just as well that Tube Porn Classic is giving us the goods from the get go! You'll notice that a bulk of the screen real estate is also occupied by these panes, so you've got a bunch of potential options straight off of the bat to enjoy. The panes themselves consist of a thumbnail from the upload, a title, video length, upload date, view count and finally, vote rating. I must admit that on the whole, I like the setup here.
By default, content shown on the homepage of Tube Porn Classic is structured to show you scenes which are currently being watched. This is okay, but I think clicking on the 'top rated' header link is another fantastic way to see what's really good on the platform. You've also got a few other sorting options here too, including latest and most viewed: these are fine options too. Note on the homepage that you can scroll down quite a bit and see a section of popular pornstars: I suppose I'll talk about those in the next segment!
The models on TubePornClassic
You'll notice quite early on that all of the content at Tube Porn Classic is vintage in nature: that's their niche and they want to show you adult productions that came out and were shared with the world before, say, the year 2000. As a result of this, you're going to find a lot of ladies here on the models page that might not be familiar with. Still, there are lots of fantastic vintage babes here, including the likes of Jenna Jameson, Nikki Dial, Raquel Darrian and Sandra Scream. Just by looking at the thumbnails, you'll see that these broads were in the business a hell of a long time ago. Fine as far as I'm concerned, but yeah – I do want to stress that they're about as vintage as it gets in the adult industry.
The Tube Porn Classic categories
If you want to look through the niches available at TubePornClassic, be sure to hit the 'categories' link right at the top of the website. You'll see a whole host of genres on offer here, all of which are, as you might expect, co-associated with the overall vintage theme. Some of the most popular categories you might want to check out include BDSM, Asian, public, voyeur, lesbian and fisting. I know that you might find it strange to hear that there was fisting porn around in the 70s and 80s, but believe me – women back then had little regard for what they were putting into their pussies! I feel like it's a wonderful time to be alive now that we modern dudes can access everything they had back then, plus all of the new porn. The combination is a fantastic experience and I have little doubt that vintage lovers reading this are going to have a field day with the sex videos available at Tube Porn Classic.
A final consideration on Tube Porn Classic
I've spent a decent chunk of my evening exploring TubePornClassic and honestly: I think you'd have a hard time finding a better spot online for old-school adult entertainment. This is a relatively unique niche, but that doesn't change the fact that if you're into it, the tube I'm writing about here is going to give you one hell of a great experience. Sure, if you've got beef with vintage porn then don't check it out, but for those who want to kick it old school, I think that this is a fantastic place to do exactly that.
That just about does it for this review. Thanks a lot for reading my analysis and please remember to come back any time you need advice on the best places around for world-class adult entertainment. Fetish Dude is always here to assist!
Great vintage porn niche
Good website layout
Pornstar catalogue
No download feature
Some adverts