TubeGalore Review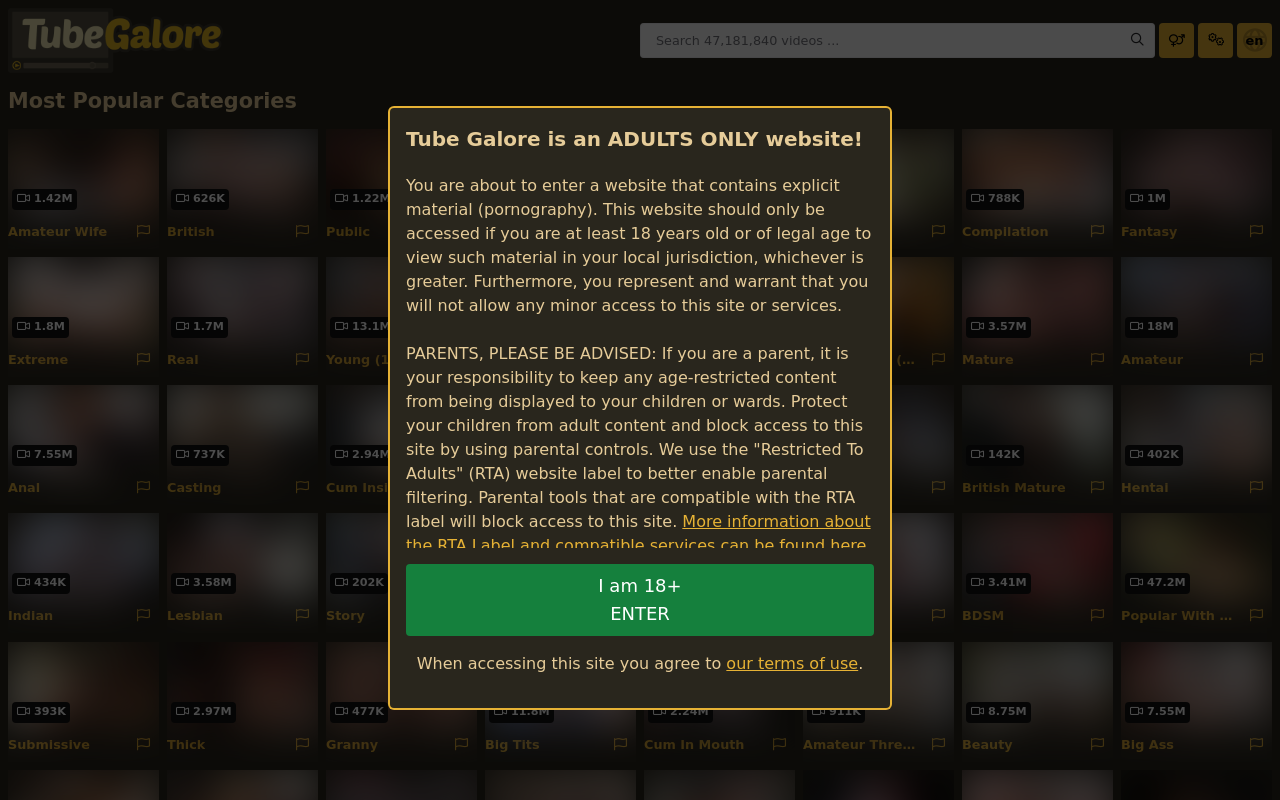 Fetish Dude visits TubeGalore for the first time
It would appear based on the data that I have that TubeGalore is actually quite a popular destination for horny porn addicts to visit if they want to jerk off to some XXX videos. Despite its success, I've never had the pleasure of seeing it for myself, which is why I plan to check out the portal today and write up a full review on what it's like. Suffice to say that I'm looking forward to the adventure regardless of whether it's a complete success or an utter tragedy. If you'd like to know how I got on with my time at TubeGalore, continue reading and I'll fill you in on all of the details.
Initial thoughts on TubeGalore
So the first thing that I want to do here is stress that when you hit the homepage, you're going to come across something that might not seem all that common. See, instead of sticking to the tried and trusted method of showcasing videos, they instead elect to focus on categories. What does this mean, exactly? Well, TubeGalore basically wants you to decide the type of porn you're interested in before giving you some videos to enjoy. Note that if you're not interested in doing things this way and you just want some general content shown to you, the best choice is to hit the 'new videos' or 'top rated videos' buttons right at the top of the website. I don't think Fetish Dude needs to explain what either of those options actually do – if you can't work it out, I'm sorry, but you're too stupid for me to help!
Now in terms of the genres listed here, you'll see some pretty popular ones and a couple of offbeat choices that you might take an interest in. On the common end of the spectrum, we've got Asian, mature, anal, massage, amateur, lesbian and masturbation. Want to try something that's a little more out there and fruity? Well: TubeGalore gives you the option to look at pregnant, cartoon, hairy, femdom and public material if any of those tickle your fancy. You might also elect to scroll all the way to the bottom of the homepage, where you'll come across a quite frankly ridiculous amount of other niches and genres that you might warm toward. I think it's fair to say that if you cannot come across your preferred niche here, what you want is so far out there, it's unlikely that you'll find it on any of the rival tube sites.
TubeGalore: post category selection
After you've gone ahead and decided on a niche that you'd like to enjoy, TubeGalore will give you the ability to then see all of the scenes you'll be able to watch in that specific niche. One thing to mention early: none of the content that you see flashed in front of your eyes here is actually hosted locally. TubeGalore has decided to be an index service of sorts for third-party providers, all of which are common tubes you'll likely have heard of before. The list includes YouPorn, ExtremeTube, PornHub and SpankWire – I think it's fair to say that the commanders in chief here only work with the traditional hubs that bring you guaranteed goodness. Forget wasting your time on tubes that can't hack it: TubeGalore has you covered and then some.
As this is the method they've gone for when it comes to content access, TubeGalore has a huge amount of material for you to consider. Don't believe me? Well, let's talk numbers! The teen category is stacked with 13 million uploads, public at 1.1 million videos and massage at a still impressive 780,000 scenes. You will find very few places that are actually able to offer you this level of accessibility to a sizable library of smut. Credit has to be given to TubeGalore here: they seem to have a good understanding of what's going on in the quantity department. Oh and yes – there is a count for the total documented material hub here. Tube Galore has 43 million scenes as of the beginning of 2020. That's going to be tough to beat and even if you find a place with double the uploads: I don't think it matters so much, since you won't even get close to making a dent in their database.
The negative sides of TubeGalore
Now just because I have praised this place for quite a few things doesn't mean it's unable to receive criticism. Perhaps the biggest downside of visiting this hub is that they don't have any pornstars at all for you to explore. Sure, some of the videos have the names of the girls you'll no doubt be interested in seeing, but they don't have an index page or collection of names for you to look through. This makes TubeGalore a bad choice for people who want to see all of the top girls out there with names attached: this most likely impacts those who have an image in their head, but no name to go along with it. Additionally, I think that the thumbnails for the scene previews are just a little too small for my liking: they fit 8 in a row, which could probably be reduced to 5 or 6 just to make sure I'm not squinting.
Some final thoughts on Tube Galore
Friends: I think it's pretty obvious at this point that I'm going to go ahead and give a recommendation for TubeGalore. They've got their shit together and deliver everything that was claimed, plus a whole lot more. The lack of self-hosted content can cause issues, but at the end of the day, you've got to admire the dedication to porn here. Fetish Dude had a fantastic time and feels that the huge number of available niches is probably the best part of the overall experience. So, in short, it's probably time for you to pull the trigger and go visit Tube Galore for yourself. It's free, there are millions of videos and hundreds of fetishes to explore – what's not to love?
I appreciate you taking the time to look through my analysis of TubeGalore. Enjoy your time there and happy jerking.
Lots of niches available
HD content filter
Millions of videos
No adverts
Lacks pornstar database
Third-party video hosting