TubeDupe Review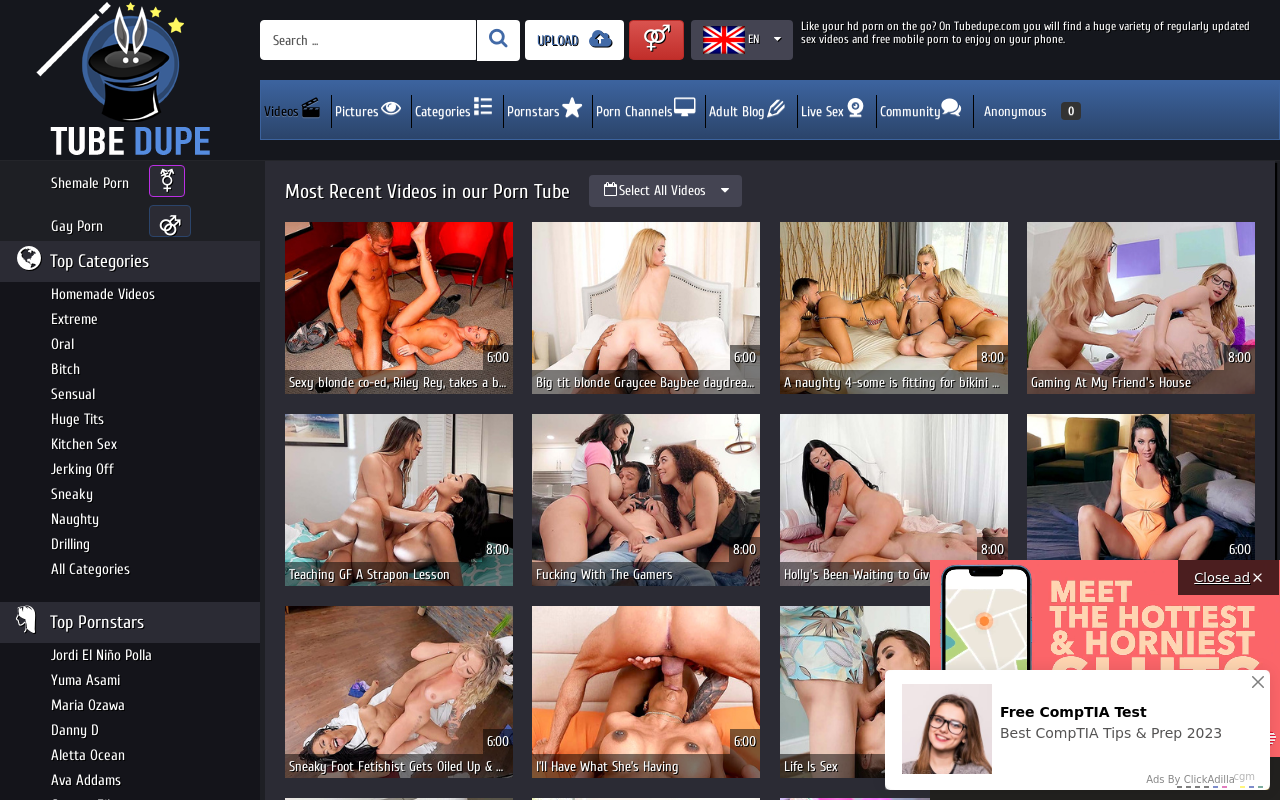 Fetish Dude checks out Tube Dupe
What's going on, gang? It's Fetish Dude and yes – it's that time again! For those of you who are new here: my job is to basically go out there on the Web and try to source the finest libraries of free adult entertainment. In this analysis, I'm going to be talking about a space known as TubeDupe. I've never been here before, although don't get it twisted: I'm excited to see what they've got to offer! Will it bring us stellar porn delights, or be a shithouse without hope? Read on, bud: Fetish Dude is about to let you know the full story.
Starting on the TubeDupe homepage
I'm going to go ahead here and kick things off with a look at the homepage. Now by default, the first content preview block shows you the most recent uploads to TubeDupe. I might as well mention that these tend to come in multiple times per day, but that it doesn't have as frequent of an update schedule as similarly sized destinations. I'm not sure what the reason is for this, but I think tubes should probably be doing more than 4 videos per day, which is around what TubeDupe is sitting at. Sure, it might not be the end of the world, but if you want to get to the top of my 'best tubes' list, you're going to need to make it evident that you're on the cutting edge of adult entertainment provision.
Perhaps the best feature on the homepage is your ability to sort scenes based on other metrics, such as rating and number of views. I'd personally suggest going for the rating option myself – this is generally the best way to get yourself the juiciest porn possible. There is a certain level of crowd wisdom when it comes to adult material: people seem to know their shit in this regard. If you're still not so keen on the results, fear not – I have plans for you! Turns out that TubeDupe has a lot of other sub-pages to make it convenient for you to get the smut you desire. Let's go ahead and visit the categories section first: everyone knows that Fetish Dude is a sucker for genre-based porn access.
Categories on TubeDupe
So the categories here are first displayed based on the average rating of their videos, but this isn't always the best way of doing things for general porn punters. The reason is pretty evident: right now, some of the categories near the top of the site are Ukrainian porn, pissing, fisting, VR and bukkake. Now don't get me wrong: there's nothing wrong at all with liking these things, but I think we can all agree that they're not the most demanded of erotic preferences. Clicking on video count gives us a much better view of the business, with teen, blowjob, amateur, Asian, MILF and POV all displayed in the top 15 niches. One thing I do like is that there are well over 100 different areas here and while some places don't have much for you to watch, it's still good that you can see machine, fitness and pregnant videos if that tickles your fancy. Fetish Dude doesn't judge and by all means, go enjoy whatever it is that you're looking for on Tube Dupe: seems like they've got a bunch of folks covered!
Pornstars from TubeDupe
Next up, I think it's probably time for me to go ahead and look at the pornstars on TubeDupe, since I know lots of people reading Fetish Dude want to get smut from their favorite chicks. The good news is that the basic sorting here seems more than reasonable, owing to its basis on pure rating. You'll see chicks such as Alexis Brill, Lucy Doll, Janice Griffith, Bambi Brooks and Riley Reid here – who can honestly complain about having access to porn videos featuring these hot slices of deliciousness? What's more, when you do select a girl that you're interested in, you'll further have the ability to check out their scenes sorted by all of the usual suspects, including video views, length and rating – just brilliant stuff from the folks at TubeDupe. I think it's fair to say that a lot of the other people in the business should take notes from these guys, since they've got a fantastic understanding of how to give people the porn that they want. I'll hold my horses for now though, since it's actually possible to go ahead and visit a 'channels' section here too – I love those places, so let's go!
TubeDupe: a channel focus
For readers who aren't too familiar with the term, a porn 'channel' on a tube is just the premium producers out there who provide some sample scenes for the punters to enjoy. You'll likely know a bunch of the names that are covered under this section on TubeDupe, including Teen Curves, Moms Bang Teens, Bad MILFs, Innocent High and Tiny 4K. Again, the variety here is great – incest, teen, schoolgirl, mature and petite! You'll even get some more boutique and focused hubs, with access to Lethal Hardcore, Hookup Hotshot and Hardcore Gangbang. I think it's fair to say that when you visit TubeDupe, they're basically saying 'pick your poison and we'll do the rest'.
A conclusion on TubeDupe
I shan't spend much more time writing here, since I think it's pretty obvious I'm happy with the overall experience offered by Tube Dupe. It just seemed like no matter where I went here, I was presented with exactly what I wanted – plus a little more that just came as a bonus. When all is said and done, I'm happy to give my seal of approval on this project and while I won't compel you to head on over, I do think it's a pretty good idea. The sheer quantity of HD material, sourced from the best studios around, with the hottest sluts in the industry is just too delicious to pass up on. You'll return here after your first visit – that's not a guess, that's a guarantee!
Thanks for reading this full, professional analysis on TubeDupe. Want more tubes to check out? Head on back to my whole category devoted to them if so! Take care and enjoy your next hog squeeze – peace!
Lots of channels
Plenty of HD scenes
Great pornstar database
Very few adverts
Limited amateur material
Cannot download scenes