Tube8 Review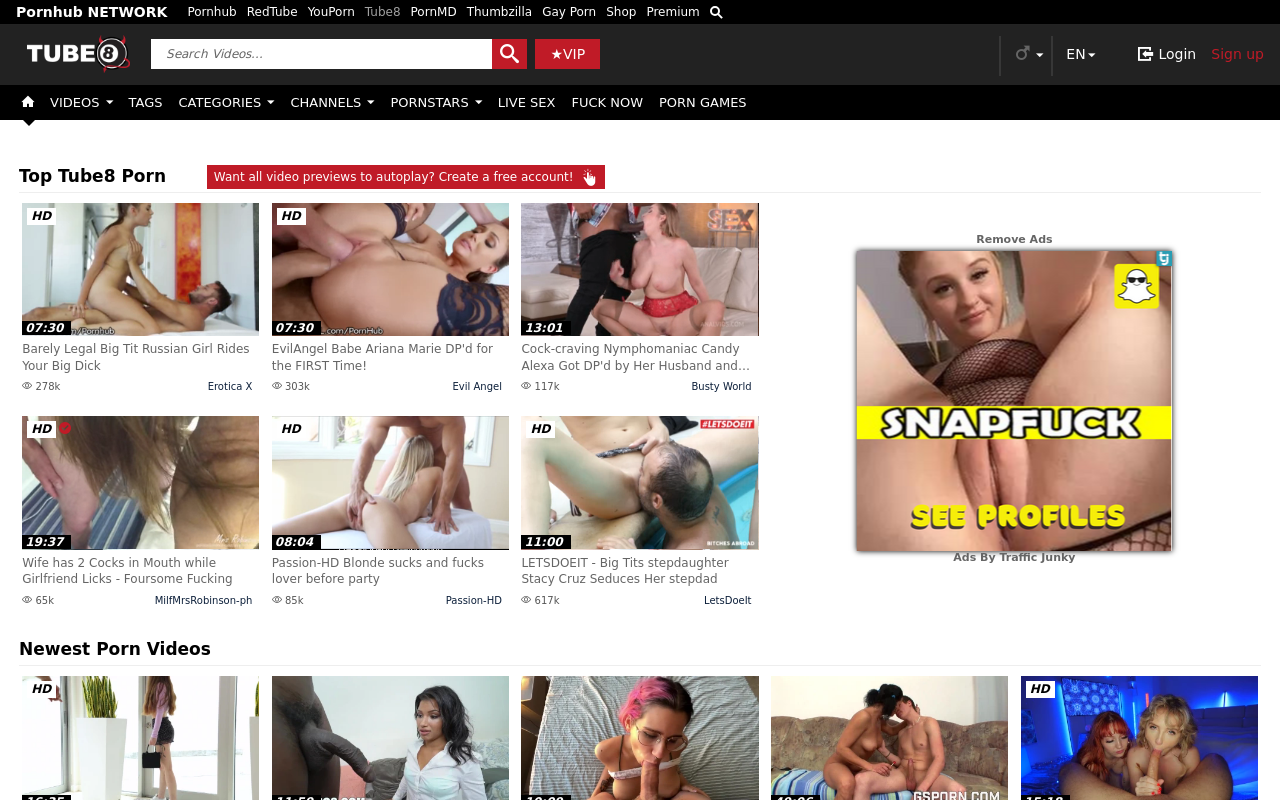 Fetish Dude visits Tube8
I think most people who've had semi-regular access to the Internet are likely to know about Tube8. If you're unsure, this is a porn video streaming service that is actually operated by the same guys behind PornHub, RedTube and YouPorn: basically, you're in safe hands when it comes to the distribution of adult material here! That said, Fetish Dude isn't one to just recommend a place without explaining his thought process or even going through the necessary steps, so let's go ahead and talk shop about Tube8 and what's going on here. Sound like a plan? Good!
The homepage of Tube8
So to get things started, Tube8's homepage has a section at the top of the site that's devoted to the 'top' material. I'm not entirely sure how this is decided, but it's probably a combination of views and how long ago the scene was uploaded to the platform. If you scroll down, you'll find a new block devoted to featured scenes of the last 24 hours – this appears to be hand-picked uploads from the people who run the service to make sure that you're getting your hands on the good stuff. Tube8 also has a direct area for you to look at the latest uploads, which is pretty cool if you're the type of person who wants to get the latest and greatest smut delivered to your PC.
Note that the preview panes here currently consist of a title, scene thumbnail, view count and upvote ratio, as well as the length of the production. In some cases, Tube8 will also display whether or not a HD version of the upload is available – this is good if you're someone who only wants to watch 720p and 1080p material. Fetish Dude is of the opinion that almost all tubes out there ought to offer high definition smut if they plan to succeed. So yeah – the good news is that Tube8 is already doing what it ought to do and because of that, I'm going to approve of the homepage setup and the surface-level analysis of what this hub has to offer. Still though: plenty more to explore, so let's go ahead and do exactly that!
A look at the channels from Tube8
There are lots of premium porn websites out there that are quite popular, but since this is a free tube, you wouldn't expect to get too much, right? Wrong! Hit the 'channels' link right at the top of Tube8 and you'll come across all of your favorite studios for hardcore adult entertainment. We're talking about the likes of Public Agent, Family Strokes, Reality Kings, Sis Loves Me, Moms Teach Sex and Massage Rooms. Perhaps what I like most about the channels here on Tube8 is the sheer quantity of adult material that'll be delivered to you. We're talking hundreds of uploads with a few places – hell, Babes.com is even here with over 1,000 scenes! I think that it's fair to say that there is a decent amount of amateur material on Tube8, but few tube services can beat these guys when it comes to straight-up professional content. Fetish Dude has to again commend the people behind this project for giving us what we all want: access to the best porn from the greatest studios out there.
The pornstars of Tube8
So what happens when you want to find content from a specific adult model? Well, the good news is that you can visit the pornstars page to see all of the best chicks and select the ones you want to see in action! I think it's fair to say that with chicks such as Britney Amber, Luna Star, Abella Danger, Riley Reid and Kendra Lust, it's pretty hard to wrong in the content department. After selecting your favorite model, you'll also have the ability to sort the scenes based on the date uploaded, their ratings, number of views and length. The girls don't have much else associated with their profiles (such as exclusive scenes or detailed biographies), but at least you get a huge amount of material here that'll make you rock solid from the get go.
A look at the Tube8 content collection
I'd say that there is a pretty big focus on professional material here, so I hope you enjoy watching the best of the best get down to business. Tube8 actually seems to have quite a high amount of HD action too, so that's great if you're someone who cares very much about quality. Average lengths of scenes is more than reasonable – far above average for your typical tube. We're talking 20 to 45 minutes, with some going for well over an hour if the studio wants to publish that much material. Note that it is possible to sign up for Tube8 and in return, you have the ability to leave comments, build your own collections and most importantly of all, download content to your computer!
After grabbing an account and putting this place to the test, I was pleased to see that a hell of a lot of effort has gone into making sure that Tube8 is fully functional and yes – the download speeds for the XXX videos are great. We're talking about 18 MB/s at least: Fetish Dude's connection actually got capped out by this place! My only complaint is the fact that a lot of the uploads have watermarks, but that's a small price to pay for what you're getting on the other side, right?
Some final thoughts on Tube8's library
I'm typically quite cautious with reviews of this nature, but yeah – any traffic I send on over to Tube8 is probably going to be people who are more than satisfied with what they receive on the other end. I don't think it's exactly a scandal to recommend one of the most visited porn tubes out there, so that's all that Fetish Dude really needs to say on the topic. Thanks for reading this in-depth analysis and please – please be sure to check out my main review segment on free porn video sites if you'd like to find more great places like Tube8. Take care and may your next jerk session be the best one yet!
Can download content
Lots of HD videos
Pornstar database available
Account required for downloads
Small amateur community