TonicMovies Review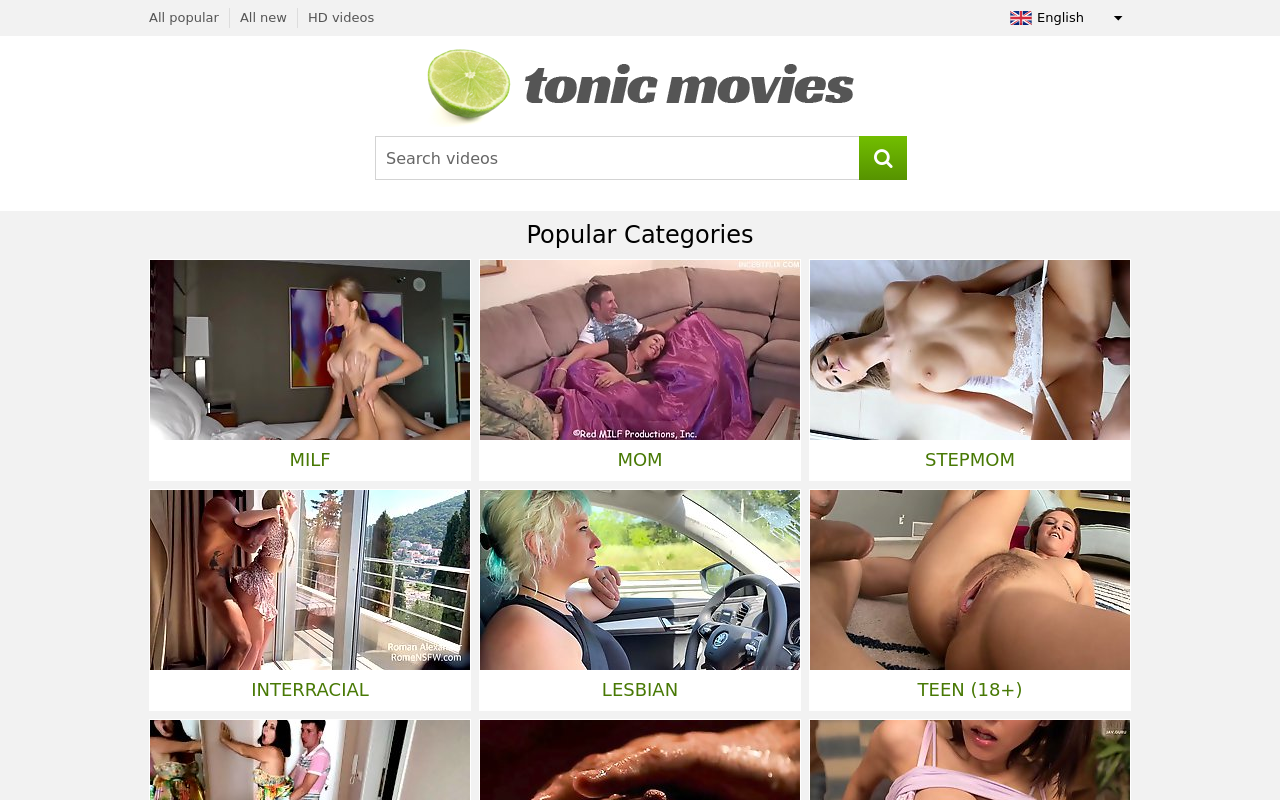 Fetish Dude hits up Tonic Movies
Hello friends: it's Fetish Dude here and yes, it's that time again! As you all may know, I'm pretty much addicted to reviewing free tube sites these days and I've got another one for ya'll to consider in this particular analysis. It's called TonicMovies and actually came recommended from a third-party who's familiar with the website. I'm typically skeptical of outside suggestions, but I'm willing to put TonicMovies to the test to see if the juice is worth the squeeze. Fingers crossed they're able to deliver a good free porn experience, but that's something we'll just have to work out as we go along. So without further ado, let's crack on and take Tonic Movies for a test drive.
My first thoughts on TonicMovies
So the very first thing that I want to talk about here is the homepage: it stands to reason that since so many people visit this page in particular, it might as well be my focus. Before that though, I do just want to touch on one security issue here. Currently, TonicMovies is only available for access via HTTP, which means that anyone between you and the server is able to see what you're looking at. I'm not a fan of this at all and I really hope that down the road, TonicMovies decides that it's better for them to switch over to HTTPS. Starting next year, I'll actively start to downgrade sites that aren't secure. Note that this isn't going to give you a mega virus or whatever else, but if you don't run the network you're accessing TonicMovies on, there could be trouble ahead. Okay, now that's out of the way, let's see what the homepage is like here.
Instead of sticking to the method of showing you videos first, Tonic Movies goes ahead and renders the various categories they're offering instead. You've got a number of top-tier options here, including teen, anal, Japanese, MILF and shemale. My only problem is the fact that some of the genres seem a little unnecessary. As an example, out of the top 15 recommendations, there's stepmom, MILF, mom and mature: I think all 4 of those could be combined and no one would really be complaining. If you scroll down right to the bottom of the homepage, you'll see all of the categories they have, as well as a scene count if you're interested in just how many videos there are associated with each genre. It's a pretty reasonable system and it does look like TonicMovies has a hell of a lot of porn for you to watch here.
Using the popular button on TonicMovies
Turns out that while the homepage is themed around categories, you can actually go right ahead and hit 'all popular' right at the top of the site if you'd like to see good scenes instead. TonicMovies has 19 million videos in total, but that's not quite accurate, since what they document here is actually all collected from third-party tubes. All of the big names are here, including xHamster, PornHub, Jizz Bunker and so on. Because of this approach, you don't actually get much by way of filtering or sorting – all of the sites use different data structures, and that's basically impossible for TonicMovies to handle with any level of sufficiency. The good news is that with over 19 million clips, you can't really go wrong. Just know that when you find a thumbnail that has you interested, you will be diverted through to a third-party platform that then serves up the goods for you.
The drawbacks of TonicMovies
This is going to be a bit of a lengthy segment, but that's only because TonicMovies doesn't have much more for me to comment on, other than the pros and cons of their setup. So firstly, the obvious benefit here is that you can look at porn from a huge number of sources without the need to go and hit them up all individually. This means that you can remove basically all of those tube bookmarks and just come to TonicMovies, right? Well, it's not all peaches and cream, since there are quite a few things lacking here that some people might want.
First of all, you can't go ahead and look at all of the scenes published by a particular pornstar. This means that if you only want to see action from Riley Reid, Brandi Love, Lexi Belle or another professional, you're going to have to manually type in a search and hope that the results are relevant. Additionally, you're somewhat restricted when it comes to organizing your niches and whatever else. Tonic Movies cannot really give you the full suite of sorting options that are available on a number of tube websites, which I find to be pretty useful from time to time.
Perhaps the last issue that I have is that since material isn't hosted locally here, there's always the chance that the third-party service could delete the scene in question, it be removed because of a DMCA notice or something else entirely. This could make you a little disappointed that the porn video you wanted cannot be accessed, which will make your cock a very unhappy piece of meat!
My final thoughts and opinion on TonicMovies
Naturally, I think that for a lot of people, the drawbacks here aren't going to be enough to keep you away from the project. What they do well is give you access to a lot of content all in one location, which has a huge number of benefits as you continue through the huge archive of smut they have. My only serious issue is the inability for porn addicted punters to go ahead and filter out anything that's non-HD, but that seems like a small complaint, so I won't be bumping Tonic Movies too far down as a result.
Bottom line: Fetish Dude thinks that TonicMovies is a pretty hot spot right now for people to access dozens of tubes' all in one central location. It has its flaws, but so does your mom – that doesn't stop me fucking her every weekend! Take a look at Tonic Movies now and get the XXX clips you crave.
Over 19 million videos
Lots of categories
Fast loading speeds
No adverts
Limited sorting functionality
No pornstar database