Tiava Review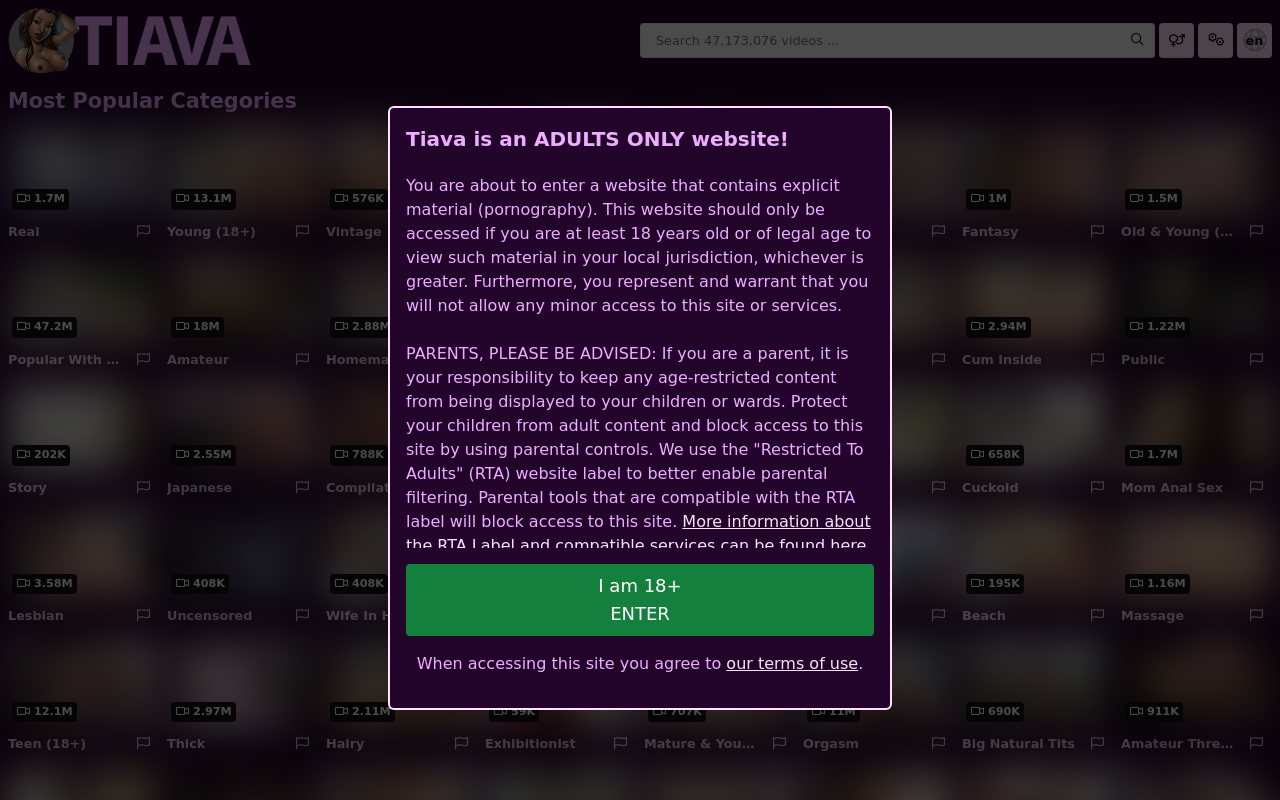 Fetish Dude visits Tiava
What's going on, groovy gang? It's Fetish Dude here and you know what time it is, right? Well, I'm planning to write up a fresh review on a place by the name of Tiava and I'm guessing that since you're here, you want to know what I find after checking this hub out. They claim to offer free porn videos and on the surface that does sound like an attractive premise, but I want to make sure that what they've got here in the real deal. So, without wasting any more time, let's get into the thick of it and see just how well Tiava stands up to Fetish Dude's scrutiny.
The initial reaction to Tiava
After landing on the homepage here, you'll find that Tiava goes down the path of showing niches over scenes themselves – a common tactic for quite a few tube websites out there right now. I'm generally okay with this approach, but I think that it can have quite a few problems. That's very much the case here on Tiava too, since they have these categories all on the homepage for you to click: wife in homemade, mom, mature amateur, amateur wife and MILF. Am I going crazy, or are these all essentially the same thing? I'm not sure why they're all that different and in cases where they are, Tiava should provide the ability for visitors to pick multiple genres at the same time if they want to go down the specialized road.
One thing you might have noticed early on is the fact that there are a huge number of videos here according to the data attached to each category. For instance, Tiava claims to have 3.6 million Asian uploads and close to 900,000 massage videos: are these numbers real? Yes and no: the situation is complicated and I think it'd be a wise idea to study exactly what method they go for here in terms of content distribution. Not all is as it seems from the homepage, that's for sure!
How Tiava gets its content
Typically, tube websites host their own content on their own servers, so they have full control over what you see and maintain the copy of the scene for your direct access. This isn't the case with Tiava, which actually acts as an indexing service for the major players out there. See, all they do is go to tubes like xHamster, PerfectGirls, SpankWire and PornHat and scrape their entire databases of uploads. Once that's done, they curate them and stick the material here for you to watch – pretty cool stuff. Now this approach has the benefit of you seeing a lot of footage (Tiava currently has over 40 million videos), but you will find that many tubes have overlapping content bases, so doubles do exist. It also means that when you find a thumbnail that tickles your fancy, you will be required to head on over to the page in question by yourself instead of having it embedded on the site for you. This isn't the end of the world, but it is worth knowing about, because when you think about it technically, Tiava has absolutely no local content for you to watch. Funny how the biggest sites have zero porn – though as you can see, that's for good reason!
Searching for smut at Tiava
The search feature here is really quite good and the main reason for that is owing to the fact that the archive is so damn big. You've got millions of clips that the server will look through, so you can type in some pretty obscure stuff and if it exists as a fetish, you'll find porn videos here to jerk off over. When you do type in a query, you'll also have the ability to sort based on a number of different metrics. By default it's based on popularity, but you can switch this over to date, duration and rating if you so desire. Tiava also has a bunch of filtering choices so that if you want to look at purely HD material or stuff that's over 30 minutes in length, you can. I was pleasantly surprised at just how good the search functionality here was, so a massive shout-out to the crew manning Tiava: they've got their heads on their shoulders, that's for sure.
Exploring the top-rated area
If you want to just look at some of the best content around, smash the 'top rated videos' button right at the top of the website. This is a no-nonsense approach which will show you content from a bunch of tubes that's bound to make you rock solid. You can also control this for scenes added in the last month if you want to focus on the freshest flicks. Now because there is such a demand out there for hardcore content that comes from professional studios, it should come as no surprise that these are the major suppliers giving you the porn you crave. I noticed that Tiava sources its scenes from the likes of We Live Together, Kink, Hot Guys Fuck, Exotic 4K and so on. There are some amateur uploads here, but those aren't the primary focus here, so don't expect to get too much if you just go to the main popular page. Personally, I feel like the popular section and the HD filter are your best options for finding great material.
A conclusion on Tiava
I don't want to spend much more time talking about Tiava, so I think I'll leave the review there and just recommend that you check this place out yourself. One thing that's obvious here is the fact that Tiava's commitment to world-class porn and huge amounts of it is going to make you very happy indeed. They've got a bunch of different sources and that means that you're never going to run out of smut to watch. Bottom line: if you're looking to explore a database with millions of sex videos, Tiava is the go-to spot for you.
Want more great reviews on the best tubes around? Visit my main archive page devoted to the top sex video streaming sites now! With Fetish Dude, you can guarantee getting the best spots around for XXX action.
Millions of videos
Lots of sorting options
Limited adverts
No pornstar database
Limited amateur focus