ThumbZilla Review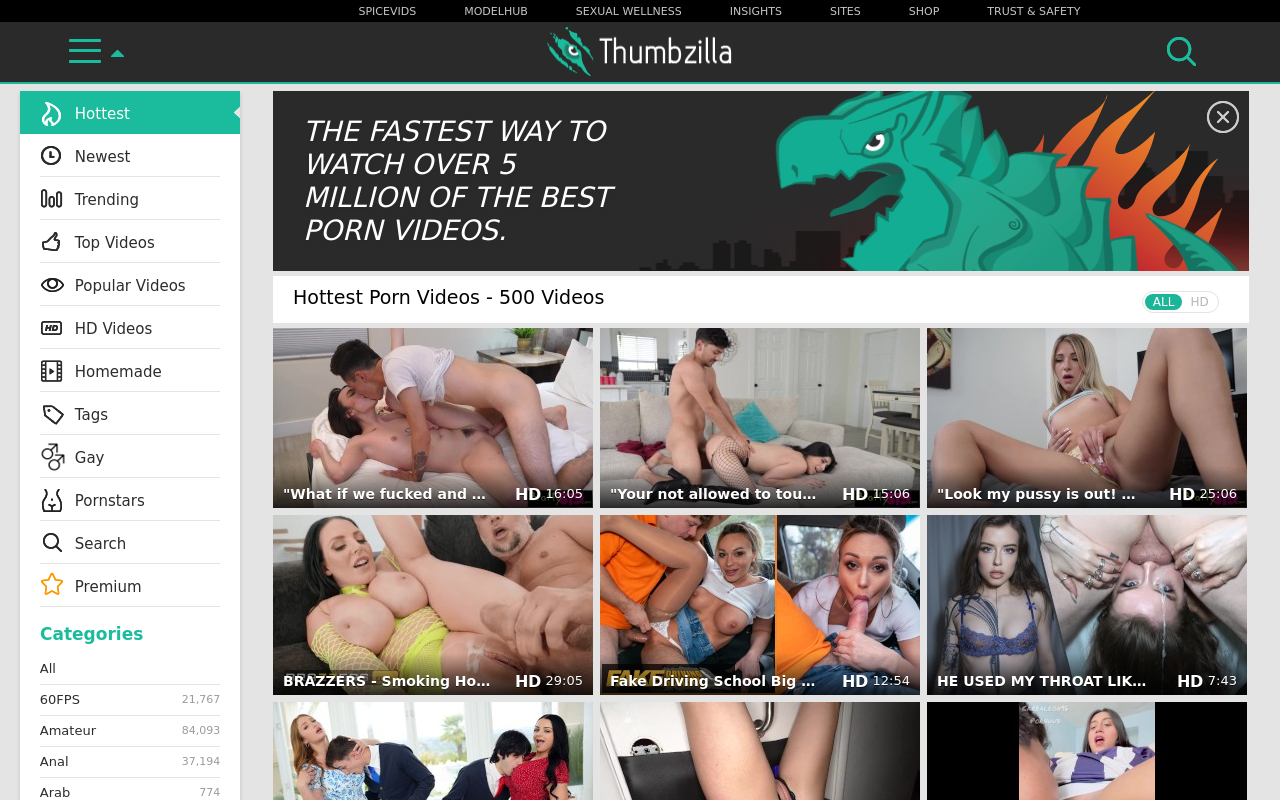 Fetish Dude heads on over to ThumbZilla
According to the guys behind ThumbZilla, you'll find more than 3.5 million free sex videos here and allegedly zero advertising – is that true? The claim seems to be a bold one: I'm excited to find out if they actually deliver on what they promise, or if it's just an empty suggestion to get the horny punters in. Whatever the truth may be, it's going to be the job of Fetish Dude in this review to get to the bottom of the situation. If you'd like to know what ThumbZilla has and if I endorse the platform, read down below – I'll give you my full, honest opinion on what this video tube is all about.
The homepage of ThumbZilla
On the homepage of ThumbZilla, you'll come across a relatively familiar sight: lots of preview panes devoted to scenes that are available on the platform. The first – and only – block area is devoted to the 'hottest' scenes, which I imagine is a combination of the highest rated and most recently uploaded videos to the library. Do note that on the right-hand side of the page, you've got a convenient filter to only show material here that's available in HD. You can also see an icon in the preview panes that alludes to whether or not it has a high definition option for you to check out: pretty sweet!
In addition to this tag, the teasers for the clips also feature a thumbnail from the video itself, a title and length – that's it! Pretty minimal and that's fine my me, only I would argue that it'd be better if these guys just extended the available text somewhat, since it's only one line and you get very few words to read what's going on in the scenes. All in all though, I think that this block system is pretty reasonable and perfect for 90% of people who're coming to the site to watch XXX videos.
The sidebar of ThumbZilla
So it turns out that there's also a pretty extensive sidebar here which acts as a way for you to really refine what it is you want to access. My favorite sorting features are available by default, including the ability to check out the newest videos, trending clips, top rated uploads and so on. The page load speeds when you navigate to these parts of the website are incredibly quick – credit has to be given to ThumbZilla for making the whole experience here speedy and pain free. Few tubes will actually load things up for you in a quick amount of time: something I find quite important when you want to jerk your cock off non-stop to a free porn video!
ThumbZilla: the pornstars
As you might have suspected, it turns out that ThumbZilla has a section on their site devoted to various models who've appeared in the productions that they host. By default, these are listed based on their rankings, with some of the top girls here including the likes of Angela White, Riley Reid, Lexi Lore, Elsa Jean and Kimmy Granger. Suffice to say that Fetish Dude thinks this is a decent coverage and they really do nail some of the hottest broads in the business. Note that while these are sorted by ranking, you can instead elect to see the pornstars on ThumbZilla organized based on number of views, video count or just a simple A-Z. Just for the sake of curiosity, it turns out that Mia Khalifa is #1 here, with just over 169 million views: pretty damn extreme if you ask me. That girl barely did any adult scenes while she was active in the business!
The HD video section of Thumb Zilla
In the modern era or porn consumption, I think it's pretty reasonable to expect that any place you visit has at least some form of high definition material for you to enjoy. Well, in the case of ThumbZilla, they have an entire section of their site devoted to it. I did a count and it turns out that there are 177,000+ scenes in this section, meaning that they likely have one of the biggest databases of HD content around. When you eventually go ahead and select a scene, you do have the ability to select the resolution, with 1080p, 720p and 480p being a regular set of options. Now I should probably note one thing before going further – ThumbZilla isn't all it looks to be.
The sources of ThumbZilla
So interestingly enough, it would appear that ThumbZilla is basically a mirror website of PornHub, since all of the content here is directly embedded from that platform. From what I can piece together, the parent company of PornHub also owns ThumbZilla, so they're basically using this as a place to give people an ad-free experience for PornHub. I don't know what the purpose or motivation of this is, but I'm not complaining, since people can come here and enjoy any porn uploads they want without being bogged down with spam messages, popups and whatever else. Fetish Dude wishes that all tubes adopted a 'no advert' policy, but I don't really know how these places would survive! Perhaps ThumbZilla is just a charity service that the PornHub team offer? I don't think we'll ever find out for sure, but I'm not going to complain while this stellar tube is still available for the punters to jerk off on!
Wrapping up my ThumbZilla review
On account of the fact that the material here can be watched without any advertisements and it's pretty trivial to only see the HD scenes they have, I have no choice but to recommend ThumbZilla. This is a pretty unique project and I'd be surprised if anyone visited this free porn tube and found it to be less than relevant to their interests. At the end of the day, there's a hell of a lot of adult material here and that rocks in my world. So, in short: get your ass over to ThumbZilla now and enjoy the best ad-free porn tube experience the Web likely has to offer!
Lots of HD footage
No adverts anywhere
Good pornstar database
Fast loading speeds
Third-party embeds
Limited written descriptions