TeenPornVideo Review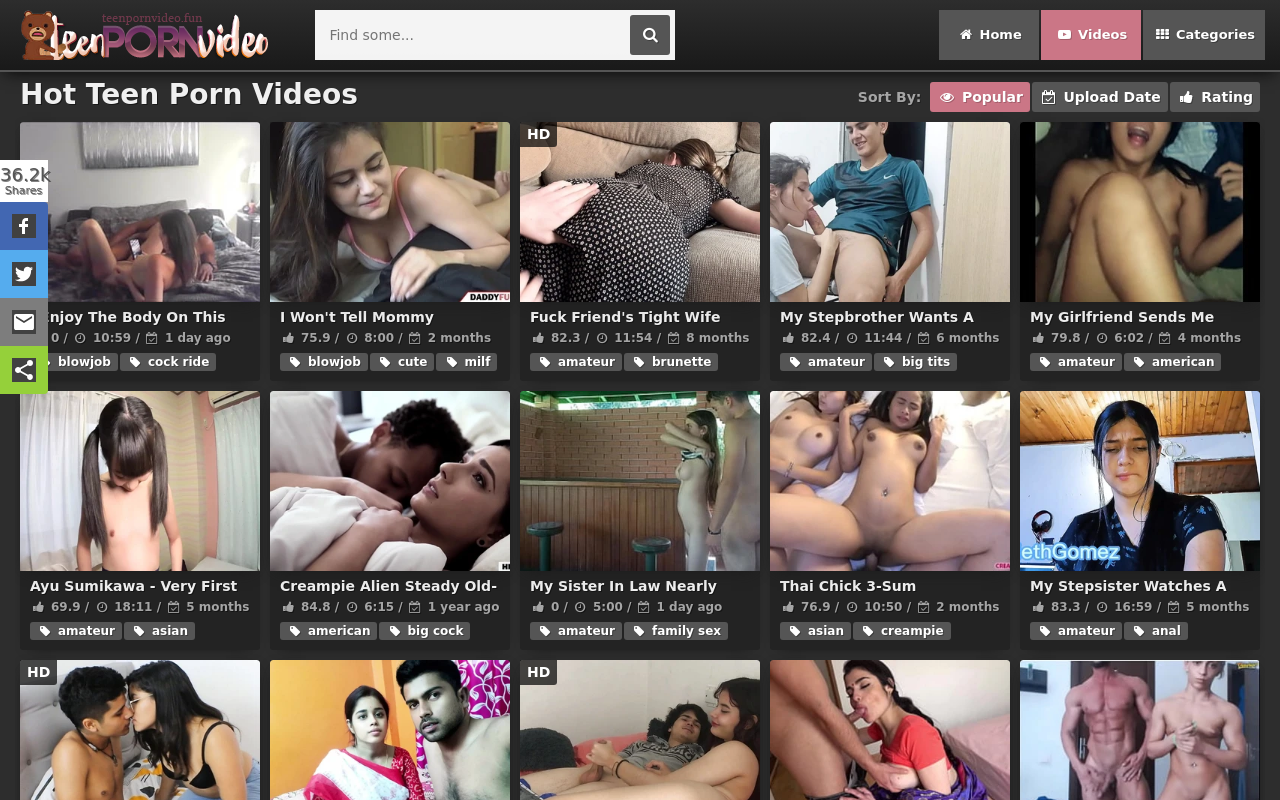 Fetish Dude visits TeenPornVideo
Hello my beautiful monkeys: it's Fetish Dude here and yes, I'm going to be talking about a tube site in this analysis. Over the last few years, I've built up a stellar reputation on bringing you folks the finest, largest hubs for jerking off. It's a pretty enjoyable thing for me to do, but it isn't easy: you've got to know what to look for with these types of sites. Today, we'll be heading on over to TeenPornVideo to see what the deal is and ultimately, considering if we want to make it a recommendation for those seeking a jerk. So, without wasting any more time, this moron's gonna go see what's happening at TeenPornVideo.
First thoughts on TeenPornVideo
The very first thing that I want to mention here is that Fetish Dude is always keen to focus on the homepage of a place first: it's where I get a decent idea of just how good the players are in the space. Thankfully, Teen Porn Video sticks to tradition and shows you some of the most watched videos on their platform since its inception. This isn't my ultimate preference, but you'll be pleased to know that in the top right-hand corner, you've got all of the sorting features that you'll ever need. These are key if you're hoping to optimize your jerking experience – trust me on that one, Fetish Dude ought to know. I mean, it's not like I've been rating the best porn tubes for the last decade, right?
The sorting on TeenPornVideo
When you want to sort directly from the homepage, you've got three other options alongside the default of 'most watched'. The first is sorting all of the scenes based on upload date, so you're able to go ahead and see just how frequently fresh videos are added to the library. Fetish dude decided to check this out and yes: there are daily releases here, so that's something worth mentioning! Next up, you've got a sorting option based on rating, which basically looks at those uploads which've been critically acclaimed by people like you! It's always good when jerkers help you on your quest for ultimate erotic bliss, so a big thank-you for TeenPornVideo for making this happen. Lastly, you've got 'popularity', which is essentially a combination of new and rating. Think of this similar to how Facebook and Reddit operate: you don't see the all-time best, nor the newest, but essentially a weighted combination of the most recent and the most appreciated.
The categories offered by TeenPornVideo
If you're like me, you really do appreciate websites that give you access to top quality categories. I mean, my name is Fetish Dude: any moron can figure out that I'm always looking for the next big niche destination! Anyhow, Teen Porn Video does have a location on its site called 'categories' and yes, you guessed it: this is where you want to go if you're looking for a particular genre of porn. I'm not too sure by the default sorting is based upon, but toward the top you'll find a range of popular options, including Teen, European, solo and lesbian. This section doesn't escape criticism, though: I saw a lot of duplicate categories here that ought to be combined. For instance, I don't think anyone would suggest for a second that there is a material difference between teen, 18, young and teens, but these are 4 unique categories that TeenPornVideo has.
Selecting some content at Teen Porn Video
When it's time for you to jerk your cock over some XXX entertainment, select your category and you'll be shown all of the videos associated with it, Note that you can go ahead and search yet again for scenes based on all of the previous metrics, such as rating and release date. Preview sections here have scenes displayed based on their length, rating, title, view count and upload date. It's all pretty standard stuff, but on a 1080p monitor, there's a lot of empty space on the sides of the content area. I think this ought to be expanded: even a sidebar with the niches would be nice, if not slightly larger thumbnails. Now then: let's go ahead and watch some porn videos from TeenPornVideo, shall we?
The TeenPornVideo video experience
I will let you know ahead of time that the average length of scenes from TeenPornVideo is pretty damn low. You're looking at between 5 to 10 minutes, but on the flip side, these are all provided by the third-party studios that produce them, which means you're getting some seriously decent quality here for embeds. Full screen is available, and perhaps my favorite feature is that TeenPornVideo allows you to download their young sex clips directly to your computer. You will need to provide a username and password for this service, which I'm not a fan of, but at the end of the day, most places require that anyway, so it's not like they're stepping out of line.
TeenPornVideo: the criticism
You ought to know by now that Fetish Dude has pretty strict requirements for any site he suggests, so I'm going to go ahead here and just talk a little about what this place isn't doing right. Firstly, no pornstar database means it's hard to find your favorite teenage starlet taking big cocks: that needs to be added quick. Second, while there are quite a few HD scenes here, since clips are only 5 to 10 minutes in length, all uploads should really be in full 1080p. Maybe one day in the future they'll achieve this, but for now – it's just not happening.
Finishing up my analysis on TeenPornVideo
Fetish Dude can sometimes struggle with a few websites that are okay, but not great. I feel that when it comes to Teen Porn Video, they're very much not in this area, because it's a definite recommendation from me! Yes, there are issues here, but are you going to avoid fucking a chick because she doesn't understand capital gains tax? The reality of the situation at TeenPornVideo is that they've got a good thing going, so yeah – if you like teen porn videos, it might very well be the perfect time for you to get on over there so you can massage your sausage. As always, cheers for reading – may your next teen-themed squeeze be the best one yet!
Quality hardcore videos
Focused on teen sex
Ability to sort extensively
Low average clip length
No pornstar database