SwapSmut Review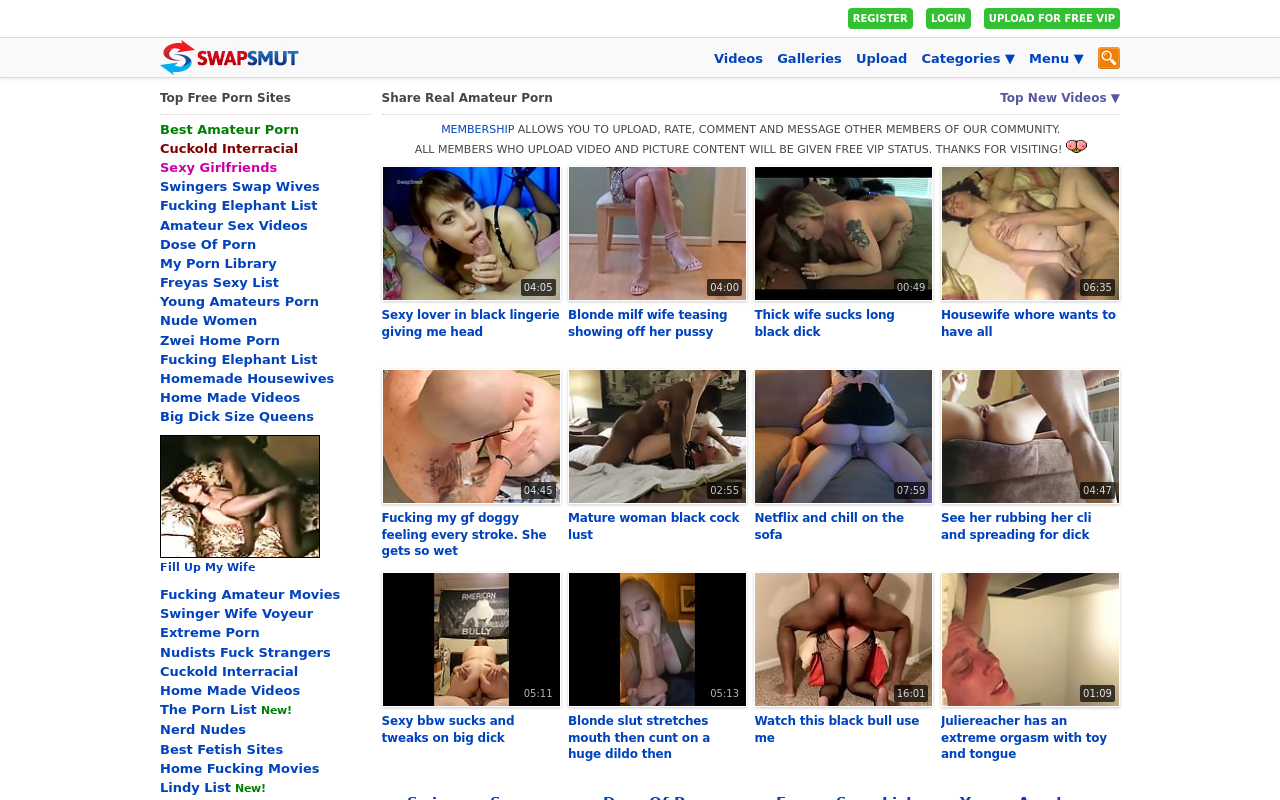 SwapSmut: Fetish Dude goes in for the review
With a name like Swap Smut, I'm basically expecting this place to be a destination that you visit in order to trade nude videos with strangers online. From an initial surface-level look, it would appear that you'll get a bunch of homemade sex movies here, mainly focused on the very best in amateur fucking and sucking. Still, before I sign off on the project, I'll have to do my due diligence to determine if the juice is worth the squeeze. So, without further ado, let's get down to the task at hand and see if SwapSmut knows what's what when it comes to free amateur porn videos.
A small notice on SwapSmut
Before we go any further, I want to point out early on that as things currently stand, SwapSmut doesn't allow you to connect to their platform via HTTPS. This means that anyone between you and the server is able to see what you're accessing and the information you're sending – this is a massive security issue in some instances, so you have been warned ahead of time. Over the next few years, Fetish Dude will actually start to remove all websites that aren't HTTPS, so don't think I'm taking this lightly: the Internet should be secure and that's that! Okay, now my tech geek rant is over, let's look at the homepage of SwapSmut to see exactly what's going on.
SwapSmut: the homepage in focus
The layout here isn't the best – it feels rather dated, all things considered. I'm not entirely sure what the problem is, but I think it might just be the fact that it's a very amateur website and they're committed to giving you the best of the best when it comes to content, so they haven't focused much on design or anything else. Anyhow, the homepage here seems to be devoted to the best of the latest uploads, which I think is probably the method of content display that most tube websites should go for – it's always nice to be able to see what's the latest and the greatest whenever you're jerking off to porn online.
If you continue to scroll down the homepage of SwapSmut, you'll come across some amateur photo archives, which actually make up a sizable portion of the material here. That said, I am on this site purely for the purposes of deciding whether or not it's a good tube, so Fetish Dude is going to hone on in the video side of things for the time and being. Just know that if you do like a few naughty amateur snaps, this place has them on standby – pretty cool if you ask me.
A look at the categories on SwapSmut
Although Swap Smut has no categories page to speak of, you can mouse over the top navigation bar and you'll be presented with a huge array of genres: exactly what Fetish Dude wants to see from a place like this! You've got all of your popular niches on offer here, including Asian, redhead, lesbian, group sex and MILF. Note that more refined tastes are also accounted for, including pregnant, redhead and lingerie – pretty good assortment, wouldn't you agree?
After clicking on a category, you'll be taken through to an index page that has all of the videos associated with that specific niche in question. These are sorted by default based on upload date, but if you use the dropdown box in the top right-hand corner, you'll instead be able to organize everything here based on popularity, views, length and rating. I'm of the opinion that essentially all tubes ought to have this, so yeah – props to Swap Smut for making it easy for us to get the organized content that we want. There's nothing worse than not being able to clearly and accurately access all of the XXX videos that you want. Oh and please remember: the focus here is on amateur material. You won't find any shoots from studios like Reality Kings or Brazzers: this is genuine homemade material that's going to make you rock solid in the pants department.
Watching porn on SwapSmut
After clicking on a video, you'll be taken through to an embed spot for the scene in question. Note that by default, only low quality uploads are displayed for non-members. Signing up is free, but it does take time and to be truthful with you, I dislike when tubes do stuff like this. I understand that it's good for user retention, but I don't know – I just wish SwapSmut would give you the best quality content without demanding that you hand over your email address. You wouldn't believe how much spam email Fetish Dude has received over the last few years – it's a pain in the ass to deal with!
I'd say that in terms of content quality on a subjective level, Swap Smut has a fantastic average level. What's so great about this place is that the videos on offer appear to be entirely sourced from the people who feature in them, which is absolutely fantastic if you're a big fan of genuine homemade entertainment. The database doesn't appear to be spammed, which can be a common issue with a lot of tubes out there. You'll also find a good meta area which gives you a description, list of associated tags and even a few categories so that you can find more of the same. I think that you'll struggle to find many better places for genuine amateur content.
My conclusion on SwapSmut
Okay friends: I'll just go ahead here and let you visit SwapSmut if you want to learn more about the project. This isn't your standard tube site and while the design is a little on the ugly side, I feel as if they've done a good job of curating genuine uploads that showcase some of the finest amateur smuts around getting nude and rude in front of their cameras. It's a fantastic place and it has my blessing: it doesn't get much easier to explain than that!
Genuine homemade content
Fast buffering speeds
Categorized content
HD requires membership
Average website layout