StripChat Review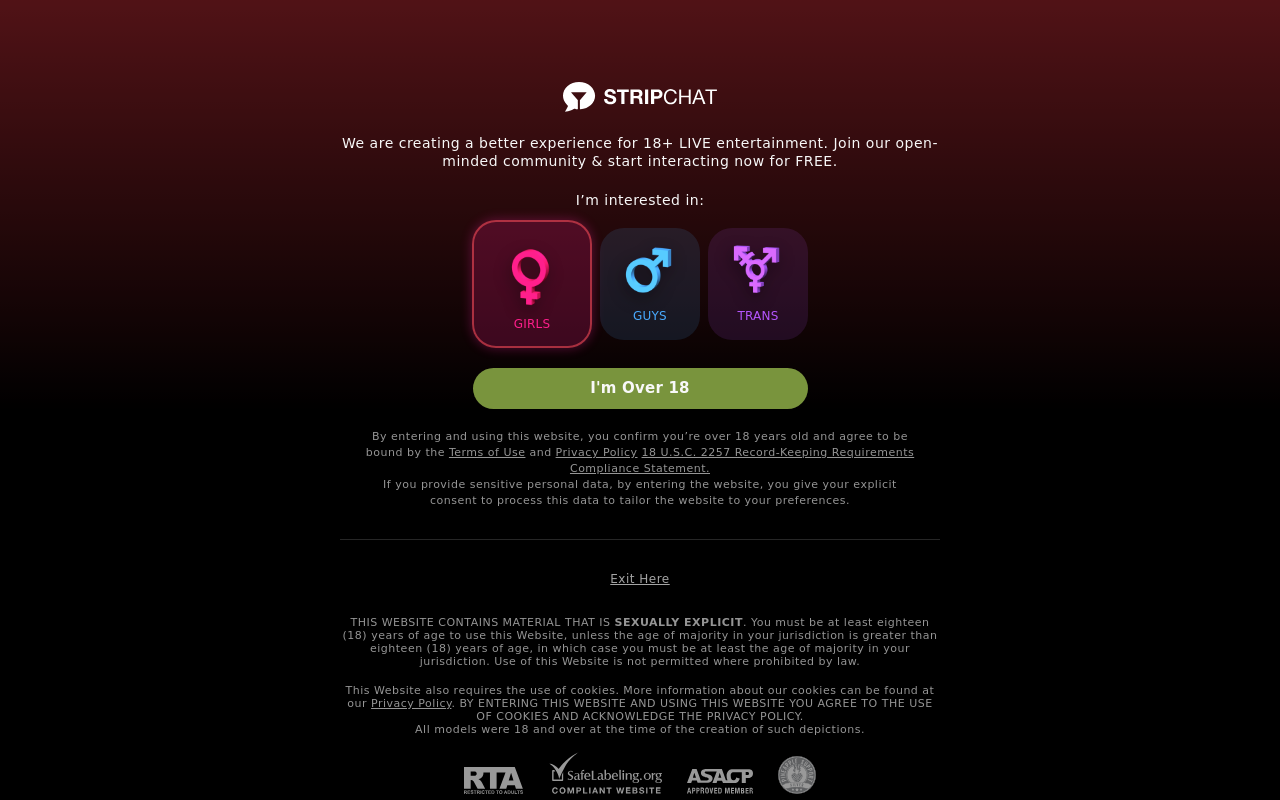 A look at StripChat
Hello there and welcome to my review here on Strip Chat. For those of you who are new to Fetish Dude – welcome. To put things in a simple format for you: I'm the person you visit when you want to find the very best websites in the world. See, instead of having to do your own research, I do it on your behalf! That's why I cannot wait to head on over to StripChat for a full look at what they have to offer. Will this be the best cam streaming project around, or will it fall short of all expectations? To find out, please read the rest of my analysis down below. I'm excited to finally check out StripChat!
The homepage of StripChat in focus
I think it's generally a good idea to start out at homepages when writing up reviews, so let's go ahead and see what StripChat has, shall we? I'd estimate that around 80% of the homepage is devoted to showing you preview panes of various shows, so that's quite cool – it's always nice to see what's on offer in the shop window before you get into a restaurant!
There are two main sections here on the homepage: one is devoted to the top rated live shows and the one below that features new performers. The 'top rated' is a good place to go if you don't want to gamble: these are the ladies on Strip Chat who have a track record of providing a world-class live experience and yeah, you know what you're about to see is simply incredible. That said, if you're a gambling man – or you just want to show an amateur the ropes – scroll down a little to see the freshest slices of pie available via StripChat. I'm not too sure how long ladies in this specific category stay for, but the 5 I checked out all joined within the last 2 weeks, so it seems pretty specific.
Niches on StripChat's platform
Since my major focus is on giving people the type of porn they enjoy most, it would be silly for me not to cover your available genres here at StripChat. I'm pleased to see that they're all on the left-hand side of the page and you've got a bunch of different options that are clearly grouped appropriately – this is a big thing if you know what you're looking for! One of my favorite things about StripChat is their availability of various ethnicities, so if you want to see ebony, Latina, Asian or even Arab webcams, you can! Granted there were only 16 Middle Eastern performers at the time of writing this review, so it's hardly Muslim central, but still – 16 is better than 0, right? Niches also exist for ages, body types and available services (anal, fisting, fucking machines and so on). Strip Chat also has a specific category if you're just looking for 1080p streams – sweet!
The streaming experience from StripChat
I was pretty pleased with the general webcam quality on offer here as well as all of the interface bells and whistles. Starting private is easy, sending tips and that type of thing is clearly explained and the chat will give you regular messages regarding Lovense action, countdowns and whatever else. Perhaps one of the most beneficial tools here is the 'private' tab next to the 'public' one in the chat section. If you want to contact a camgirl directly, this is the place to go. Just note that you will need to sign up (it's free – don't worry, Fetish Dude checked!) because if they don't do that, chicks will get spammed by horny dudes 24/7. Note that there is a cog on each camgirl's room so that if you want to reduce or increase bitrate and resolution, you can. Most ladies have 720p streams, but as mentioned previously, there are a few with decent 1080p support – pretty cool if you ask me.
Final thoughts on StripChat
Okay friends: I'm happy to go ahead here and wrap up my analysis on StripChat. I think I've covered all bases and after spending around an hour here, I'm happy to give this hub my seal of approval. They have slightly fewer performers than a number of other cam platforms, but with 2,000+ people live when I visited, that's still more than enough. The public shows are great, webcam quality is above average and the niches are easy to navigate. When we look at the totality of the evidence, only one conclusion makes sense: StripChat is a hot hub of XXX live sex webcam fun that'll make you hard as fuck in just a few minutes!
Thanks for reading yet another cam platform review exclusive to Fetish dude!
Over 2
000+ live performers
Some 1080p HD cams
Good ethnic variety
Limited shemale streams
Cluttered chat interface