LiveJasmin Review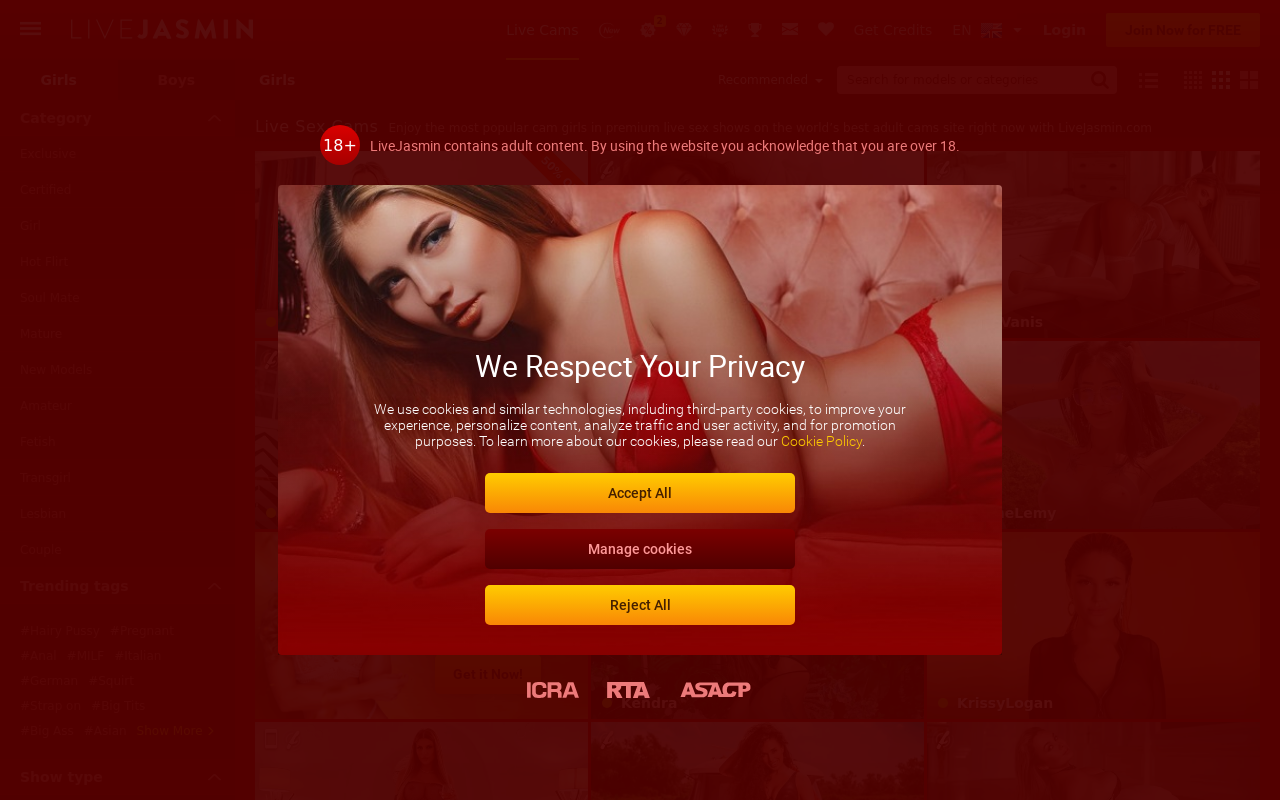 Fetish Dude reviews LiveJasmin
Hey folks, what's going on? It's Fetish Dude here and yeah – it's time for some webcam action! Today, I'm going to be heading on over to Live Jasmin to have a little look at what they've got for us. Now I will be honest: I've already visited Live Jasmin before – this is one of the most popular webcam platforms out there, so it pretty much goes without saying that if you're looking for XXX webcam fun, LiveJasmin is the spot for you. Still, I want to give a complete, thorough account of what's going on here, so let's get to the task and hand and see if the experience here is as good as the Internet would have you believe!
Homepage of LiveJasmin
After landing on the homepage here, you'll come across a rack of preview panes of various girls who stream on the LiveJasmin platform. Note that the approach here is slightly different compared to most places: instead of showing a webcam preview, they elect to offer professional images of the girls in question. I'm not sure if I actually like this approach, but I guess it's nice to see what the sexiest broads on LiveJasmin look like when they're all dolled up. In the top right-hand corner of LiveJasmin, you can go ahead and change the layout style, so if you'd prefer to have the previews a little smaller for more chicks in return, go right ahead.
Categories offered at LiveJasmin
Along the left-hand side of LiveJasmin, you've got a huge number of categories that you can check out – this is where the fetish stuff happens! No matter what it is you're looking for, LiveJasmin likely has a sexy camgirl who's ready to go. Some of the more popular niches on display here include MILF, lesbian, couples and celebrities. I suppose it's probably a good idea to mention at this time that men, women, transsexuals and groups of folk are allowed to perform on LiveJasmin. This is slightly different to some places, such as MFC, which only allow girls and nothing else.
The LiveJasmin webcam experience
After finding a minx on Live Jasmin that tickles your fancy, go right ahead and click on her image to load up the live cam stream. One thing that this platform has always stressed is the quality of their streams – you'll really struggle to find cams as good as what're on offer here. 720p seems to be the minimum, but a few ladies also go up to 1080p. It's not just the objective resolution that's good either: colors look great, the bitrates are solid and you don't get any low framerates because of exposure compensation. These are all great things and make the ability for dudes to jerk off while watching LiveJasmin camgirls a walk in the park!
Interactive features at Live Jasmin
While there are a few camgirls on various platforms that have games you can play with them, LiveJasmin actually puts this in the interface, so if you want to game with the ladies, you can. You're not going to be playing long-form chess here, but some simple games that everyone can enjoy are available. It's an interesting system and yeah – LiveJasmin also has a tipping service where you can give gifts to the girls in exchange for certain rewards. I'd say that around half of the streams are completely public and rely on contributions from everyone tuning in, whereas the other ladies are looking for private, one on one experiences in order to earn their keep. Compared to other webcam platforms out there, I think it's fair to say that LiveJasmin offers something that's very much of the personal variety. This is a spot you go for attention as opposed to straight-up naughty webcam fun. Make of that what you will, but Fetish Dude thinks it's just fine!
Wrapping up my LiveJasmin review
How would I rate my overall experience here? Well – I'm definitely going to recommend LiveJasmin, that's for sure. Every single step of the way, I felt like Live Jasmin was heavily refined for my usage and offered all that I wanted. My only complaint is that you do get cut off from live views every so often when the camgirls go private, but hey – what do you expect? So to keep things short here folks: I think that LiveJasmin is a top-tier place for webcam action and you'd be silly to skip on it. Especially since they have so many hot MILFs, teens and Asian babes for you to masturbate over. If that doesn't sound appealing to you – there's something wrong with your head! Thanks for reading: now go jerk it to perfect camgirls.
Thousands of camgirls
Lots of HD streams
Couple performances allowed
Pushes for signup
Limited ebony streamers