MrPornGeekLive Review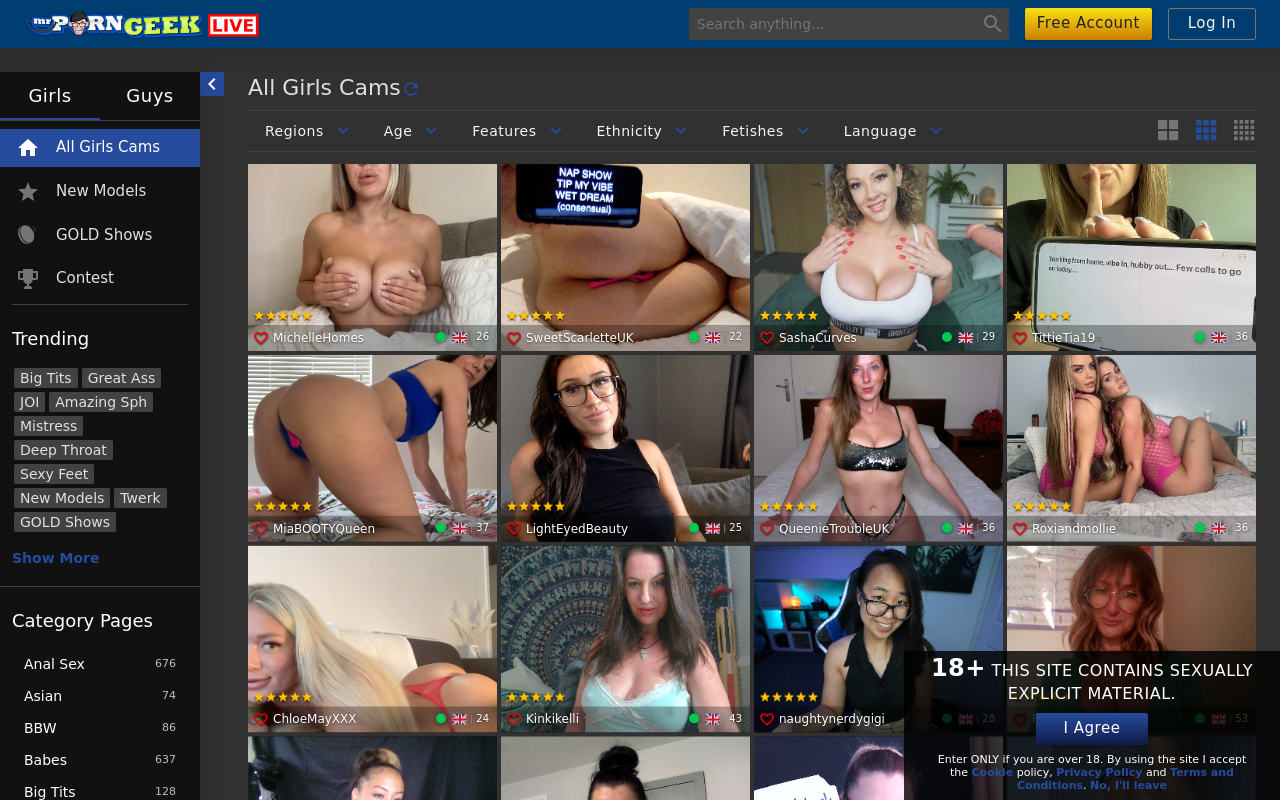 Mr. Porn Geek Live: visiting and reviewing
I've been looking around the Internet for quite a few years now trying to find the latest and greatest in erotic delights: I have to say, this is the first time I've heard of Mr. Porn Geek Live. According to what I've read online, the project is relatively new and compared to platforms like Chaturbate and Live Jasmin, it's a baby in comparison. From what Fetish Dude can piece together, MrPornGeekLive.com has been around for around 2 years – but is youthfulness here a selling point or a problem? I'll find out soon enough: read down below and get my full thoughts and feelings on this website.
The Mr. Porn Geek Live Homepage
When you hit the homepage of Mr. Porn Geek, you'll be greeted with a huge wall of live camgirls that you can watch. I'd estimate that around 90% of the screen real estate is dedicated to sexy broads in preview pane form. These preview panes consist of a star rating, thumbnail, title, location and age. As you probably know, Fetish Dude loves a good variety, so it's nice to see a bunch of different locations and everything from barely legal brat through to horny MILF hosted here at Mr. Porn Geek Live. One interesting thing is that the preview thumbnails are a mixture of live webcam shots and professional photographs. I'm not too sure how exactly the site decides which to show, but I suppose it's fine – just unique!
Looking at the Mr. Porn Geek Live niches
On the left-hand side of the website, you've got exactly what Fetish Dude loves to see; a bunch of different categories across a huge expanse of niches! Toward the top you can select regions, so if you want to interact with British, European, Latina or Asian streamers, you can specify that. It's also possible to pick age ranges, show features (interactive vibrator, party mode, etc.) and finally, the fetishes! You'll be able to select everything from ebony and Lesbian through to muscle and redhead here. Hell, Mr. Porn Geek Live even had a few dozen pregnant performers, so if you like knocked up pornography, this guy has you covered and then some.
Watching streams on Mr. Porn Geek Live
I decided to load up 10 different streams for a look at the average quality and was generally quite impressed with what I saw. You'll notice that in the bottom left-hand corner of Mr. Porn Geek Live, you do have the ability to select the exact resolution and bitrate that you want, with most girls having 1080p, 720p and 480p for your viewing pleasure. Audio quality is quite decent and I think that the man behind this project has taken a lot of time to ensure that the camgirls know what equipment to get and how to set everything up. Note that for some girls, you can load up your own cam and they can watch you, although this is a setting that they have to enable and only 3 of the 10 chicks I checked out had it as an option. So in short, you might be covered, but nothing is guaranteed in this world – not even C2C with a sexy camgirl!
Final thoughts on Mr. Porn Geek Live
Well friends – I don't know what else I can really say here. Mr. Porn Geek Live doesn't have as many camgirls as Chaturbate, nor the niche variety afforded to us by LiveJasmin, but it's still a top spot nonetheless and there are some top quality pieces of ass here for you to masturbate over. My recommendation is to check out the homepage, click around for some of the free public shows and if you like what's on offer, stick around. Just make sure that you take plenty of tissues and lotion – chances are that you'll be cumming all night long when you explore the available bimbos and teases at MrPornGeekLive!
High quality webcams
Free public shows
Good niche variety
Account creation prompts
Average streamer pool