Chaturbate Review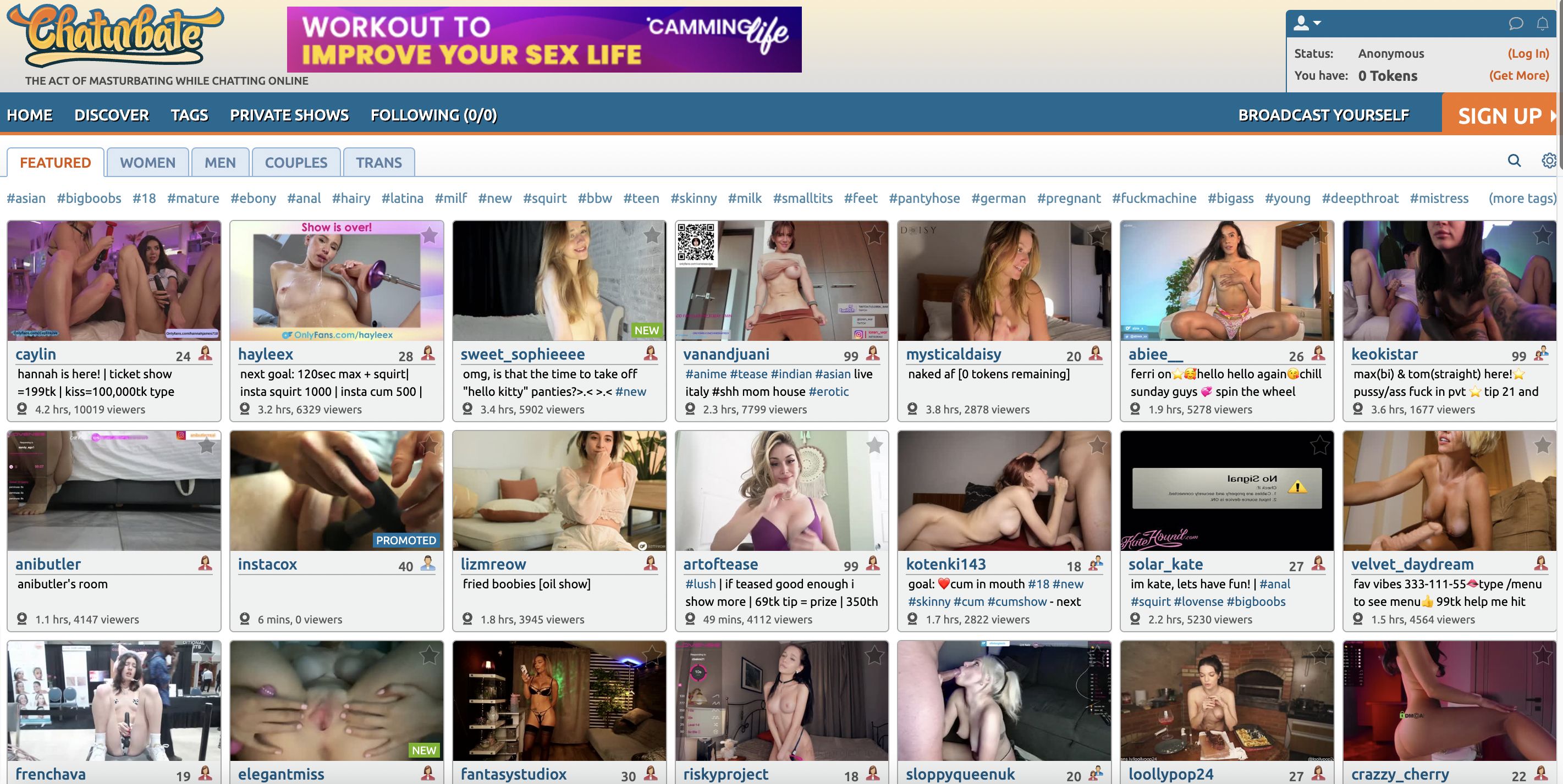 Chaturbate analysis: my thoughts
Howdy friends: it's Fetish Dude here and in this analysis, I'm going to be paying a little visit to a website by the name of Chaturbate. Now let's not get it twisted from the get go here: Chaturbate is a huge platform that has been in the live sex industry for a number of years. They've got a fantastic reputation and chances are, that's warranted. Still, I want to cover what's going on here, why people love the project so much and ultimately, whether I think readers of Fetish Dude should go check it out. Sound like a plan? Then read on for my complete, honest review!
First impressions of Chaturbate's homepage
When landing on the homepage here, you get what I'd consider to be a pretty standard live sex platform result: 90% of the screen is made up of preview cams of the most popular streamers on the website. Before going any further, I do want to stress that Chaturbate features sections for females, males, transsexuals and couples – all are allowed to perform here, so no matter what you're looking for, Chaturbate has to cover. This runs in contrast to a few other places out there that have a 'girls only' policy, such as My Free Cams. Since Fetish Dude is guessing that most people are hunting for ladies, I'm going to click on the 'female' category to continue this review.
Exploring camgirls at Chaturbate
Out of Interested, I decided to go ahead and count exactly how many camgirls were online at the time of writing this review – I was quite surprised when the figure turned out to be just over 3,000. I don't care what anyone says: that's a huge number and chances are, you're going to find the perfect camgirl for your interests out of the thousands who're available for live, sexy fun. Now with regard to the fetish situation here, I'm pleased to report that near the top of the page, there are a number of tags that you can explore if you're looking for a specific type of performer.
For instance, we've got Asians if you're interested in Eastern goddesses from China, Korea, Japan and other SEA nations (as well as American Asian chicks that'll make you cum in a matter of seconds!). There are also tags available for 18 year old chicks if you like them young, foot fetish shows if you've got a thing for toes and even BDSM if kinky action gets you rock solid. As everyone knows, variety is the spice of life and Chaturbate makes it an absolute walk in the park for you to get the exact type of camgirl that you want. Big props to the setup here: Fetish Dude wouldn't want it any other way! Note that you can also hit 'more tags' if you want something that's perhaps less popular, including stockings, gape, muscular chicks and even braces.
Chaturbate webcam quality
I ended up clicking on 15 random streams to look for average quality here and yeah: it's fair to say that the streaming experience here is damn good. I'd estimate that most of the ladies are on 720p resolutions, if not full 1080p. Perhaps the coolest thing is your ability to lower bitrates while tuning in, so if you've got limited bandwidth or a pretty crappy computer, you can still enjoy some free live sex. That's something else I wanted to mention: the business model of Chaturbate is mainly focused around 100% public shows where people individually contribute a few dollars if they liked what they saw. It's like busking, only instead of some dirty hippy blowing a digeridoo, it's a sexy slut blowing a huge dildo.
Some final thoughts on Chaturbate
Well friends – I'm going to call the clock there on this Chaturbate review. As you can probably tell, I'm very much a fan of the project and I think that anyone who's keen for some specialized webcam experiences ought to check this place out. It's quite clear why Chaturbate is so popular – they know what they're doing and seem to have a fantastic grasp of giving folks hot, steamy webcam action. With so many performers and HD sex cam streaming, you really can't go wrong. So, in short, get your butt over to Chaturbate right now and join in on the fun. Fetish Dude promises that you won't be disappointed – it's practically impossible given how incredible these free live sex shows are!
Thanks for dropping by and remember: when it comes to accessing the best adult sites around, no one dishes out advice quite like Fetish Dude. Peace!
Many HD webcams
Lower resolutions available
Huge streamer numbers
Some ugly chicks
No free videos