SpicyBigButt Review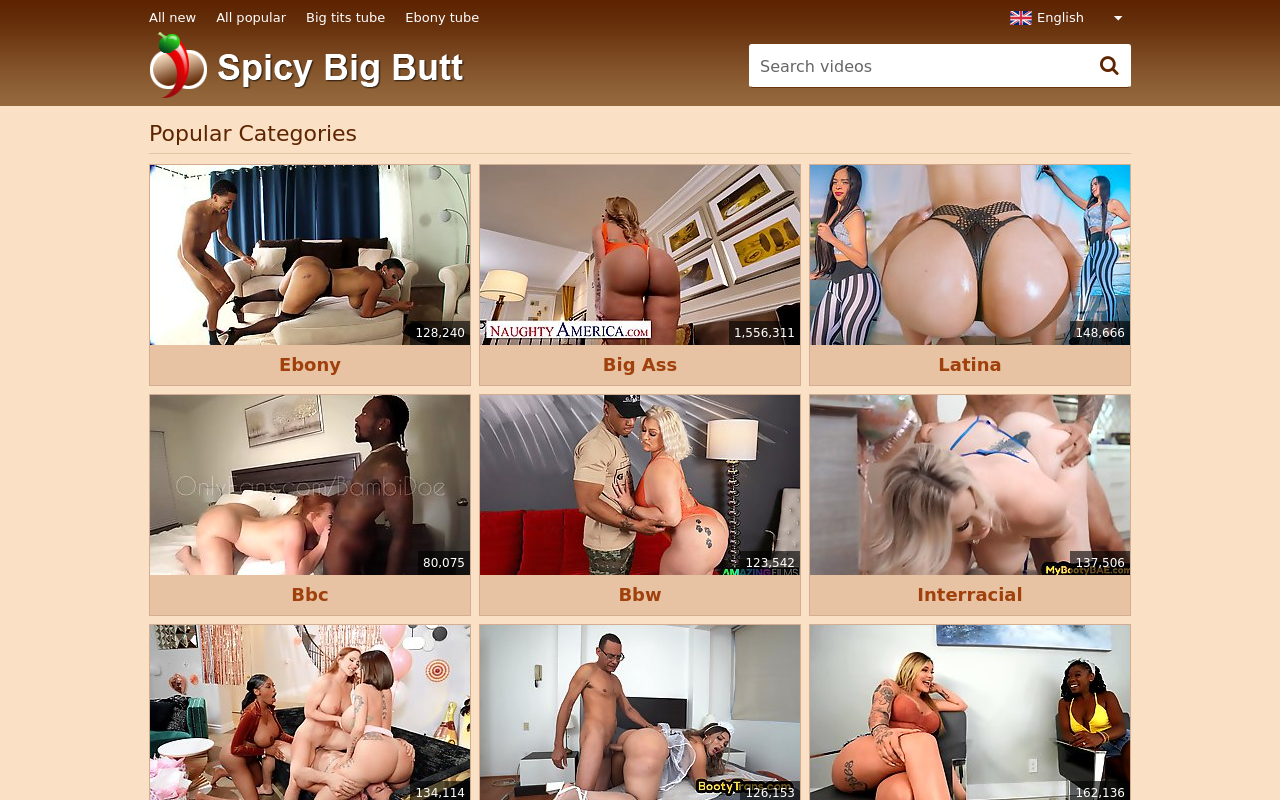 Fetish Dude visits SpicyBigButt
It's about damn time that Fetish Dude went out there and explored more available tubes that he might recommend to folks! I know that I've done this a lot lately, but it should come as little surprise that I will continue to do so if the demand for these types of places continues to be so strong. I have it on good authority that if you're looking for top notch smut, SpicyBigButt is a top contender. That said, Fetish Dude hasn't seen it for himself, so it's probably wise to go and do that right now, isn't it? Read on and I'll give you all you need to know about SpicyBigButt in a handy review format!
Initial security warning on SpicyBigButt
I hate to be one of those people that focuses on the technical aspects of websites, but I really think it's important for everyone to know that SpicyBigButt doesn't allow people to connect via HTTPS. This means that anyone between you and the server will be able to see what data you're sending and receiving, which presents itself as a security risk. Most people in developed countries who are accessing SpicyBigButt with their own Internet connection ought to be fine, but if you're using someone else's network, they could very well know what you've been doing at SpicyBigButt. My hope is that one day soon, SpicyBigButt supports HTTPS so this is no longer a problem.
The homepage of SpicyBigButt
I think it's probably a good idea to go ahead here and talk about the homepage, which is very much focused on giving you access to categorized segments of the website as opposed to straight material. There is a good reason for this approach, but I think I'll get to explaining exactly what that is a little bit later. What's important right now is for me to go through all of the genres that you'll find here – there really are quite a few! We're talking about the likes of Latina, shemale, public, anal, MILF and more: if you like porn and you want to watch it on a website such as this, you're going to be able to do that with literally zero issues! I do have a complaint here and it's just that some categories seem redundant, such as MILF and mature, which are essentially the same thing in a porn context, right?
How SpicyBigButt acquires content
I think it's important for consumers to know where they're getting their content from, so let's talk a little bit about the setup structure of SpicyBigButt and what's going on here. Firstly, I want you to know that nothing you see here is actually hosted locally – it's all coming from popular third-party tube destinations, such as BravoTube, JizzBunker, Wankoz and so on. They tend to work with the bigger guys in the business and SpicyBigButt indexes all of their smut so you can search through the majority of online tubes from a single location. There are plenty of benefits to this setup, but it does come with the unfortunate reality of not being able to see scenes here locally. Whenever you watch porn, you'll have to visit the site that it originally comes from – too bad!
Sorting and filtering at SpicyBigButt
I tried out the search feature here with a few different test requests and all things considered, the outcomes were about in line with what I was expecting. After you type something in, all relevant results can be sorted based on upload date or how popular they are. It's also possible to remove short-length uploads if you're someone that loves accessing lengthy adult material. I can't tell you exactly what the cut-off is, but my guess is it'll give you stuff around 20 minutes and longer in length. I would really like to see a sorting option here that allows you to organize uploads based on view count – that's another useful metric to know about when you feel like jerking off.
The content of SpicyBigButt
It's pretty damn hard for me to talk about the content here and that's for good reason: you're getting so much of it from so many different tubes that you're never really going to get a central focus of content. Sure, it's called SpicyBigButt and they've got some anal sex material for you to digest, but that's not a central aspect of their portfolio. Generally speaking, when clips are shown to you, they're almost always coming from a professional studio. Make of this what you will, but it could be a lot worse, right? I think that amateur porn is far less popular these days than it sued to be, but the good news is that they've got thousands of clips for you in this genre – cool stuff.
Improvements for Spicy Big Butt
Perhaps the most obvious of recommendations to SpicyBigButt is for them to go ahead and introduce a database where people can go in order to find out all they need to know on a specific pornstar. That function is currently missing and if it were to be added, you better believe that a pornstar section here would boost them up the rankings! The more flexibility and accessibility you have, the better. At least that's the official stance that Fetish Dude is willing to commit to! It's not exactly the first time I've ran into an issue like this and I'm confident going forward that I'll see this sin committed once again.
SpicyBigButt: my final thoughts
As an authority on the topic of hardcore porn online and free sex tubes, I do think it's wise for me to point out that SpicyBigButt is a pretty good spot to go for your average horny dude. See, they've got great clips here and they source them from the finest providers of world-class sex movies. This place swings mainly because you can explore so many niches in one place, so yeah – more than happy to sign-off here on SpicyBig Butt! Thanks a bunch for reading and please make sure you explore my site in order to get more reviews on the best spots out there for adult fun.
Huge content database
Clear category segments
Fast loading speeds
No local hosting
Limited filtering options