SpankBang Review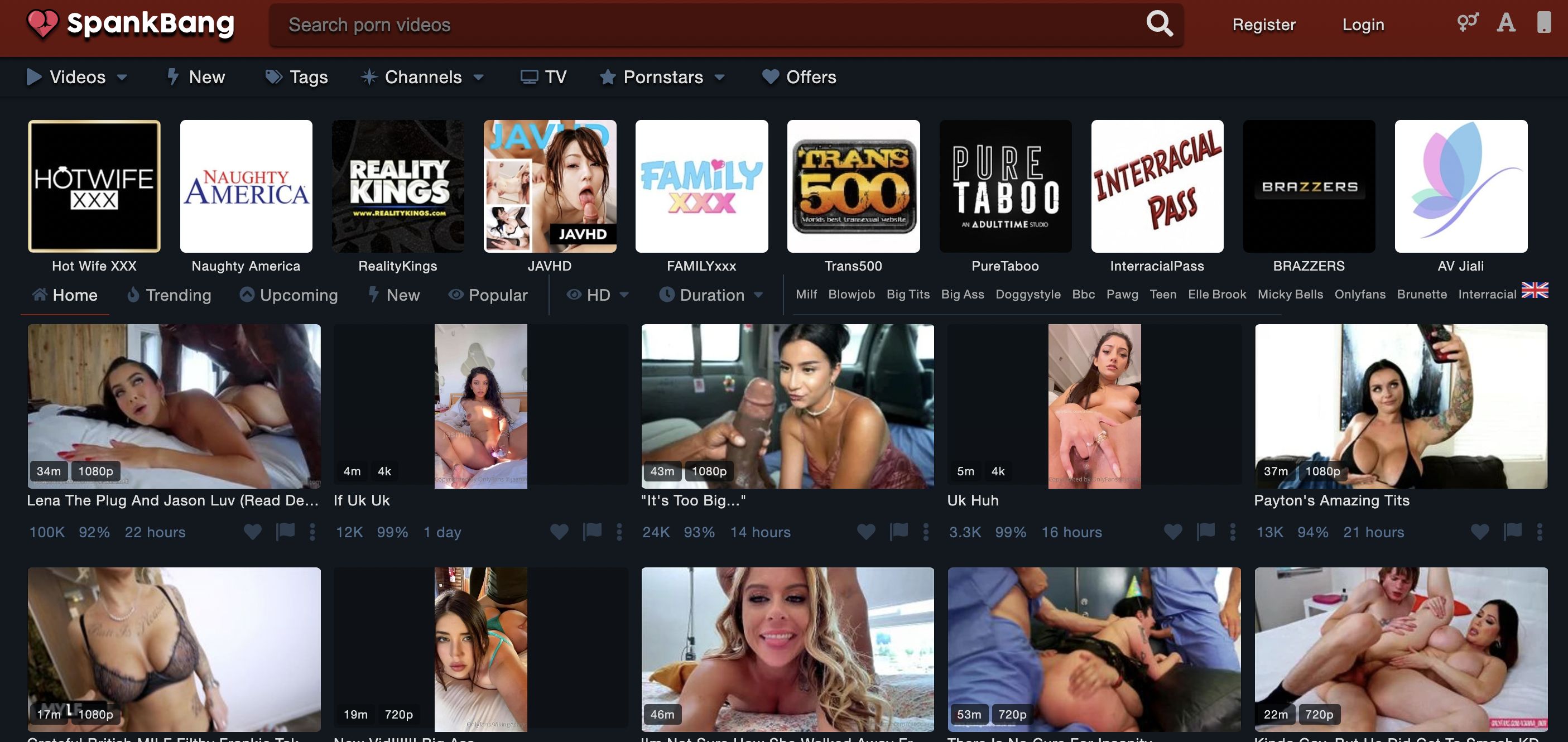 SpankBang: a visit from Fetish Dude
SpankBang is one of the most popular websites on the Internet these days for watching adult videos. I'll be completely honest with you from the start here: I have visited this place before and yes, I was happy with the experience. Still, Fetish Dude is going to stick to his guns and ensure that any place he recommends is actually good for the masses. That means that I'll devote the next few hours to determining what SpankBang has to offer, if it gives people a great collection of free HD porn and finally, whether I want to officially endorse it as a place for you to go for the purposes of masturbation. So, let's get into it – continue on for my professional analysis of SpankBang!
First thoughts on the SpankBang homepage
You ought to know by now that the initial region I check out on any tube is the homepage, so let's go ahead and see what's going on here! First of all, SpankBang has a huge content display area that stretches from one side of the screen to the other: sweet! In the first block, you'll find what Spank Bang refer to as the 'trending' porn videos which they have to offer. My guess here is that the content is organized based on how recently it was added to the collection and what its current rating or view count is. Think of it as being quite similar to Reddit: the suggests are neither the best or the latest, but a mixture of the two. It's one of the better methods of content distribution, that's for sure.
If you scroll down a little, SpankBang will present to you a live area where you can check out trending live performers – one of which was Amber Lynn! I don't know how often they get pornstars into the studio, but this is pretty cool. Below that, you'll see some of the latest videos available at SpankBang, most of which come from professional destinations. That's something I ought to mention on this place: they work with a lot of the biggest studios out there and don't have so much of the homemade material. Don't worry, you can still source amateur uploads here, but they're just not the focus that Spank Bang has gone with.
Checking out SpankBang's categories
If we go back to the top of the website, you'll find a categories dropdown that you can access if you're interested in seeing a specific type of upload. This is generally my preference in the space, since I believe that you get the best bang for your buck when you summon material that's directly relevant to what gets your dick hard. Some of the erotic niches here include the likes of Japanese, BBW, fisting, amateur, anal and teen – not a bad assortment of goodies! When you do select a category, you'll be taken through to a page that allows you to then sort and filter everything based on your desires. There are some top-tier customization options here too, including quality (720p, 1080p, 4K), length and how you want the content to be sorted. Choose between length, number of lives, upload date and more: it's pretty fantastic if you ask Fetish Dude. A lot of tubes should come to SpankBang and learn what's what when it comes to filtering and searching. These guys really have their shit together, that's for sure.
Pornstars on SpankBang
The next place I decided to visit was the pornstars page, which will allow you to see all of your favorite girls and the videos that they've been a part of. Again, by default the option here is for 'trending' chicks, but I don't know how useful this is, since it includes Lexi Belle and Sasha Grey, two girls who've been retired for a very long time. I'd say scroll down a little for the 'hot' list instead, which does a better job of representing who's kicking ass in the business. You'll find Angela White, Alexis Texas, Riley Reid, Tori Black and Asa Akira here: a good assortment of broads who'll have your cock cumming in no time at all! Just as with the categories, you're able to go ahead and filter, as well as refine, a lot of the content offered on SpankBang directly from the pornstars. These might seem like small things, but they really do make a big difference when it comes to helping you masturbate. Just try and use a low-rated tube instead – you'll soon realize what a mistake you've made!
Some small notes on the SpankBang content
Spank Bang houses such a large amount of material that it's hard for me to describe it as either being 'good' or bad, but what I will say is that they've done a pretty decent job of working with some of the best studios out there and sourcing full-length scenes. We're talking about the likes of Teen Fidelity, Exxxtra Small, Vixen, Tushy, Bang Bus and Fake Taxi. A lot of the inferior alternatives will only give you 5-minute uploads at most, but that's not the case here. It's actually possible to download content from SpankBang, but you will be required to have an account in order to do this. It's free, so that's not a concern, but yeah – handing over your email is always a pain in the ass!
The conclusion on SpankBang
So, based on the totality of the evidence available to me, I'm going to go ahead and suggest that you check out SpankBang. It's hard to be disappointed with what's on offer and yeah, you'll likely enjoy every single second of your time on the site. This gives the biggest places out there a run for their money and as far as I'm concerned, it's pretty evident why SpankBang has been one of the most visited tubes online for the last few years. As a visitor, you're treated like a king and get all of the HD, full-length porn you could want – no questions asked! Bottom line: Fetish Dude is officially endorsing SpankBang, so go check it out now.
Huge content database
Great filtering options
Advanced search features
Pornstar categories and profiles
Quite a few adverts
Limited amateur material