SlutLoad Review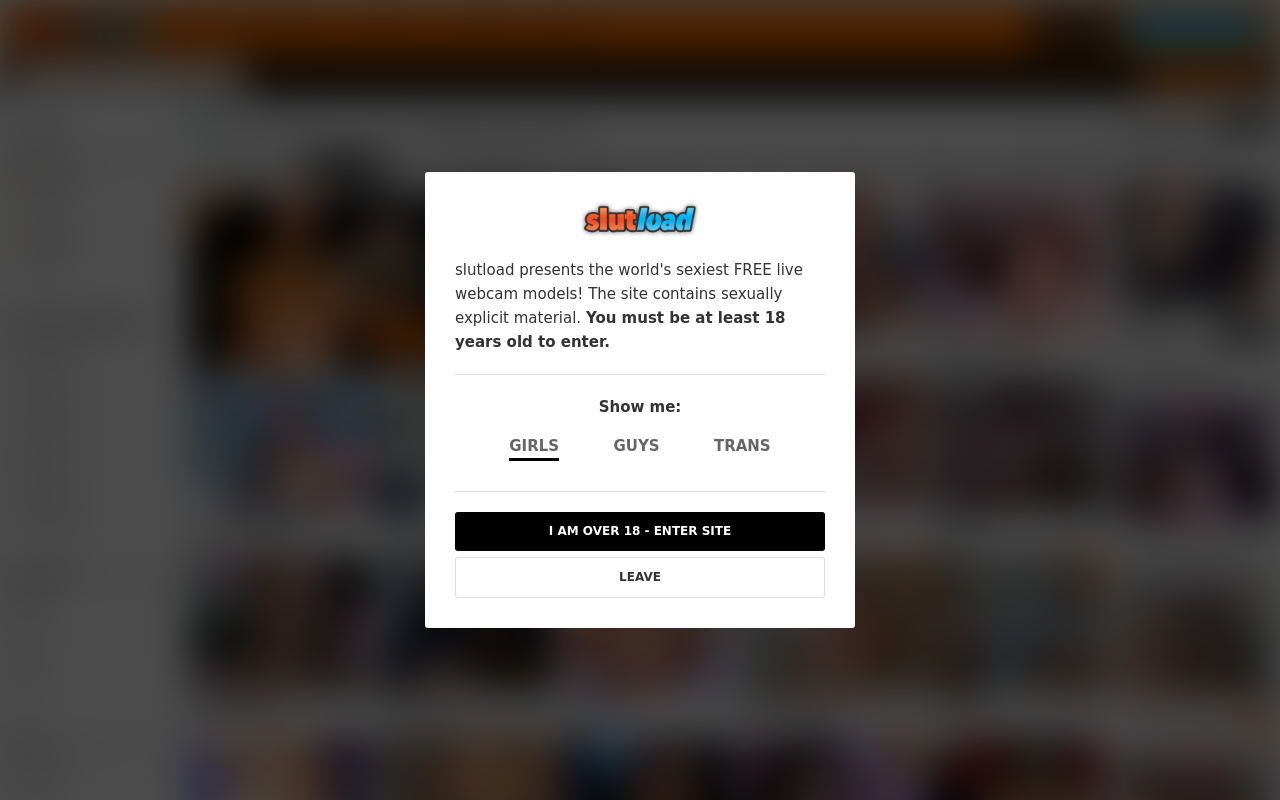 Fetish Dude: a review of SlutLoad
Hello there! It's Fetish Dude and yes, I'm going to be bringing you another top quality review on a pornographic website. I think it's safe to say that when it comes to giving people access to the best porn around, few people do it like me. Fetish Dude has always strived to write the best analysis and point people to the hottest hubs, so what's the deal when it comes to SlutLoad? This is a free tube and on the surface it looks delicious, but appearances can be deceiving and I really want to get inside to determine whether or not it's a place I can recommend. So, without beating around the bush any longer, let's go!
My first thoughts on SlutLoad
Naturally, Fetish Dude is going to begin here with a look at the homepage, since almost everyone who wants to go to Slut Load will embark on their adventure starting at the same location. Right at the top of the website, you've got a thick banner of camgirls that you might want to watch – it seems a little out of place and definitely non-standard, but I guess it's not the end of the world. Just below that, you'll see an edge-to-edge block of preview panes which show off the latest pornographic clips added to the Slut Load library. On the right-hand side of this area, you'll see a dropdown which you can activate to sort the material based on different key metrics.
A good choice to go for here is 'top rated', since I generally find that when horny people vote on things, they give their honest opinion of whatever it is they're looking at. You can also check out the most viewed material, which is sort of like hitting up IMDb to see what's big at the movies. Slut Load also has a few relatively niche sorting options, which allow you to check out the most commented and longest scenes on offer. I quite like having the ability to access both of these things, so yeah – Slut Load is doing a pretty good job thus far. Still, I've got plenty more to check out, so the sins might be committed further into the tube!
Slut Load categories: what's on offer
I think it goes without saying that you need to have a category section on a tube site if you want people to take you seriously. It's just one of those elements that literally shows you have your finger on the pulse and you're able to give people access to what they want. When you visit Slut Load's category area, you'll see all of the niches they provide sorted alphabetically. I'd say that they limit their available choices here, but that's fine, because they cover what 90% of people are going to be looking for. You'll be able to check out Asian, cumshot, shemale, teen and MILF material here: no questions asked. I'd say that my only complaint is that they don't combine mature and MILF, which are essentially the same things. I don't know why that is, but alas – it's just the lay of the land when you hit up SlutLoad.
An isolated look at SlutLoad categories
When you eventually decide on a niche that you want to explore, simply click on the box or the title to be taken through to the full collection of uploads they have in that category. Just like the homepage, scenes are showcased here based on their upload date, but it's possible to go ahead and switch this to rating, views and so on. I didn't mention this earlier, but I also want to note that SlutLoad has a 'HD' tag attached to any upload which can be watched in 720p or 1080p formats. One suggestion I would have for their team is actually giving people the ability to filter out anything which cannot be watched in HD. A toggle at the top of the website or something like that: just so folks who care about objective quality can remove the bullshit that isn't going to get their dick hard. It might seem like a small thing, but since they're already documenting what's HD anyway, seems like a simple thing to implement, right?
Watching SlutLoad content
When you go ahead and watch content here, you'll have to scroll down a little in order to no longer see the camgirls at the top – this is a bit of a pain and just ignores the fact that people want to see all of the content without having to navigate. I'd say that the embed is pretty reasonable here, plus the player controls are in line with what I'd expect from a standard tube destination. They also list the optional formats you've got with tags like 480p and 1080p: this is so much better than 'SD' or 'HD' when you're really not actually sure what you're getting on the other side. Scenes don't have a convenient download button, but you are able to inspect element and then grab the MP4 like that: it's relatively easy to do and anyone who wants local storage of porn will probably want to familiarize themselves with this technique so that whenever they want to download something, they can! I'll also note that Slut Load's server was incredibly quick: it fully capped out my 150 Mb/s line, which is impressive.
Fetish Dude finishes up on SlutLoad
Friends – I think that's just about it from me with regard to further remarks on Slut Load. I had a great time here and I'm confident that over the next few hours, you're going to be jerking your sausage non-stop to what's on offer. This tube has very few issues and does a lot of things well, so I can't really think of any reason why I'd tell you to stay far away. Bottom line: Slut Load is a good tube that beats most of the competition. Anyway, that's it from me – thanks a lot for reading and be sure to visit Fetish Dude again whenever you need advice on the best porn sites around. I'll always be here to point you in the right direction – peace!
Lots of porn videos
Fantastic category organization
Plenty of HD footage
No HD toggle
No download button