SexyPorn Review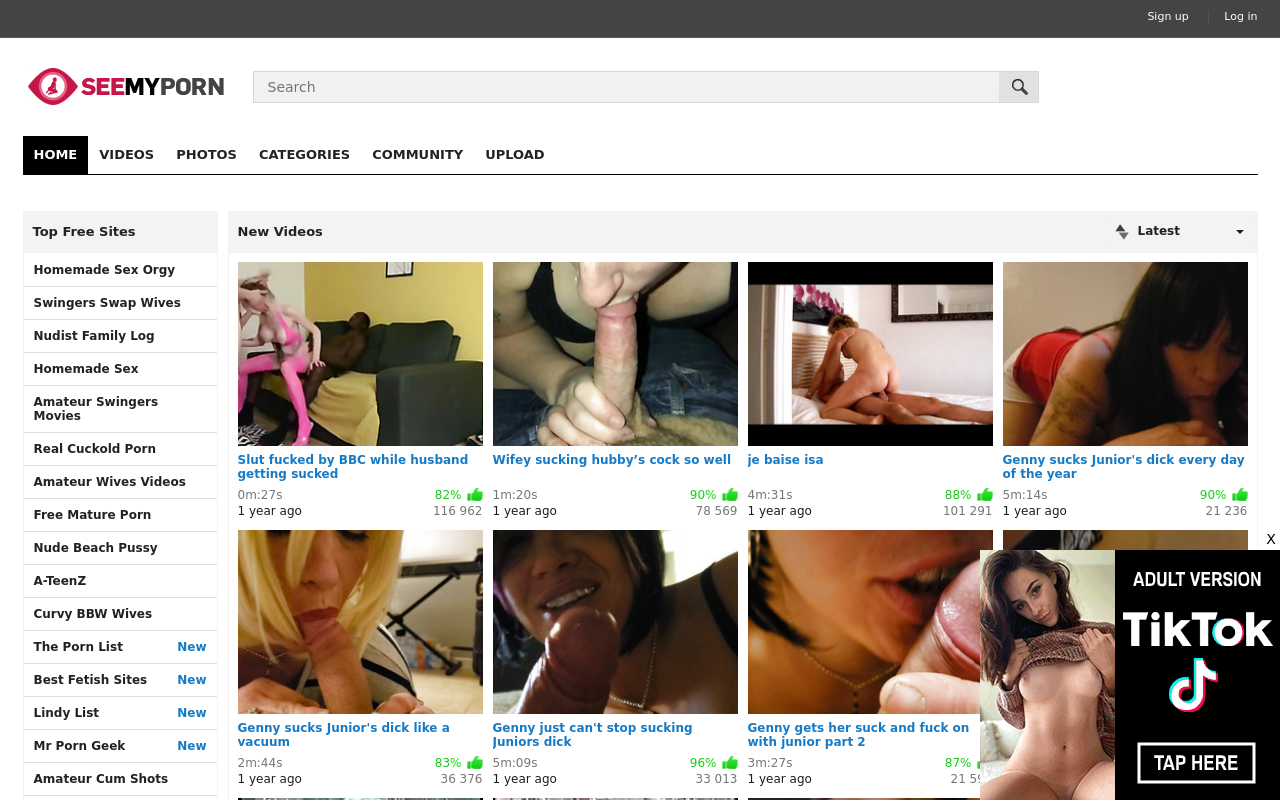 SexyPorn: a look from Fetish Dude
If you're not entirely sure what SexyPorn is, it's the new branded domain name that a place called YourPorn previously had. Just be sure that the domain name you're visiting here is SxyPrn.com – anything else that tries to get you to come in is a complete fake! Anyway, I've actually had dealings with this project before and I think it's a good time for me to go ahead and write about what you can expect to find here should you head on over. I've always been a big fan when it comes to great tubes, so what's the deal at SexyPorn? Continue reading – you'll get the full thoughts and honest feelings of Fetish Dude!
Homepage of SexyPorn in focus
You shouldn't judge a book by its cover, but you can almost certainly judge a tube based on its landing page! SexyPorn sticks to tradition here and shows you preview scenes of the 'hottest' uploads they currently have before anything else. Note that this is a combination of the latest content added to the archives and that which has received the most number of upvotes and views. Basically, it functions similarly to Reddit, which I think is pretty damn cool. Not a fan? Well, too bad – SexyPorn doesn't give you the ability to change this, so you're going to have to stick with it regardless of what you'd like to have instead.
Scrolling down a little, we'll come across a number of mini-sections with text links to various things you might be interested in checking out. The first block is popular pornstars, based on the number of subscribers that each girl has from registered members. The names here are well established in the business, including world-class ass such as Lana Rhoades, Riley Reid, Elsa Jean, Megan Rain and Eva Lovia. Below that, you've got the channels segment where you can find the biggest studios out there that are currently hot and living it large. You'll be pleased to know that SexyPorn is sitting on a chunk of footage from the likes of Girls Do Porn, Evil Angel, Pure Taboo, Family Strokes and Vixen. I like the style and approach of these two small areas – it fits in with the homepage just fine! So far, so good for the gang behind SexyPorn. This really is shaping up to be one of the better tubes I've come across in recent times.
Categories from SexyPorn
So it turns out that while SexyPorn wants to keep things modern and with the flow, they've decided to call their niche areas 'hashtags' as opposed to categories. Don't worry though, they've still got all of your favorite genres to enjoy, including anal, POV, teens, gangbang, Latina, massage and Asian. Next to each hashtag, they've also got the number of scenes that come along with it. The tallies here are more than acceptable: 2,000+ massage uploads and more than 10,000 MILF clips are pretty damn awesome to have access to!
A little explanation of the design on SexyPorn
I think that some attention ought to be paid to the design here, because damn – does this place look good! They've gone for a completely unique layout here and it seems to really work. I know this might sound silly, but I remember a few years ago messing around a lot with XRP – it feels like that type of experience when I used the transaction explorer. It's very modern, incredibly fast and responsive too. It might take you a few moments to get used to, but I just feel like this is the future of what porn sites will look like in a few years. I don't quite know what the explanation is for the style, but it's great no matter what term best describes it.
Watching content on SexyPorn
When it's time to jerk off, select a video that you're interested in and it'll load straight up there in the browser for you to watch – pretty standard stuff for a porn tube, right? What's cool is that SexyPorn allows you to download all of the scenes and even offers you the ability to do so via torrents. Quality is more than acceptable and of the 15 scenes I sampled, all of them were at least 720p. They'll even tell you what the file size and the bitrate are just below the embed – top-tier stuff and I wished that more tubes out there were willing to give you this level of information. The only real issue I have with the videos here is the fact that they don't come with written descriptions or too much indication of what the tags, categories and pornstars featured are. The comment section isn't all that active either, so don't go expecting a conversation here – you're not going to get one.
The downsides of SexyPorn
I've heaped a lot of praise on this place, so how about we talk about the downsides? Firstly, there are no clear pornstar categories, so while some of the girls have all of their scenes associated with them, not all do. In addition to this, you cannot sort content under any circumstances based on length, although view count and 'times orgasmed to' are metrics that you can fiddle around with. Perhaps my biggest complaint is just the sheer amount of adverts here: I feel like the site is so much more attractive when you run a blocker, so it's a shame that this has been somewhat ruined by endless banners, popups and whatever else – too bad!
A conclusion on SexyPorn
Despite the few complaints that I've shared here, I do feel like SexyPorn is a good place to go if you want to enjoy lots of modern, HD professional porn uploads. They support a hell of a lot of studios and the full-length downloads are some of the best things I've come across from a tube. My advice though: make sure you bring an ad blocker, just because the spammed banners and whatever really take away from just how technologically advanced and simplistic this website is. It deserves a design award – just without adverts attached!
All HD porn videos
Professional content database
Amazing layout and design
Lots of adverts
Limited amateur material