SexVid Review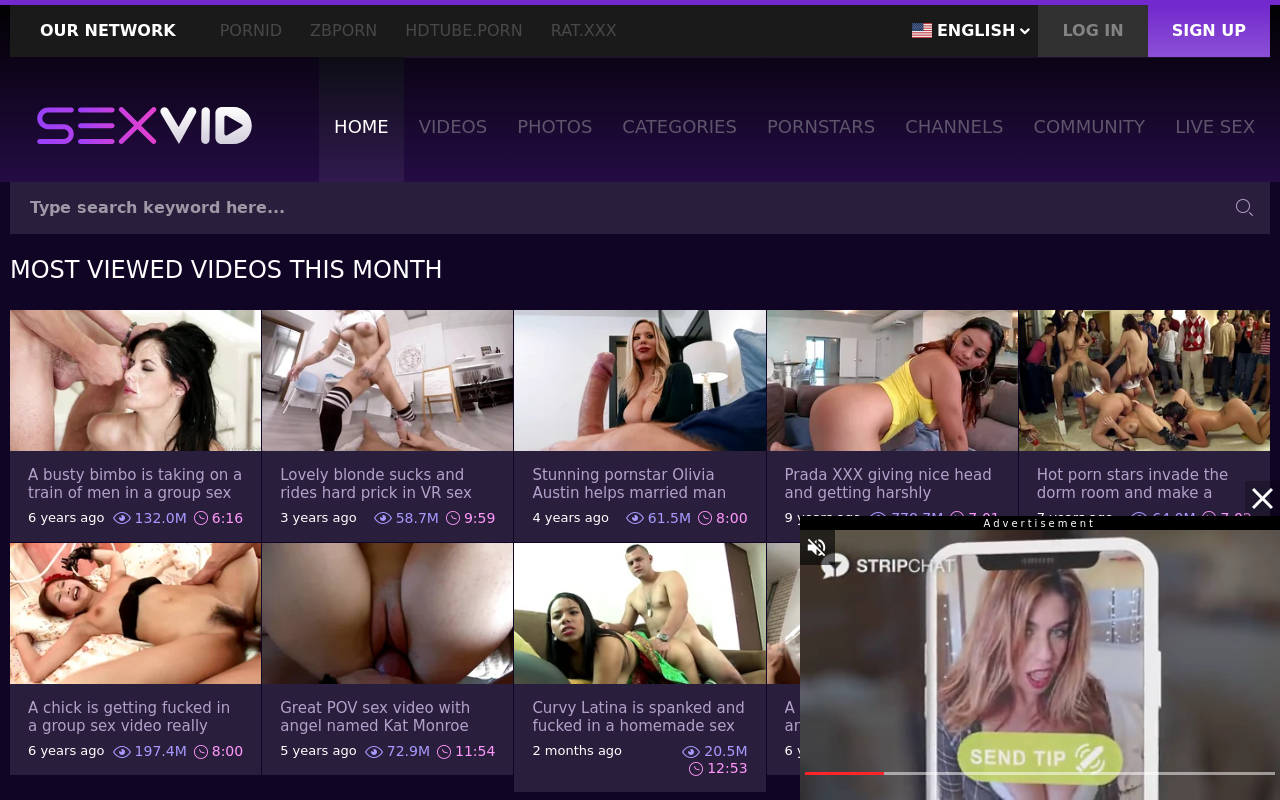 Fetish Dude visits SexVid
Everyone knows that when it comes to accessing porn online, few people do it like Fetish Dude. Today, I want to talk to you about a potentially decent tube streaming service which goes by the name of SexVid. I've heard some good things from someone I know about the project, but as I'm sure you can appreciate, I need to do the research myself before I can sign off on a website. So, with that in mind, let's get down to business and see what SexVid is all about. Sound like a plan? Continue reading – I'll give you my full, professional views and opinions on SexVid!
Initial thoughts on SexVid
When you hit the homepage here, you'll be presented with what I'd consider to be a relatively standard layout for a large tube website. Don't take this the wrong way, though – it's a positive thing, since they're sticking to tradition and not leaving anything off the table that you could possibly want. The first content area that you'll see is devoted to the most viewed videos of the month, which ought to give you some good choices for an instant 'click and jerk' experience. Note that the panes here are constructed out of a preview thumbnail, video title, upload date, view count and finally, length. SexVid claims that some of their clips have over 300 million views – not too sure if I believe that.
Scrolling down further, you'll come across a new content section which is titled as 'today's featured XXX movies'. That's fine, but it would actually appear as if these are sorted based on upload date instead. SexVid also has a convenient suite of buttons you can mash if you want to organize this area based on number of favorites, video length, view count and finally, rating. That last one is probably my favorite option, so definitely consider pressing that if you're not too sure on what you should be watching – the results are likely to be pretty damn good.
Exploring the SexVid categories
If you're someone that loves to look through content based on the category that it falls under, feel free to go ahead and visit that section of the Sex Vid tube. Here, you'll find a number of different niches that might tickle your fancy, including the likes of BDSM, Asian, handjobs, gape, teens and POV. All of your classic popular genres are offered here, as well as some that might not be so demanded, including Russian, spanking, squirting and foot fetish porn. Suffice to say that SexVid has you covered most of the way: if you've got a particular niche that gets you hard, it'll be available here for you to masturbate over. That's always a positive thing from the perspective of Fetish Dude!
SexVid: the pornstar page
I know that plenty of folks out there have a particular pornstar that they value more than others, and as a result, they're more inclined to watch scenes featuring them. The great thing about SexVid is the fact that they have an entire section of their site dedicated to showing you the best sluts in the business. Hit the 'pornstars' link and you'll see all of the most popular usual suspects here, including the likes of Alexis Fawx, Abella Danger, Riley Reid, Gina Valentina and Carter Cruise. I must give a huge amount of praise to these guys by turning off male pornstars by default, but giving you the option to explore them if you so desire. There are very few tubes that do this, but I think it's absolutely vital in the modern era that these websites get with the times and realize what your average punter is after. Pro tip: Fetish Dude, while a bisexual, isn't going to suggest for a second that most visitors to this page have any interest in searching porn based on the dicks involved.
A final word on SexVid
I spent a decent amount of time watching videos here and the whole experience was pretty good, hence why I'm happy to go ahead and recommend that you visit this place. There are so many tube spots out there and while some are okay, it's obvious that SexVid is better than average. They seem to have a good understanding of what's going on in the business and yeah – that ought to mean that anyone visiting will be shooting thick ropes to their amazing adult material. It's a great place and I'm sure over the coming months and years, SexVid will be one of the most competitive spots out there for dudes to visit.
Thanks for reading yet another high IQ review by Fetish Dude. Be sure to explore my site further if you want more recommendations on the best XXX destinations around!
Great pornstar database
Lots of categories
High quality videos
Homepage needs reorganization
Average search features