SexTVx Review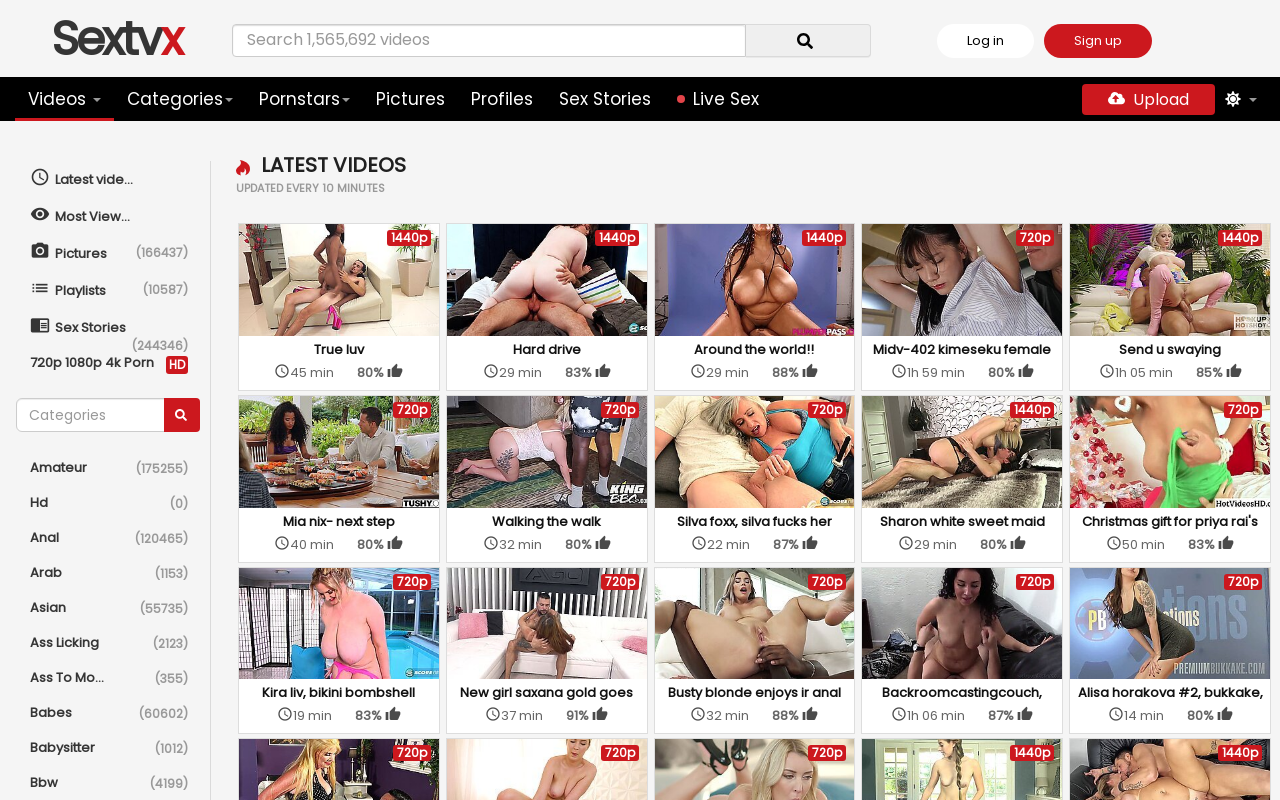 Fetish Dude visits SexTVx
Everyone knows that when it comes to watching free porn videos online, few places are able to compete with the experience offered by tubes. In this review, I'm going to look at a spot called SexTVx to determine whether the juice is worth the squeeze. You ought to know by now that Fetish Dude doesn't mess around when it comes to his analysis – I'm as brutal and hardcore as it gets. So, with that in mind, let's get down to the task at hand and see what SexTVx is all about. I can't wait!
My first thoughts on SexTVx
After landing on the homepage of SexTVx, you'll be presented with a fairly typical layout for a site of this nature: something that Fetish Dude is all too happy to see. The majority of the above the fold area is devoted to showing you preview panes, so that's pretty cool. The panes themselves consist of a thumbnail from the video, a title, scene length, rating and a tag regarding the quality of the upload too. This is pretty much everything that I'd want, so yeah – so far so good in that regard.
The first content area that you'll find is devoted to popular uploads, which I'm guessing is a combination of how many views a certain scene has had within a set period of time. Down below that, you've got 'trending', which would seem to be the same thing, although there are completely different scenes in this area, so it's not quite clear to me what's going on. You can scroll down even further and see a few pornstars (more on these girls later) and then perhaps the best part: a place where you can look at all of the latest scenes added to SexTVx. These seem to come in incredibly regularly and honestly, I'm pleased that they do so. The best tubes always have fresh flicks provided on a regular basis, so a massive shout-out to SexTVx for providing this.
The pornstars section of SexTVx
I know that a bunch of you horny dudes out there like to explore porn based on the various models who appear in scenes, so I guess it's just as well that SexTVx has a catalogue devoted to the stars, right? By default, these appear to be sorted alphabetically, although it also appears as if you have no other way to sort them – absolutely gutting! Where is the ability for us to look at the ladies based on the number of scenes they have, their average ratings, popularity or some other metric? To make matters worse, they weave in male pornstars by default, so you're going to see a bunch of dudes and their dicks here as a focus of the thumbnails: pretty annoying if you ask me. Sure, they do have profiles for some big-ticket ladies like Aaliyah Love, Megan Rain, Lucy Doll and other great girls, but I'm really disappointed with the setup here: an absolute disaster if you ask Fetish Dude.
The categories available on SexTVx
I went on over to the category section of SexTVx next in order to see what's going on there: the same situation as the pornstars was present here, sadly. I mean, the niches are sorted based on rating, but you can't switch to popularity or alphabetical order - a massive shame. They do at least cover the main themes that you're probably going to have an interest in, including mature, lesbian, Asian, teen, squirting, solo and massage. The variety is always a nice thing to have: something that Fetish Dude knows all too well. When you do eventually select a category here, you will then be able to sort scenes based on their upload date, rating and length. All in all, I'd say that the ability to search through scenes based on their niches is adequate, but far from being perfect.
A wrap on my SexTVx review
It's tough for me to say that this is a great porn destination. I mean, it has a lot of good things going for it, but that's not good enough in this particular domain. Fetish Dude believes that since there's so much competition in the space, you really have to stand out if you want to be recognized and awarded. I do love the fact that most of the scenes here are 720p and 1080p, so that's enough to say check it out, but yeah – plenty of other places are just better for a multitude of reasons.
Anyway, that's all that Fetish Dude has to say about SexTVx. Thanks a bunch for checking on my review: please come back any time you want fresh advice from the king of adult entertainment. I'll always be on hand to point you in the right direction – it's what Fetish Dude does best!
Good quality sources
Lots of HD footage
Reasonable sorting features
Awful pornstar page
A few adverts
Limited amateur releases