SeeMyPorn Review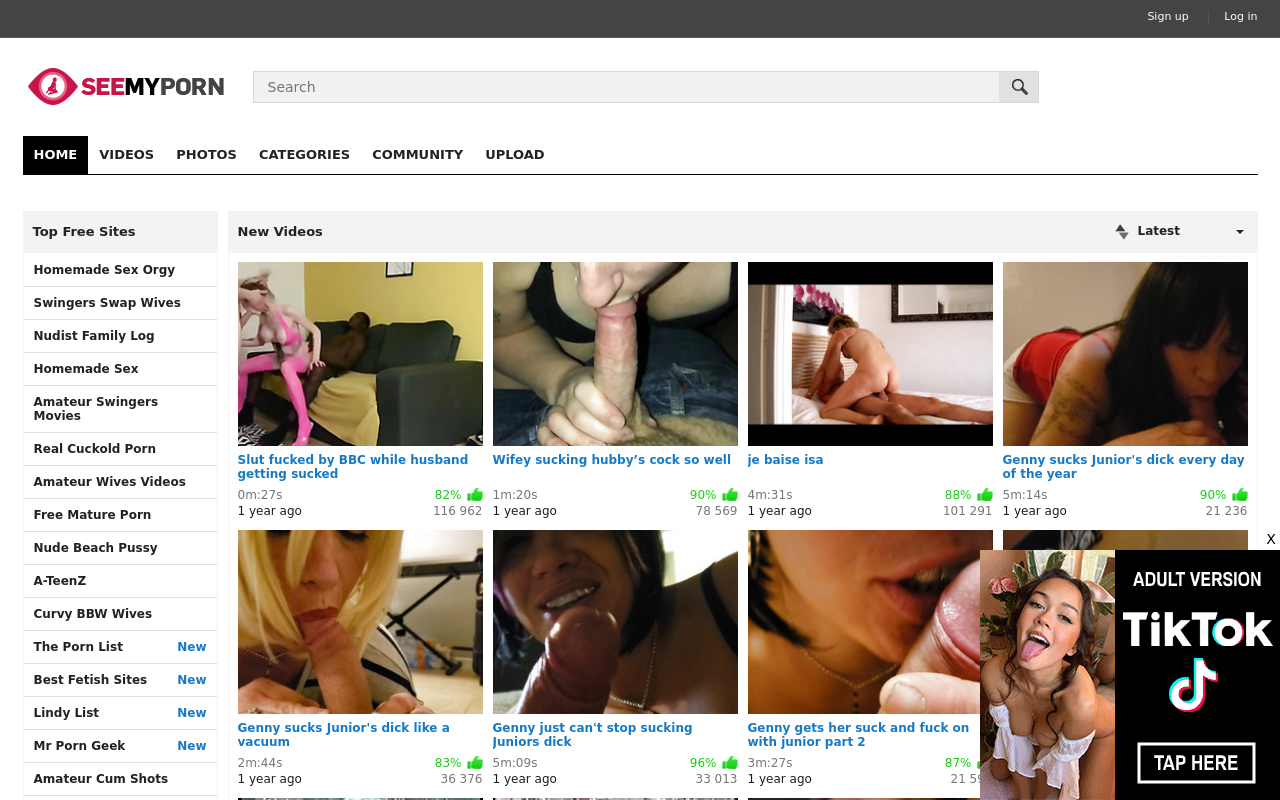 Fetish Dude hits up SeeMyPorn
Greetings, friends! Yes – it is Fetish Dude and I'm back again with yet another review that's bound to make you want to jerk off all day long. One thing you should have learned by now is that when it comes to giving people access to the best sex videos in the business, few come close to offering what Fetish Dude does. Now I've got a large number of places to check out, so I might as well go ahead and start by talking to you on the topic of SeeMyPorn. What I've seen so far has been great, but I want to dig in deep for a full analysis before signing off on the whole project. So, without further ado, let's continue onward and see if the juice is worth the squeeze at SeeMyPorn.
A quick note on SeeMyPorn security
You might not know this, but Fetish Dude is committed to a secure Internet environment for everyone. That's why I'm going to go ahead and let you know straight from the get go that SeeMyPorn currently offers HTTP traffic only. What does this mean? Put simply, you cannot use HTTPS, which is a secure way of communicating with servers. Since it lacks this option, all of the data that you send and receive from SeeMyPorn is able to be viewed by anyone between you and the server. This means admins, ISPs and in some countries, government. Fetish Dude will begin to delist sites over the next few years that don't offer secure connections, but for now, you just get an advisory!
Homepage of SeeMyPorn reviewed
I think it makes the most amount of sense to begin where things begin: so let's talk about the homepage of SeeMyPorn. The first content block area that you'll come across is devoted to the newest scenes, which is a pretty reasonable method of giving people access to content on your tube website. I do actually prefer the 'hottest' option instead, where people can see the best of the latest, but I'm okay with the dropdown in the right-hand corner offering a viable alternative to this. If you take a look at it, you'll notice that visitors to SeeMyPorn have the ability to organize clips based on rating, length, number of comments and view count – pretty cool system that I expect all modern tubes to offer, even though many don't, strangely enough.
If you scroll down the page, you'll come across more preview panes for the latest scenes, but perhaps what's not so great here is that they rarely seem to add anything fresh. Just a few new uploads on a monthly basis, which is rather uncommon for tubes – you'd really want to see dozens of new clips on a daily basis, if not more. I don't know what's going on at SeeMyPorn, but it would appear that whoever's behind this simply doesn't have the time to devote to procuring more smut. It's a damn shame too, since his ability to collect some of the best sex videos around seems to be pretty damn decent.
Exploring the categories of SeeMyPorn
Since Fetish Dude is naturally in the business of genres, I figured it would be prudent for me to navigate on over to the 'categories' section after checking out the homepage. This is where you'll want to go if you have a particular interest and desire, since then you can get a huge batch of XXX videos related to your erotic preferences. The categories here are sorted by default based on rating, which yields Latin, anal, redhead, BBW, lesbian and MILF as the top 6 points of interest. You can scroll down further to get a wider variety of genres though, including spots for Asian, outdoor and pregnant material. I think it's fair to say that most people, no matter how exotic their sexual proclivities, are going to be given a fair go here on See My Porn.
SeeMyPorn: content quality and analysis
What's quite unique about SeeMyPorn is the fact that a lot of their archive is devoted to amateur material. Sure, they do have professional scenes here, but they only make up a small portion of the overall database, which means that if you're keen to get your hands on homemade porn, you'll feel right at home! I didn't notice before, but SeeMyPorn does market itself as being a hub for amateur sex videos: guess I should have paid better attention to the meta description – my bad! Naturally, as most of the scenes here appear to be user-uploaded, length and quality are all over the place. I'd say most videos are short, plus you'll be seeing a lot of 480p: folks just don't seem to care that much about full HD access!
On the individual archive pages, you won't find the ability to change quality either upward or downward – I think this is pretty rough, since I always like to have flexibility over what I watch. You know how YouTube will give you like, 5 different options between 1080p and 360p? Yeah – well that's not going to be the case on SeeMyPorn. Thankfully, you do have the ability to download porn scenes from SeeMyPorn, but you're required to have a valid account in order to do that. It doesn't cost anything, but it's still annoying nonetheless. I suppose there's no such thing as a free lunch!
Wrapping up my analysis on SeeMyPorn
Okay, so I think I've waffled on for long enough now about the objective media situation at See My Porn. Question is: can I recommend a visit here? As noted, there are quite a few issues, but if you're in the mood for some amateur material (and genuine homemade porn at that!) then it's likely a good idea for you to give it a try. The commitment here to non-professional content is going to make a lot of readers at Fetish Dude incredibly happy, so yeah – your choice at the end of the day, but I can give it the go-ahead based purely on their decent database of amateur sex videos that can be downloaded locally.
This porn tube review was brought to you by Fetish Dude – the best reviewer in the game when it comes to websites for homemade sex videos!
Great amateur database
Scenes can be downloaded
Good category options
A few adverts
Rarely updates