RedTube Review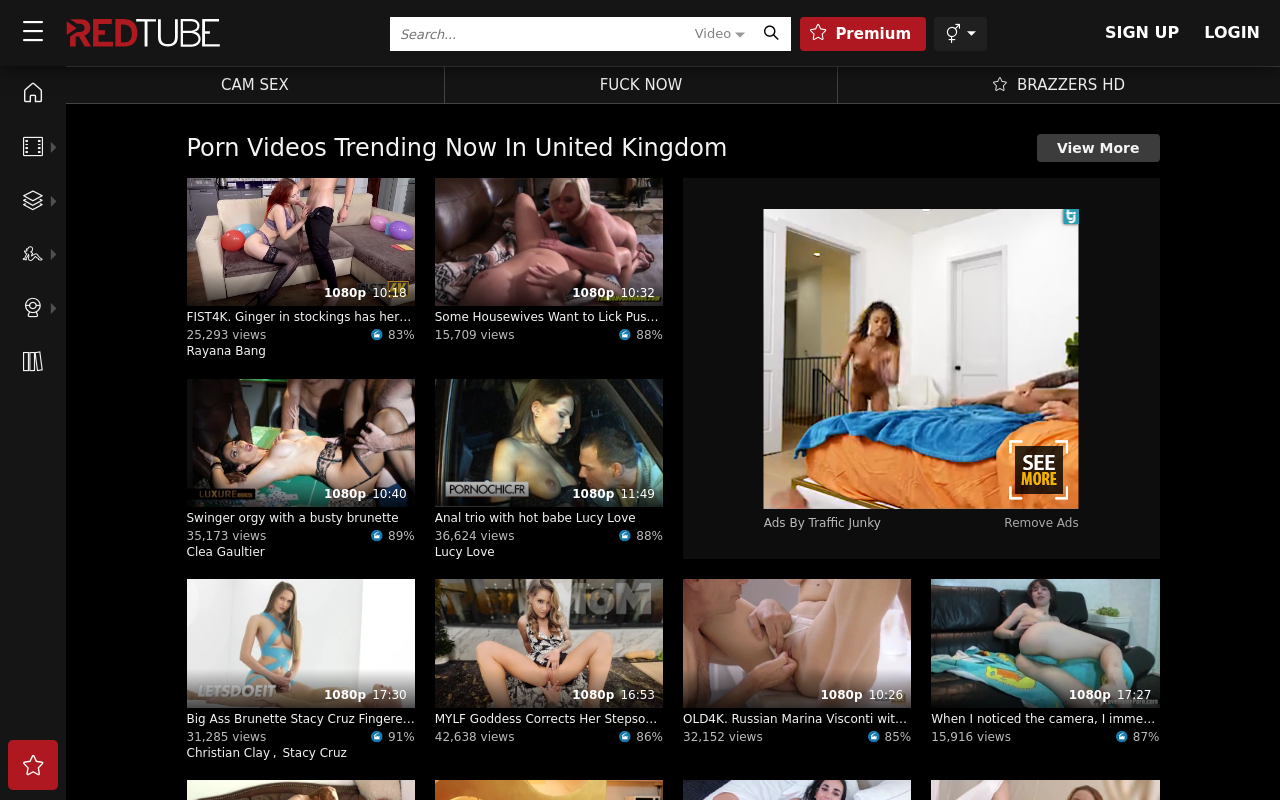 RedTube: an analysis by Fetish Dude
For those that don't know, RedTube is a free porn sex video platform that's operated by the same parent company in charge of PornHub. I've spent a decent amount of time over the years coming across great XXX clips at RedTube, but I must admit that it's been quite some time since I was here last. I'm interested to find out what's new, how the place operates and naturally, whether or not it's something that I can recommend in good faith to my loyal readers. For a deeper look and analysis of what RedTube has to offer, continue on for my full thoughts and feelings.
RedTube homepage: a close look
As is tradition here on Fetish Dude, I'm going to kick off this tube site review with a look at the homepage to see exactly what's going on here when you land for the first time. The first content pane consists of 8 scenes, although the site doesn't actually tell you what they're themed around. By this, I mean you're not told if they're the latest uploads, top rated productions or featured scenes that the guys behind the project have picked out for us to enjoy. Thankfully, you can scroll down a little bit and come across the 'newest videos' section where you'll find some of the latest and greatest uploads to the database. Note that even here, I feel like it's restricted to certain scenes, as the freshest flick has over 50,000 views – pretty unlikely if you ask me.
I dislike being negative too early, but I think in the case of RedTube, it is required. The homepage design here really needs some work, mainly because there's so much empty space that could be utilized. I feel like the preview panes are just a little too small, which means you have to zoom in on the page if you want to have a normal viewing experience. In addition, the titles only have a few words linked to them, so they're often cut off and you can't read what they're supposed to be about. These things aren't the end of the world, but I think after so many years in the business, they ought to know better by now. There's a reason why no other tubes have their previews this small on the homepage: it makes the user experience pretty damn rubbish. The developer must've been drunk or something when he went with this approach – that's the Fetish Dude hypothesis, anyway!
Exploring categories offered by RedTube
Naturally, as a man who's interested in niches, I had to head on over to the categories section as quickly as possible to see what they've got here with regard to genre-based material. Overall, I'd say that the grouping is pretty on-point and they'll feed into your erotic desires quite quickly. I'd imagine that most folks will want to look at anal, amateur, ebony, gangbang and MILF material, which all have their own sections, but you've also got some more interesting options! Some of my favorite offbeat categories include pissing porn, virtual reality, vintage, bukkake and hentai. I think it's safe to say that no matter what floats your boat, the chances are that RedTube will have something cooking up in the kitchen for you to masturbate over. One of the coolest features is that after clicking on a niche, you'll then have the ability to sort through all of the uploads based on a bunch of metrics, including rating, number of views, length and so on. Fetish Dude is a massive fan of this, so treasure it while you can – not many tubes are able to offer you this level of customization over the content you access.
Red Tube pornstars: a look at the girls
My exploration of the genres was interrupted when I realized that they had a pornstar database here as well: perfect for folks that know who they want to see in action! The sheer range of stock on offer from this section is fantastic – they've covered some of the biggest names in the business and yeah, that's just awesome. We're talking about the likes of Savannah Sixx, Adriana Chechik, Riley Reid, Asa Akira, Elsa Jean and Alexis Fawx. It's nice to come across such a stellar collection of wild girls who'll go above and beyond in the pursuit of erotic bliss. As with the categories, you've also got advanced sorting features here with all of the babes in question, so if you want to see their longest productions or most favorited releases, you can!
How good is the content on RedTube?
Since you've got so many different studios producing the content here, it's not really that important to look at the subjective feel of the material. This is a porn tube with a huge database, so you can expect to uncover all different types of erotic uploads – hope that makes you happy! One of the things I will say is that they do have a lot of HD footage, so if you're someone who prefers things to be on the quality end of the spectrum, RedTube is a great place to go. They also have a big focus on the professional style of porn, so I'd say that if you're looking for amateur smut, it's probably best that you go elsewhere. Note that you can download scenes here, but you will need an account in order to do it. A small price to pay, but ultimately a roadblock for some horny surfers that want to remain anonymous.
A final thought on Red Tube
I think I've done a pretty decent job here of representing what the experience is like for your average punter heading on over to RedTube. At the end of the day, it's hard to lose your temper at this spot when it has such a great array of hardcore sex videos for you to watch. It's a tube and one with a big focus on giving you professional, full-length, HD content. I don't think much more needs to be said, so I'm going to call time and suggest that you head on over to see what RedTube has to offer! Thanks a lot for reading: now go squeeze until you cum to these incredible high definition porn videos. Fetish Dude is out!
Content downloads available
Lots of categories
Advanced sorting features
Mainly HD porn
Some adverts
Small homepage thumbnails