Rec-Tube Review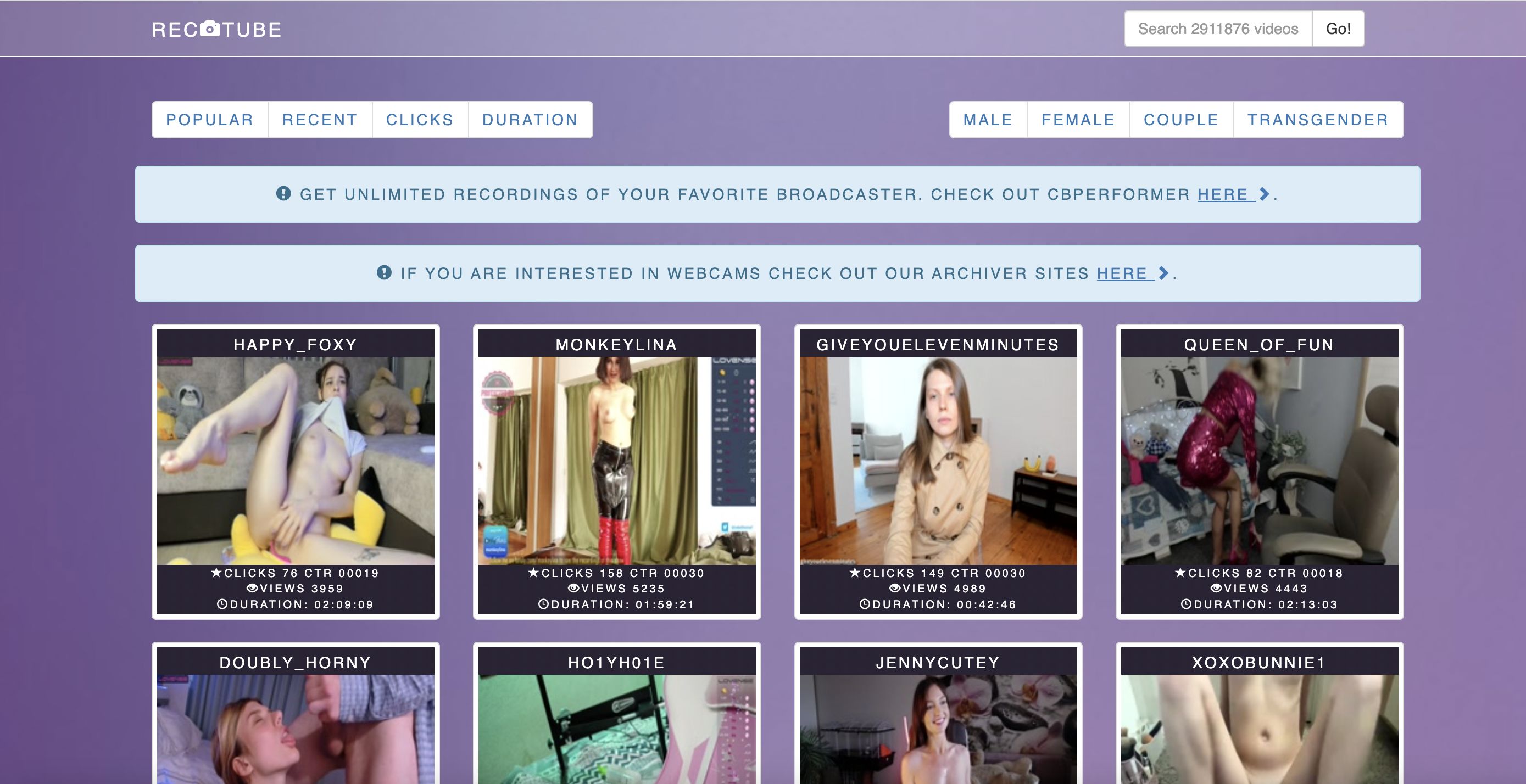 Fetish Dude visits Rec-Tube
Hello. It's Fetish Dude! I've always been a well-known dude on the Internet when it comes to giving people access to great porn, so it only stands to reason that I'm going to continue to write up reviews on places that I think deserve a little attention. In this particular entry, I want to talk about a spot named RecTube. I've heard great things, but I've never actually been here myself, which is why I plan to devote a lot of time to seeing what's going on. Let's get our asses into gear and check out what RecTube has to offer, shall we? Continue reading and I'll tell you all about this space.
Initial response to Rec-Tube
When I land here for the first time, I must admit that I think the website's design is pretty damn awful. Call me crazy, but I just don't think this has a modern approach to layout at all. I mean sure, it's functional and it doesn't look ugly or anything, but it's certainly not what I'd consider to be with the times. One thing I will praise RecTube for is their commitment to giving you access to content first and foremost. You'll see that 90% of the homepage is occupied by preview panes of various scenes, of which they provide you with a thumbnail, view count and duration, as well as a title. I suppose I should talk a little bit about the content themes on offer here, because this isn't your standard place to watch porn videos.
The content on Rec-Tube
Rec Tube is dedicated to giving you access to webcam videos – it doesn't have professional porn here. You're going to be seeing a lot of sexy chicks who're known for their ability to pump out porn at home and as far as I'm concerned, that's just fantastic. They use a lot of different sources for the content too, so you'll find Streamate, My Free Cams, Chaturbate and other platforms that have some of the hottest live performers around. It's not just the ladies that are featured here solo either: you'll be able to watch male, couple and transsexual performers if that's what get you going.
I believe that the default sorting focus here is on the newest videos added to the platform, although you're able to use the header links for popularity, number of views and duration if those are more preferable metrics for you. While these actually sound quite good on paper, I must admit that I was slightly disappointed by the fact that after hitting 'popular', nothing displayed. Can't be sure what the exact reason for this is, but I'm confident that it will be fixed in the not too distant future.
The video experience at Rec Tube
So when you eventually decide to watch a video at RecTube of a webcam performer, you'll be taken through to a decent embed area that has the scene ready, right there, for you to watch. Quality is pretty decent, but as you probably know, they're at the mercy of the girls who actually output the content in the formats that they choose. Put simply, if the ladies have the ability to provide you with 720p or even 1080p uploads, RecTube will assist in showing that webcam bliss. Sadly, you don't have any convenient way to download these videos locally – too bad!
Improvements for Rec Tube
While I love the idea of a webcam-themed tube that only shows you content of live streamers, it doesn't mean that there aren't improvements to be made here. Firstly, since none of the ladies are tagged with anything and no descriptions exist, you can't type in many search phrases that actually give you a meaningful result. As an example, 'Asian oil' gave me literally zero returns, even though RecTube has over 2 million uploads. I'm pretty confident they have thousands of scenes of slippery Oriental girls – they just don't know how to serve them to me! I'd also like to see the homepage layout improved, but yeah – I did mention this already, so I won't keep harping on.
My final thoughts regarding RecTube
To wrap this review up, I'll say that while in the technical side of things, this place isn't the best, it comes through in regard to content. Most of the major tubes just don't have much webcam footage and often times, it will be removed, which sucks if you're the type of person that likes to bookmark content and come back in order to watch it again and again. While some clips do go missing at Rec Tube, overall, they're quite good with respect to providing you with amateur camgirls and other live sex stream goodies. So yeah – if that's what you're looking for, go check out RecTube now!
Pure webcam cap website
Huge database of content
Multiple platform sourcing
Cannot download scenes
Average interface design