PussySpace Review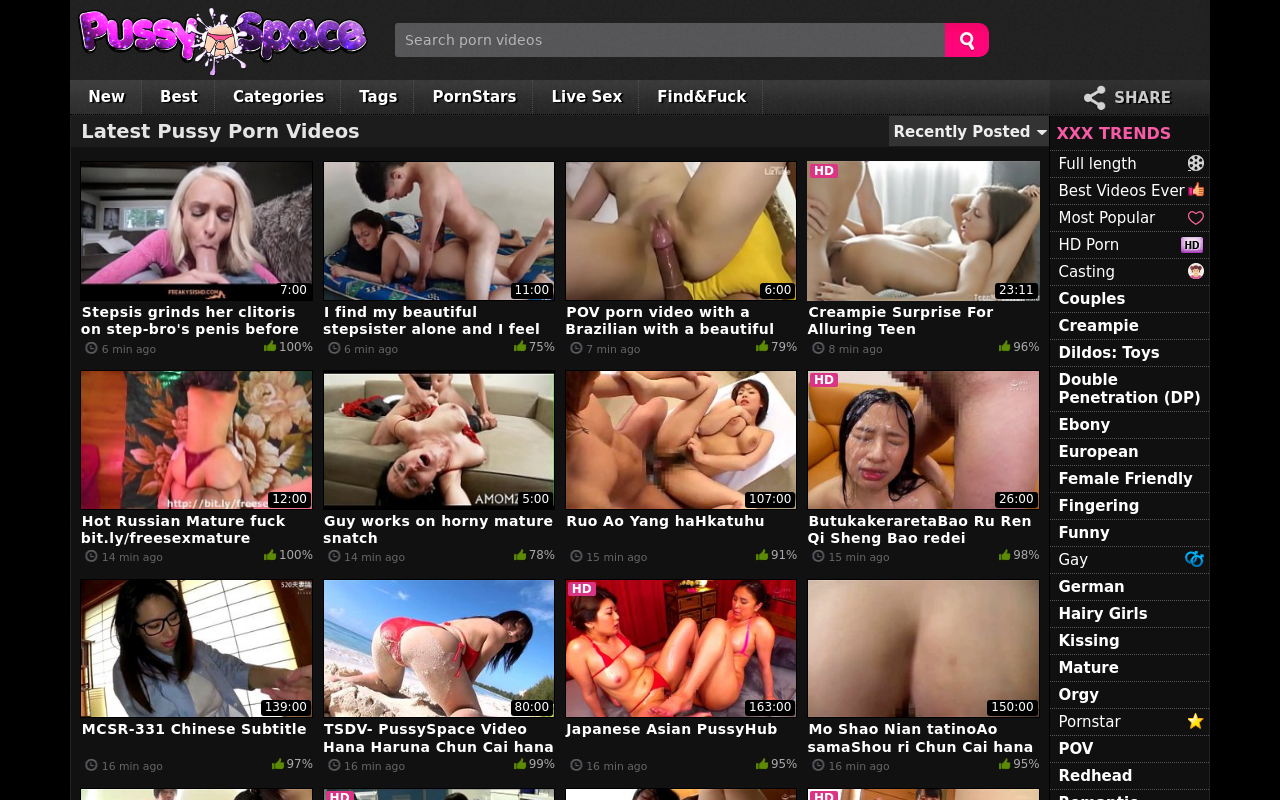 PussySpace: an analysis
Fetish Dude has been spending the last few months really hammering out reviews on the best places out there for free porn videos. I'm going to continue today with a fresh analysis on a website known as PussySpace. They claim to have a bunch of free sex movies that'll help you cum in no time at all, but that's hardly unique these days. What I want to determine is if the content they have is actually any good, plus whether or not the site itself functions as it should. With that in mind, let's get down to the task at hand and see what PussySpace has going for it.
First thoughts on PussySpace
So to kick things off here, let's look at the homepage. My initial impression is that the design is okay, although a little on the dated side. Given the size of the interface, I'd estimate that this layout is quite a few years old: it's relatively small in terms of element size and has little responsive traits. The good news is that the vast bulk of the above-fold real estate devotes itself to showing you preview panes of scenes that PussySpace has to offer. By default, these are displayed based upon upload date, which is somewhat typical for places like this, but something I'm more than happy to support. In addition to this default layout, you've also got a dropdown with a few other options if you're looking for the best scenes, lengthy clips and even a 'random' button if you're not sure what you want at all. You can access these features via the header or right-hand sidebar.
Preview panes that give you an idea of the content that you might want to watch feature a teaser thumbnail, title, length, upload date and like ratio. PussySpace is very much in the growth stage still: they're adding new scenes multiple times per hour, which is pretty rare to find, even in the ultra-competitive free video space. Over on the right-hand side you've got a bunch of categories that you can check out, but I want to actually head on over to the specific page they have for this functionality so I can discuss it a little more in-depth. Let's do that in the next paragraph!
A category look at PussySpace
After hitting the 'category' button, you'll be presented with a number of niches that you might want to watch porn videos focused on. My favorite thing about this area is the fact that they're sorted based mainly on popularity, so the stuff that you're more likely to click on comes in above everything else. Pussy Space has teen, anal, MILF, Asian, lesbian, POV and shemale near the top of the page, which pretty much covers what 90% of horny fellas are going to want to massage their cocks over. They've also got preview panes to help with visual reference and a number count, displaying that most genres have around 100,000 videos (or more). All in all, I really must say that the category section here is far better than what most competitive tubes have to offer. Personally, this is how I think most niche-based data areas should be structured, so a massive thumbs-up to the PussySpace team for having their shit in order.
After you select a category, you'll be shown all of the associated clips, sorted by default based on upload date. Just like the homepage, you can switch this over to rating if you'd prefer and personally, I'd highly recommend that. PussySpace also has that coveted 'HD only' button which you can utilize to cull anything that's 480p and below. In the modern era of pornographic video consumption, I really don't think any uploads should be non-HD. It's nice that Pussy Space gives us fussy dudes who love quality the ability to get our hands on exactly that!
The pornstars of PussySpace
If you prefer to navigate through content based on the stars who feature in the content, that's fine too! PussySpace has a pornstars section that's really going to be instrumental for your plan to access porn via the top girls in the business. There are hundreds of ladies listed here and they're themed on popularity first, although you can sort alphabetically if you want. Some of the names I think are worth mentioning include Silvia Saint, Sadie Pop, Uma Jolie, Ava Addams, Elsa Jean and Dillion Harper. I hate to sound like a broken record, but as with the categories, you can refine content from specific models based on what your preferences are. Naturally, much of the database here at PussySpace is focused on professional content, so you also get a huge number of scenes for most of the popular ladies out there. Great stuff if you're someone who loves both quality and quantity!
Improvements for PussySpace
In the interest of balance, I do want to mention a few things that PussySpace could do better. I mentioned the homepage interface and to be honest, this can be extended to the rest of the site – it just needs to be freshened up to modern website aesthetic requirements. I'm also somewhat disappointed that you can't select multiple niches at the same time, so you'll have to use the search feature if you want to combine two loves, such as lesbian MILFs or anal Asians. There are adverts here, but that's just the Internet, isn't it? Not worth moaning about that, especially since it's not excessive.
PussySpace: my final thoughts
Wrapping up the review here, it's my personal opinion that Pussy Space leaves little to be desired and that I'm more than happy to declare this place as a top spot for horny punters to go for their daily masturbation needs. They've got some of the hottest uploads in the business and work with the top studios to bring you spicy adult entertainment that's bound to make you cum. Bottom line: Pussy Space is a great tube with thousands of enjoyable HD videos that you ought to check out sooner rather than later.
Thank you for reading yet another tube site review brought to you by the expert on this topic, Fetish Dude! Come back to my platform whenever you feel like accessing the best websites around for XXX fun.
Good sorting options
Fast loading speeds
HD toggle feature
Some short videos
No multi-niche selection