Porzo Review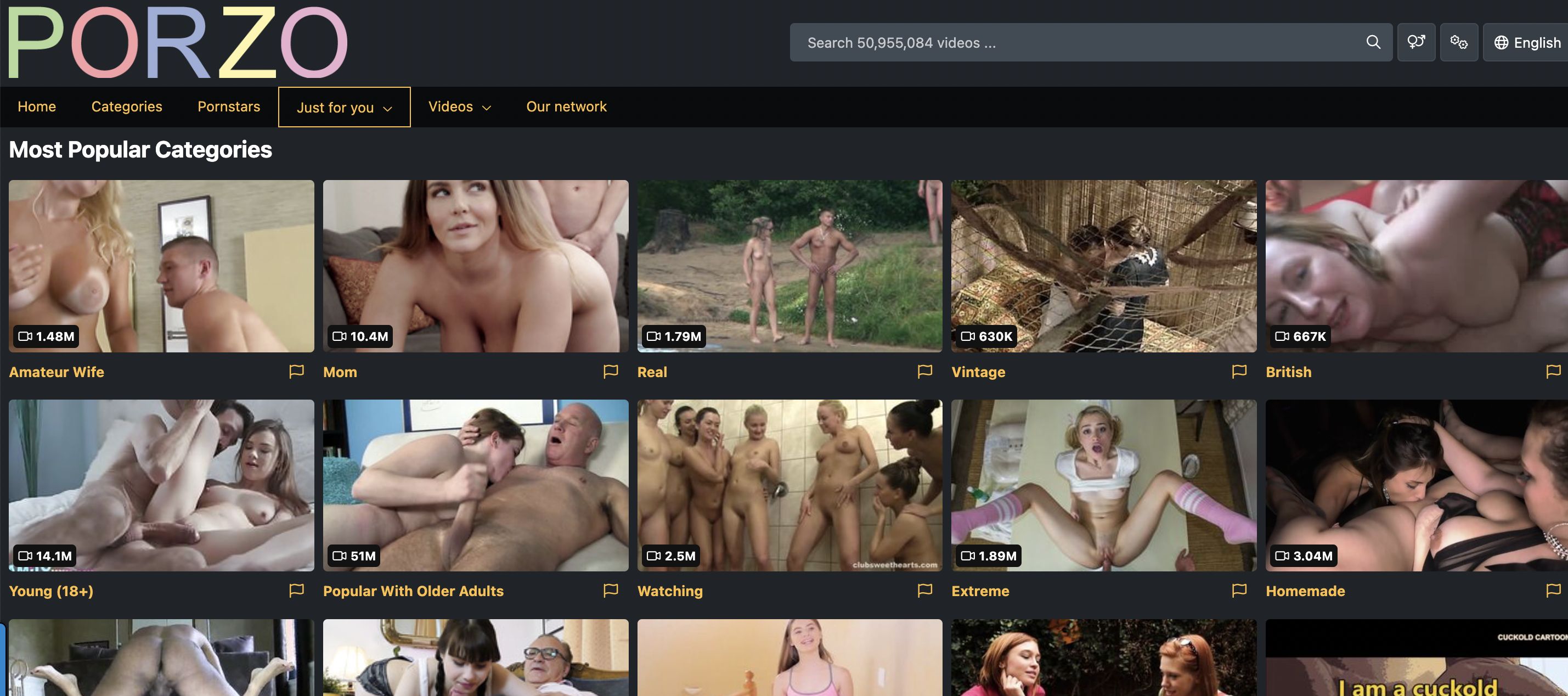 Fetish Dude visits Porzo
Hello friends: Fetish Dude here and in this review, I'm going to be looking at a little hub by the name of Porzo. I say little – the reality is that this place is far larger than most I've come across in recent times. It is a tube site (of sorts) and I'm pleased to be able to spend the next hour or so looking at what this place has to offer. Will it be a website that I can recommend, or might it fall short of all expectations? Read on: Fetish Dude is going to give you his full analysis on Porzo below!
First thoughts on Porzo
I'm going to kick off the review here with a look at the homepage, since this is where most people are going to be coming when they want to check out the content that's on offer. Instead of sticking to the standard tube method of showing you content first, Porzo instead elects to run down all of the niches they have available. I'm okay with this approach generally, but I think that the execution here could have been a lot better. For instance, above the fold, you've got genres such as hot mom, mom, wife in homemade, mature, amateur wife, mature amateur and MILF. There's a lot of doubling here – why can't all of these just be combined? Strikes me as quite odd that they don't just let you go ahead and select multiple niches that might interest you, as opposed to having them as distinct entities.
You will notice alongside each niche thumbnail, you've also got a number of scenes counter. The values that you'll find here are pretty damn high – we're talking millions for some niches. In total, Porzo claims to have 46 million uploads, but this is a little bit of a deceptive claim. Just know that while you can access lots of content here, it's complicated. To explain further, let me talk about the exact structure that Porzo has gone for with regard to its media.
The Porzo access model
The first thing that I want to stress is that Porzo doesn't actually host anything locally. All of the video previews that you'll come across here are sourced from third-party tubes, such as PornHub, xHamster, RedTube, Tube8 and so on. Instead of having anything themselves, they merely act as an indexing service so you can search all of those spots in one location. I'm not a massive fan of this approach for a few reasons, but I do know that a lot of people like the flexibility that it comes with. The biggest drawback is the simple reality of doubled-up scenes. Plenty of tubes host exactly the same content, which means that for some videos, there are likely 50 to 100 different versions hosted by Porzo. This isn't great, although to be fair, I didn't see much of this when searching through the niches. I'd also like to point out that some scenes might be incorrectly tagged, so you do have to be careful with what you click on – you might get massage porn when you want to see teens instead!
Exploring popular videos at Porzo
One nice feature is the fact that right in the header, you've got the ability to click 'popular videos'. Although they are focused on porn fetishes here, you can go here if you just want to jump straight into some XXX action. In terms of the content focus, it's pretty obvious to me that Porzo has an extreme bias toward professional content. You'll find barely any uploads that aren't coming from studios that have a history of outputting smut, but if you really want to, it's possible to hunt for some more homemade skin flicks if that's what's going to make you cum. Some of the channels providing material to Porzo include Tiny 4K, Sis Loves Me, Moms Teach Sex, Tushy, We Live Together and Hookup Hotshot. Some decent outlets for horny dudes to follow, that's for sure.
Searching at Porzo
I decided to put the search function to the test with a few different test queries and I do think that the results were in line with my expectations. Not only were the results good, but you're also able to sort and filter content based on a number of different metrics which I think are just fantastic. The biggest selling point is the ability to filter anything that isn't available in HD, so if you're someone who only enjoys 720p and above, that's going to be a top choice for you. You can also sort based on popularity, upload date and duration. Essentially, what all of the tubes out there offer when searching, Porzo is doing exactly the same thing.
Downsides of Porzo
The fact that content here isn't hosted locally can lead to complications down the road in terms of contracts, accessibility and so on. Again, there are a number of doubled-up scenes too, which I think could be fixed by at least removing anything that has the same name as another clip (and the same length). My biggest issue with Porzo is the fact that you're unable to look at pornstars here: that really sucks. They should ideally have a page that you can visit for the purposes of exploring all of the best babes in the business. If you want to check out smut from Riley Reid, Brandi Love, Dakota Skye and other broads, you have to do a manual search – too bad!
A final thought on Porzo
Porzo has earned my respect gradually over the last few hours, so I'm happy to go ahead here and give them my seal of approval. It's worth heading on over and paying your respects to the huge library of adult entertainment you can access from here. Just be warned that this website will be a danger to your health if you're known to jerk off excessively. Don't come back to Fetish Dude if your dick falls off because you decided to massage it for a week straight! Anyway, cheers for coming by and reading the entirety of my tube review. Be sure to read more analysis on my website if you want other suggestions for great XXX spots to visit – peace!
Millions of videos
HD filtering available
Decent search function
Fast loading speeds
Many duplicate scenes
No pornstar catalogue