PornVibe Review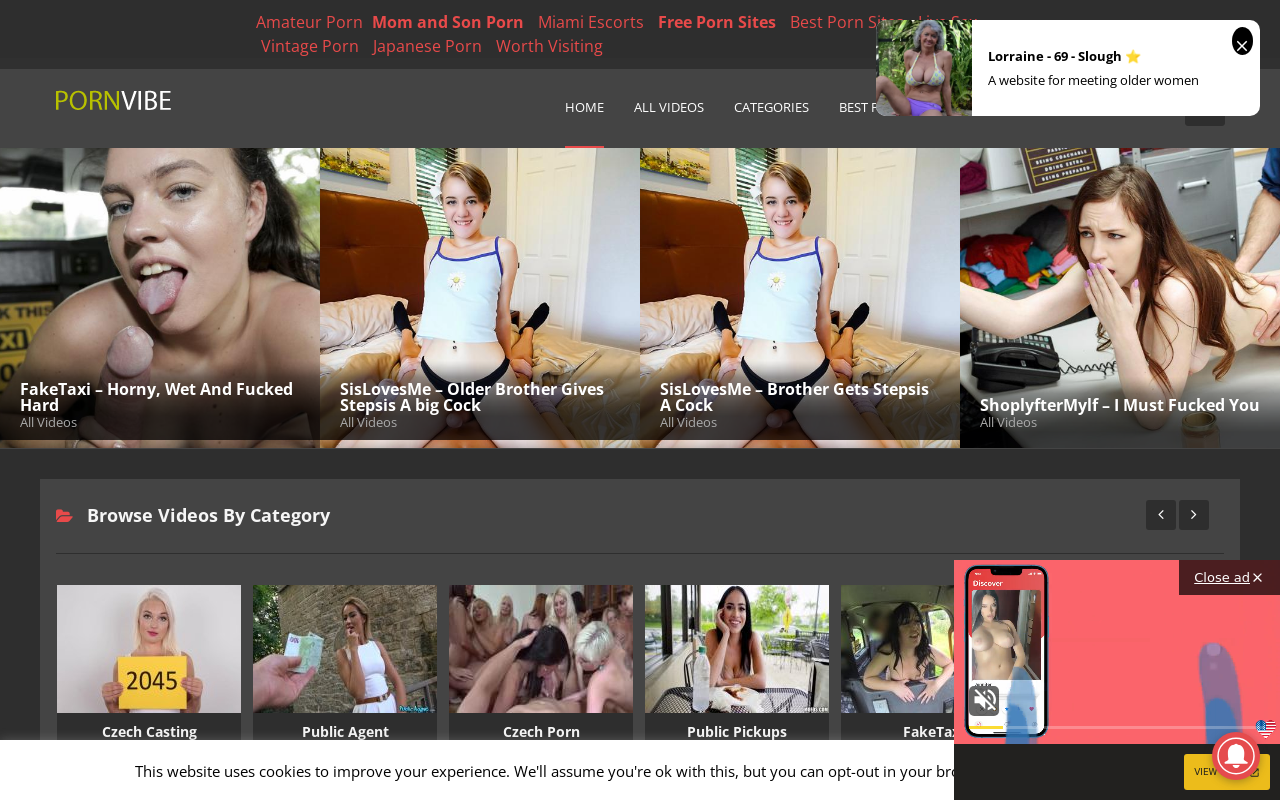 Fetish Dude visits PornVibe
I think it's rather self-evident now that when it comes to giving people access to world-class porn sites, Fetish Dude is the go-to guy. Today, I'm going to be looking at a website by the name of PornVibe to see just how well it does when it comes to providing the Internet with the XXX material they desire. I'm hoping that this hub is worthy of a recommendation, but either way, I'm going to write up a full review and give you my full opinion on what it has to offer. So, without further ado, let's get our asses over to PornVibe and see what's going on.
My first thoughts on PornVibe
Porn Vibe has stuck to tradition when it comes to its design somewhat, mainly by virtue of the fact that they show you videos first instead of the niche approach that a number of other tubes are experimenting with. Right at the top of the page, you'll see a scrolling slider of different scenes you can watch from professional studios that are known for pumping out great XXX content. It's a little strange in terms of design, but I guess it's not the end of the world. Further down, you'll find an embed area that displays the newest clips which have been added to the archive of PornVibe: great if you're someone who likes to see the latest porn out there. One nice touch is that you can fiddle with the layout of this area, so if you'd prefer for the thumbnails to be a little smaller or larger, you have the flexibility to view the site however you wish.
Another nice touch of this content area is that Porn Vibe has a toggle feature which will remove all non-HD videos from the display. I'm always a big fan of these types of features because it allows me to see the best 720p and 1080p uploads in the industry. My personal opinion is that in 5 or so years, basically no one is going to go to a website that doesn't the majority of its porn available in high definition. Anyway, that's basically it for the homepage of PornVibe, so I think it's a good idea now for me to go and look at the categories section for a little taste of what's going on here in the niche department.
The categories of PornVibe
While I'm a big fan of category access in theory, I have to be honest for a second here: PornVibe really let me down when it came to providing me with access to various niches in this area. My first complaint is the fact that when I first land here, I'm shown a bunch of categories that are actually just studios, such as Czech Pawn Shop, Sex With Muslims and Fake Hostel. It would appear that they favor Czechian porn quite heavily, and that's not a problem, but these channels aren't categories – they're channels. You can scroll down and eventually come across more traditional fetishes, such as Asian, solo, lesbians and teen, but yeah, these should really be displayed toward the top of the category area if they want to help folks get their fingers on the porn they lust after.
Watching content on PornVibe
I took a random sample of 12 scenes here and was happy to find that the vast majority of theme were available in 1080p quality. I've always been a big believer in HD footage, so the fact that PornVibe has a hell of a lot of it is a major selling point. The embed area is more than acceptable and you do have reasonable meta to better navigate the site and all of the content that it has to offer. I don't think I have any real complaints here, Except that you're given no convenient way to download the scene directly from the site. Ideally, this would be offered so people who want local storage can get it in a timely manner.
My conclusion on PornVibe
When push comes to shove, I don't feel like PornVibe is quite good enough to get a full endorsement from Fetish Dude. Sure, the time that I did spend here resulted in me enjoying the overall experience, but it was somewhat soured by virtue of the fact that some links were broken, there was no pornstar area and scenes cannot be downloaded. I'm not saying it's a complete dud, but you might be better off exploring other reviews I've written on tubes before you settle on this spot. It's good, but it's not great.
Thanks so much for reading a full, professional tube site review written by Fetish Dude. Come back any time you need advice on top porn sites – I'm always here to help!
Lots of HD content
Fast scrubbing speeds
Regular new updates
Some broken content
No convenient downloads
Mixes niches with channels