PornSOS Review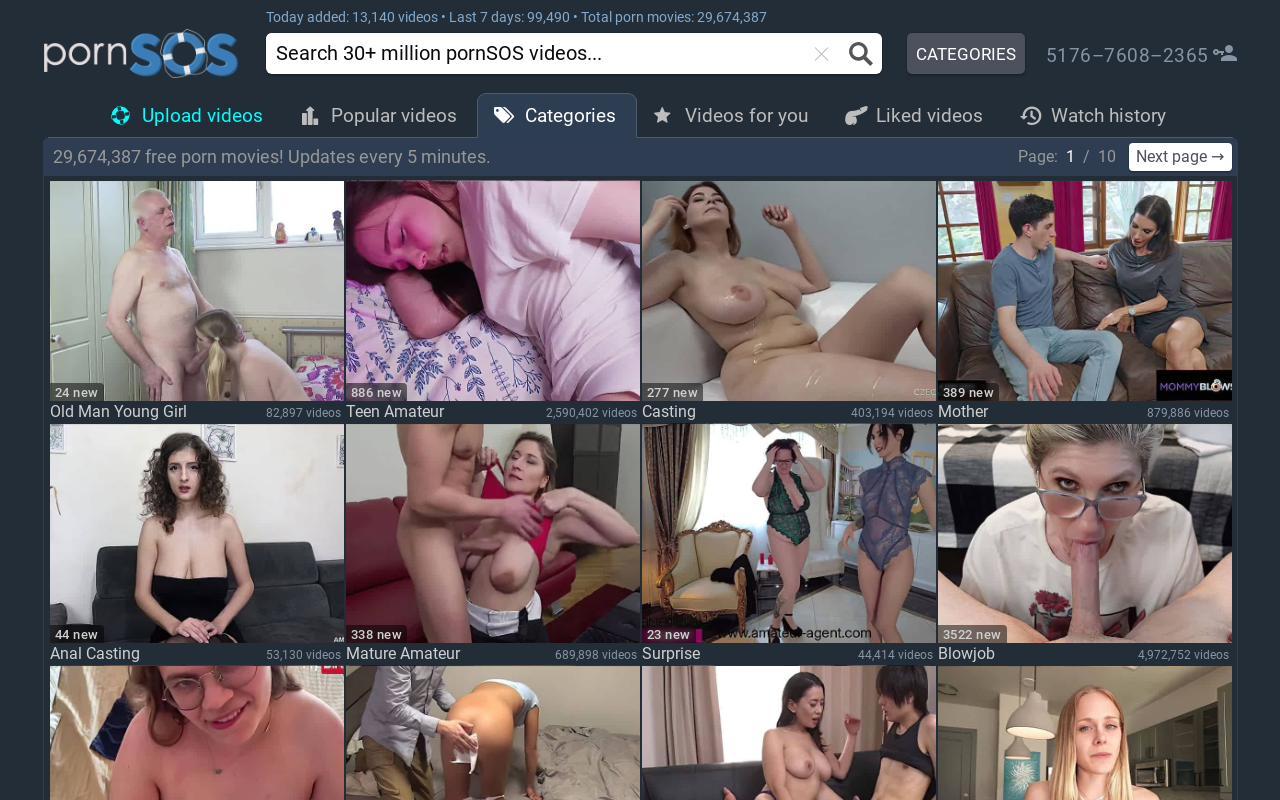 Fetish Dude visits PornSOS
Howdy friends and anyone else: it's Fetish Dude here and yup – I've got a review that I think you might want to read through! Everyone ought to know by now that Fetish Dude is pretty committed to finding the best spots online for adult entertainment, so it was only a matter of time before I got around to checking out PornSOS. Question is: will this be the best spot online for guys who need a jerk in an emergency? Well I'm about to find out, so if you'd like to join me for the wanking journey, read on – I'll let you know soon enough what I think about the overall experience at PornSOS.
Exploring the PornSOS platform idea
There are typically two types of porn websites: those that show you the content directly and those that link you to other destinations. Now while PornSOS does technically have smut for you to look at, they act more like a search engine than anything else. See, nothing here is actually 'here': they merely index material from other tube websites. We're talking about the likes of PornHub, xHamster, RedTube and so on. Instead of having to have everything on their own systems, PornSOS just sends you on over to wherever the pornography comes from. It's an interesting system and has its pros and cons – but I do just want to mention that first before getting into a look at the website. It is important to note that while somewhat akin to a tube, PornSOS isn't giving you any videos to whack yourself off over.
A look at the PornSOS homepage
Because of this content approach, it means that when you land on the homepage of PornSOS, you'll be presented with categories. These categories are central porn theme ideas that you might be interested in, so I hope that you've got some niches that you're looking forward to exploring – if not, you're not going to like this approach! Some of the best options here include lesbian, mature, massage, amateur and teen. I do have a complaint here though – there are a bunch of niches that just don't make much sense. For instance, why is 'Danish Vintage' so damn high up on the list? Are there really that many people coming here to watch that type of content? You've additionally got stuff like stupid, lady, casting and wife gangbang. Okay, some people might be into all of that, but I think it's a stretch to suggest that it appeals to the wider public, right? Maybe I just don't understand the industry that well.
The quantity of videos from PornSOS
Because things here aren't hosted locally and you get to visit third-party spots that actually have the stock that you desire, Porn SOS has the luxury of being able to offer you a metric fuck-ton of goodies. According to their header, the total database right now consists of 42 million scenes, with over 200,000 being added in the last week alone. Now in my line of work, I consider that to be a hell of a lot of material. In fact, I'll challenge anyone to watch just 1% of the smut here – you're not going to get close! Now this doesn't come without one important detail: the numbers are probably much larger than the reality of the situation. Why is that, exactly? Well, because a lot of the tube sites will all have the same clip and in some cases, multiple times. This can create a situation where you're not really getting all that much smut, but just a reasonable amount. It's tough to talk about, but I think you get what I mean: doubles and repeats are pretty common here at PornSOS.
The popular videos tab on PornSOS
One quite unique feature about PornSOS is the ability for you to check out some popular clips. Simply hit the 'popular videos' button at the top of the page and you'll uncover a wide array of porn videos that are likely to make you pretty damn hard. PornSOS has a lot of niches covered here and so you really do get a wide variety of goodies that I think you'll adore. Just note again that you will need to navigate through to a third-party spot, since they don't host anything here. This isn't a huge issue, but it does matter enough for Fetish Dude to repeat it over and over again. I think it's also important because you can never actually be sure of what you're getting – the tube host could remove the clip or otherwise be unavailable. The lack of local storage is obviously going to mean that you have a lot more risk when you decide to make PornSOS your first port of call for the purposes of jerking off.
Some improvements for Porn SOS
Since Fetish Dude is an expert when it comes to these types of things, I do just want to take some time here to suggest a few improvements that Porn SOS could make. Firstly, their lack of pornstar section is an obvious mistake: where is the list of the top 200 or so girls that I'm likely to want to see in action? I mean sure, I can type in manual searches if I want, but it's also good to put a face to a name and explore that way. It also means that I don't have to type anything, which is important for jerking! In addition, I'd like to see PornSOS tidy up the homepage categories, combine a few and remove others.
Wrapping up the PornSOS review
Well friends – that's all I have time for on Porn SOS. I do believe that I've exhausted things to talk about, but rest assured, I did spend more than enough time here and I'm happy to go ahead and recommend that you check it out for yourself. I personally had a fantastic time and I feel like anyone else giving this review a butcher's hook will feel similarly. So, in short, get your ass over to PornSOS and put the content here to the test. Thanks a lot – happy jerking!
Millions of sex videos
Lots of categories
Updates every 5 minutes
Makes video suggestions
Third-party hosting
No pornstar database