PornSexer Review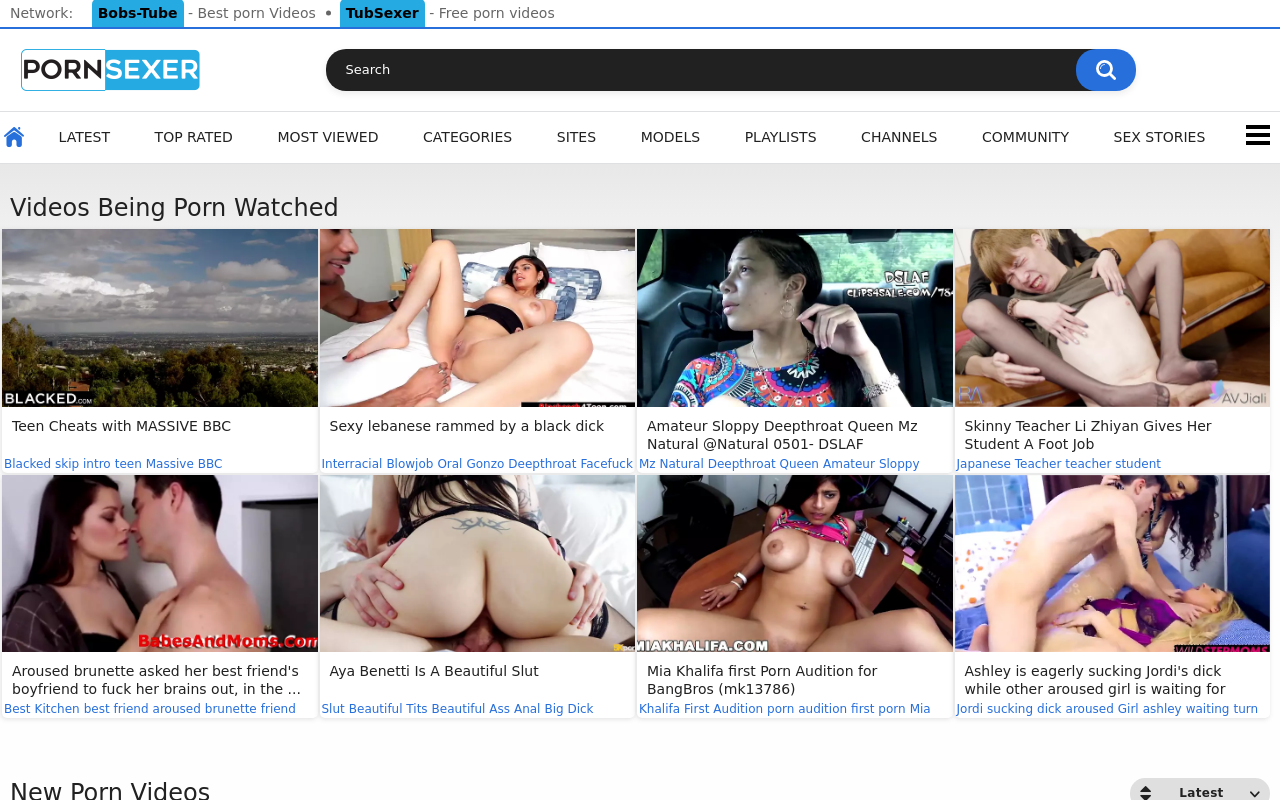 A look at PornSexer
I'm always urging the folks reading my reviews to keep looking for great places, because Fetish Dude is never sure if there's a hot hub out there he hasn't come across yet. In this particular analysis, I'm going to be looking at a spot by the name of PornSexer to determine if it's my cup of tea and worth a recommendation. Since the Internet has so many free tube spots, it's important to make sure any place you suggest is actually decent. I'm excited to give this place a good looking at, so let's stop beating around the bush and get into it, shall we?
My first thoughts on PornSexer
The homepage here is pretty decent and I'm happy to see that the vast majority of the screen real estate is devoted to showing you some preview panes of scenes that you can watch. The only thing that struck me as odd was the fact that they have social links in the top right-hand corner so that you can post the site conveniently on Facebook, Google Plus and Twitter. Let's be honest for a second: how many folks are going to utilize this feature when they're about to have a jerking session? Seems like a pretty uncommon thing to utilize, so I'm hoping that this just gets removed soon, because it seems like a massive waste of everyone's time.
The first major content area you'll come across is devoted to the latest scenes which PornSexer has added to their library. It would appear that these new flicks come in on a daily basis, so if you're a person who likes the freshest material around, this is probably the spot for you. Now in the navigation pane for this section, you'll see a dropdown that allows you to sort content based on a number of different characteristics, including the view count, rating, length and number of comments that each scene has. These tools are often overlooked for most jerkers, but I feel like they should be fully utilized if you want to have a reasonable session of porn enjoyment. Seriously – give them a try and tell me that you're unhappy!
Exploring pornstars on PornSexer
After pressing the 'models' button at the top of the website, you'll be taken through to a page that shows off some of the finest broads around who really know a thing or two about servicing cock. These are shown based on their rating, so you'll see the likes of Lucy Zara, Morgan lee, Zoe Parker and Blue Sky here. These girls aren't exactly the most famous, but they do have a few videos, so that's good. If you prefer ladies with a bit more clout and experience in the game, hit the 'most porn videos' sort feature to enjoy the likes of India Smmer, Adriana Chechik and Abella Danger. On the left-hand side of the page, you also have a bunch of categories and an A to Z listing if you'd prefer to go about accessing what you want that way. After eventually settling on a chick, you'll then be shown all of the uploads that they have available for you to watch. Just like the homepage, you can sort these based on the criteria I mentioned before. Good stuff that makes your ability to access the porn that you want that much easier.
The channels of PornSexer
You'll likely notice that a reasonable number of the adult files presented to you here on Porn Sexer come from professional studios. The good news is that these all have their own individual profiles on the platform, so if you only want to see smut from specific sources, you can do that with ease. It's not just one niche covered either, since PornSexer has supported releases from the likes of Shemale Strokers, Hentai Pros, Bang Bros, Exploited College Girls and Pure Mature. This variety is probably one of the best parts of PornSexer: they've got you covered every which way!
My final analysis of PornSexer
As much as I'd like to spend the next few hours of my life continuing to look through the porn and database of PornSexer, I don't think that it's a productive use of my time. See, what I've observed already here on Porn Sexer lets me know that this is a place I can recommend without much fear. They really know what they're doing and I have little doubt that they'll continue to be world-class providers of XXX entertainment online for all of the horny readers here on Fetish Dude. Bottom line: you should get your butt over to PornSexer now and prepare the coconut oil, because you're going to be jerking off all night long to their pro porn video collection!
Lots of professional porn
Regular new releases
Good pornstar database
Some missing thumbnails
No HD toggle