PornOXO Review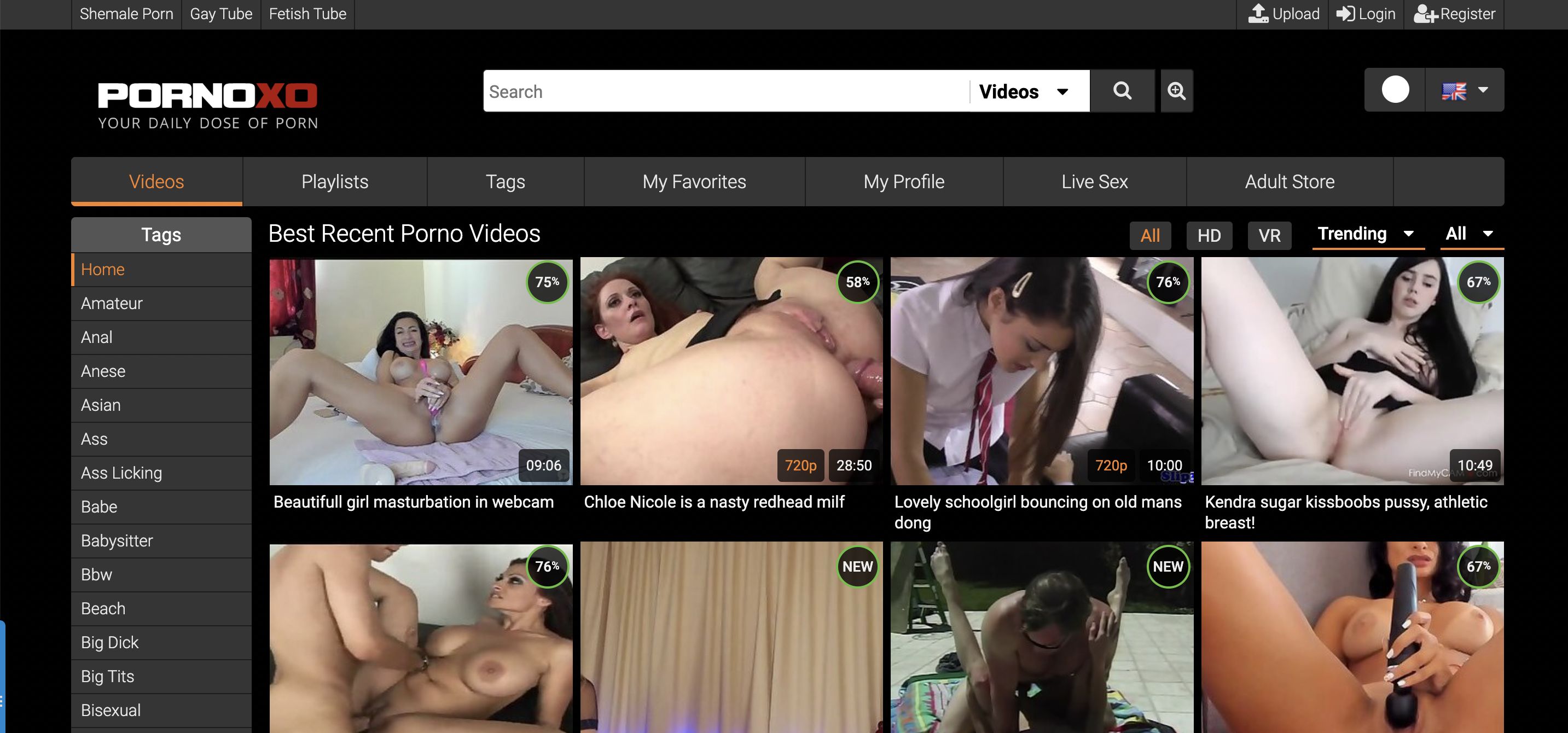 Fetish Dude visits PornOXO
Oh man – you know that it's going to be a great day when you wake up and just plan to spend your entire time looking at free porn tubes! It's Fetish Dude here and yes – another hub devoted to XXX videos is about to come your way. This time, I'm looking at PornOXO and it's going to be an absolute privilege to work out whether or not what's available here is good. Now as much as I would like to spend all day talking about visiting tubes, how about I just go ahead and actually do it? If you'd like to know more about PornOXO and what it has to offer horny punters, read below. You'll get the full review treatment from yours truly, Fetish Dude.
Initial thoughts on PornOXO
As is common in my writings, I'll kick things off here with a look at the homepage before going anywhere else. I'd say that PornOXO is quite uncommon in its approach from the get go: they show just 12 preview thumbnails on the homepage, although these are devoted to the "best recent" videos, which is basically a combination of the latest and greatest stuff. Not sure exactly how that works? Well, it's somewhat akin to Reddit. Every time you return, there will be fresh goodies for you to look at. Elsewhere on the homepage of PornOXO, you've got a pagination bar at the bottom of the site and a few different menus to fiddle with.
The menu on the right-hand side allows you to further sort and refine content based on your specific preferences. Perhaps my favorite feature here is the fact that you're able to look at all of the HD content that's offered by PornOXO. Suffice to say that if you're someone who demands the very best when it comes to quality, PornOXO is probably going to be a place that you'll want to check out. Believe it or not, this tube also has some VR material – that's uncommon, but it will allow you to jerk off like crazy to some virtual reality sex if you've got a headset capable of supporting your filthy requirements. You can also change the output of the homepage, so it'll focus on the latest uploads, top rated productions (of all time) and even the longest releases if those things interest you.
Searching the categories on PornOXO
While most places will refer to categories as categories, Porn OXO instead elects to go with the somewhat similar word 'tags'. There are plenty on offer here, but I think that the layout sucks a little, since it's sorted alphabetically and you have no further options to decide how they appear. Additionally, no preview thumbnails are attached, so you can't quickly scan to find what it is you're interested in. I will admit that the sheer quantity of genres here is incredible, you've got everything from Asian and granny through to ladyboy and feet. I'd estimate they support around 200 or so categories and all of them appear to be pretty reasonable. This instills me with a hell of a lot of confidence when it comes to PornOXO, since you're pretty much guaranteed to be able to find something that's going to make you pop shots off in no time at all.
After you select a category, PornOXO will then show you all of the related videos that you might want to watch. Again, just like the homepage, you've got the ability here to sort and filter until your heart is content. We're talking full control over whether HD scenes show, the sorting by popularity option and even the option to change the size of the thumbnails – pretty cool. Although I was a little skeptical in the beginning with regard to the layout of PornOXO, I think they've fully redeemed themselves here. They know how to give you some good skin flicks, that's for sure.
My thoughts on the content at PornOXO
So with specific regard to content, PornOXO has a reasonable mixture of professional productions and amateur uploads. I'm unsure exactly what the breakdown is, but believe me when I say that my head count was more than favorable for the folks behind this project. One of the biggest issues in adult entertainment these days is the inability for places to deliver what you want, but with so many niches afforded to the visitors, PornOXO suffers from no such problems. Sure, there might be adverts here and the quality isn't always in 1080p, but if you're not happy with looking at anything non-HD, just make sure you filter all of that stuff out! I watched about 20 videos here across a range of niches and time periods: it was good stuff that I've got little doubt you'll enjoy.
The problems with PornOXO
In the interests of balance and honesty, it's probably a good idea for me to go ahead here and red pill you a little on what's not so great when it comes to PornOXO. Firstly, they have no section for pornstars, so you can't go and easily find the uploads from your favorite performer. Additionally, the translation tool that they provide is a little rough – it doesn't do the job all that well and just relies on a third-party tool to do the legwork. Lastly, I feel like a section on the site devoted to channels would be a good step forward – everyone wants to get porn videos from the biggest studios out there these days.
A compelling case for Porn OXO
PornOXO didn't really leave me wanting anything extra: they possess a decent amount of adult goodness here, so I don't think it's all that much of a mystery with regard to how they managed to get into this position. So, in short, it's probably best that you forget the horrifying alternatives and just make PornOXO your go-to spot online for XXX entertainment. I'm confident that you'll love what you find on the other side and yeah – you'll murder your dick with handjobs after spending a few days here.
Thank you so much for reading yet another awesome tube review here from the expert on free porn video websites, Fetish Dude. Want more great reviews? Then explore the rest of my platform! Take care: happy fapping.
HD content filter
Lots of niches
Fast loading speeds
Some adverts
No channels section