PornoBae Review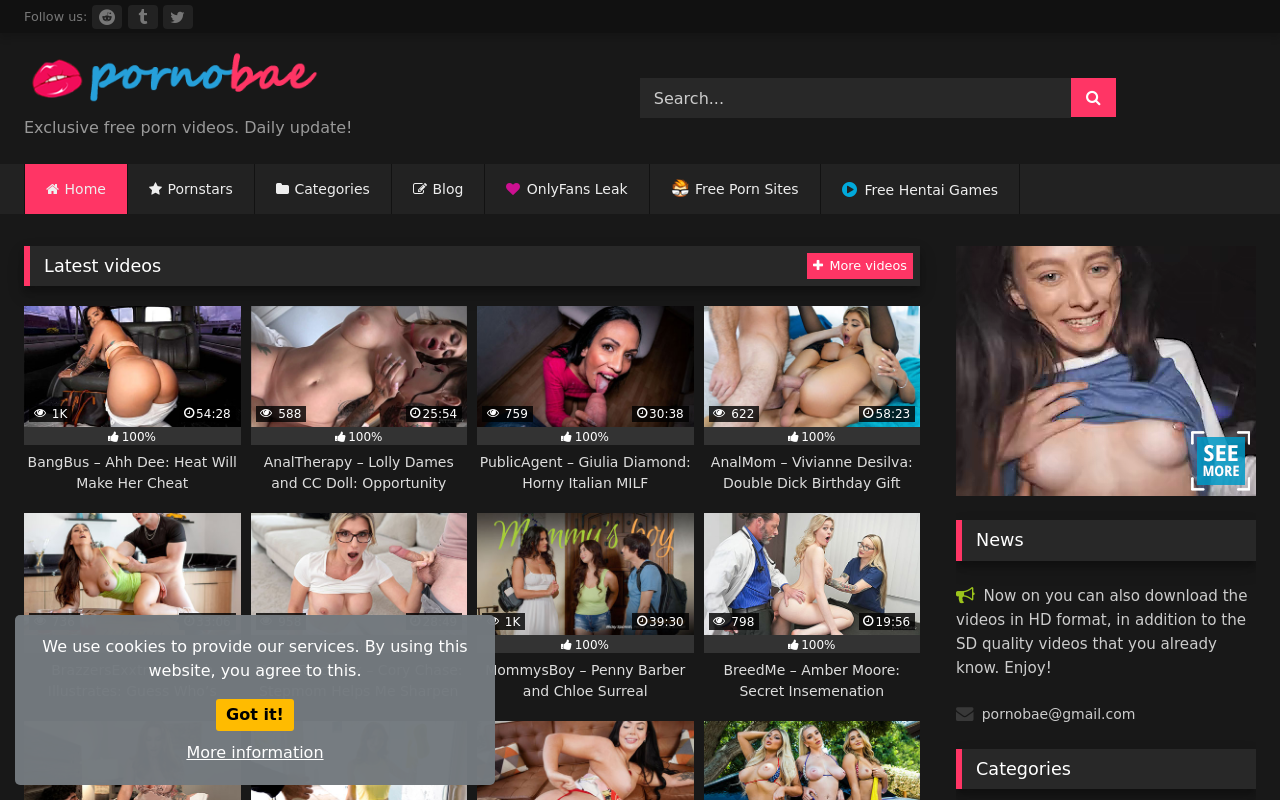 Fetish Dude visits PornoBae
Howdy – Fetish Dude here. Up for review in this entry is a place called PornoBae, which from what I can tell is a pretty new space online for dudes to go for the purposes of enjoying some free porn videos. This appears to be a pretty standard tube with all the bells and whistles you'd expect, but I want to check the hub out for myself to really get a good understanding of what this place has to offer. So, with that in mind, let's explore PornoBae and find out what this spot is all about. Sound like a plan? Great!
Checking in on the PornoBae homepage
Since most folks are going to be landing on the homepage here when they come to watch porn, it makes the most amount of sense for me to talk about that first, right? I have to applaud them for going for a pretty standard layout and design approach here: it looks just like a tube ought to! The first preview pane content box you'll come across shows off the latest videos added to the archive of PornoBae, which appear to come in on quite a regular basis. The teaser panes are made up of a title, rating, view count, length and naturally, a preview thumbnail. They look good and the spacing is reasonable – I just think the titles should be limited to a single line for aesthetic purposes.
Below the latest clips area, you'll find another small block for 'trending' scenes. There were only 8 uploads here, but I'm guessing these are what most people who visit the website consider to be the cream of the database. Certainly think about checking out this area first if you want to get your hands on the best of the best. I can't personally vouch for the content, but on a surface-level analysis, it does appear to be pretty good smut. Especially when Riley Reid is featured in one of the thumbnails – that girl really knows how to bang!
Exploring PornoBae pornstars
All of the major porn tubes out there right now will have a pornstars section, so I'm pretty pumped to look at the one provided to us by PornoBae. When you click on the link, you're shown a bunch of girls which are displayed in alphabetical order – sadly, it's not possible to go with any other sorting basis. This is a bit of a pain if you ask me, especially since so many other tubes manage to provide that type of thing. As a minimum, I'd like to see PornoBae offer you the function of sorting based on number of subscribers, video count and total view count. These metrics are usually more than enough, but yeah – just having them in alphabetical order really does suck. At least they've got a bunch of the key ladies covered, including Abbey Rain, Ember Stone, Elsa Jean and Lana Sharapova. I don't think you can really go wrong when these types of ladies are pumping out content here for us to all jerk off over, right? At least that's how I interpret the situation!
Improvements to be made at PornoBae
It really would be nice to have a HD toggle here on Porno Bae, so if you want to get rid of anything which cannot be watched in 720p or above, it'll just be removed from your sight. I do like the category sorting options, but you cannot pick multiple categories at the same time, plus they've actually given channels the title of categories and categories the title of tags – the whole thing is upside down and inside out! On the content front, they have a clear bias here toward professional porn that comes from studios which you know and love. That's great, but I know that plenty of people out there will want to get great amateur porn: that's going to be a bit of a problem on PornoBae.
The conclusion on Porno Bae
As much as I would like to spend the next few hours digging in even deeper to the pornographic experience here on PornoBae, Fetish Dude has a bunch of things that he has to do instead. Because of this, I'm going to leave my analysis there and suggest that if you'd like to learn more about this place, simply head on over for yourself and give it a try. I've had a lot of fun with my time here and I have little doubt that you'll feel the same. This is a great tube experience and you can even download your favorite HD scenes if you so desire – sweet! As always, thanks so much for giving this professional review a read. Visit any time you need advice from Fetish Dude – the only guy who knows everything about the porn industry!
Great porn database
Can download videos
Plenty of HD scenes
No advanced filtering
Cannot select multiple categories
A few adverts