PornMaki Review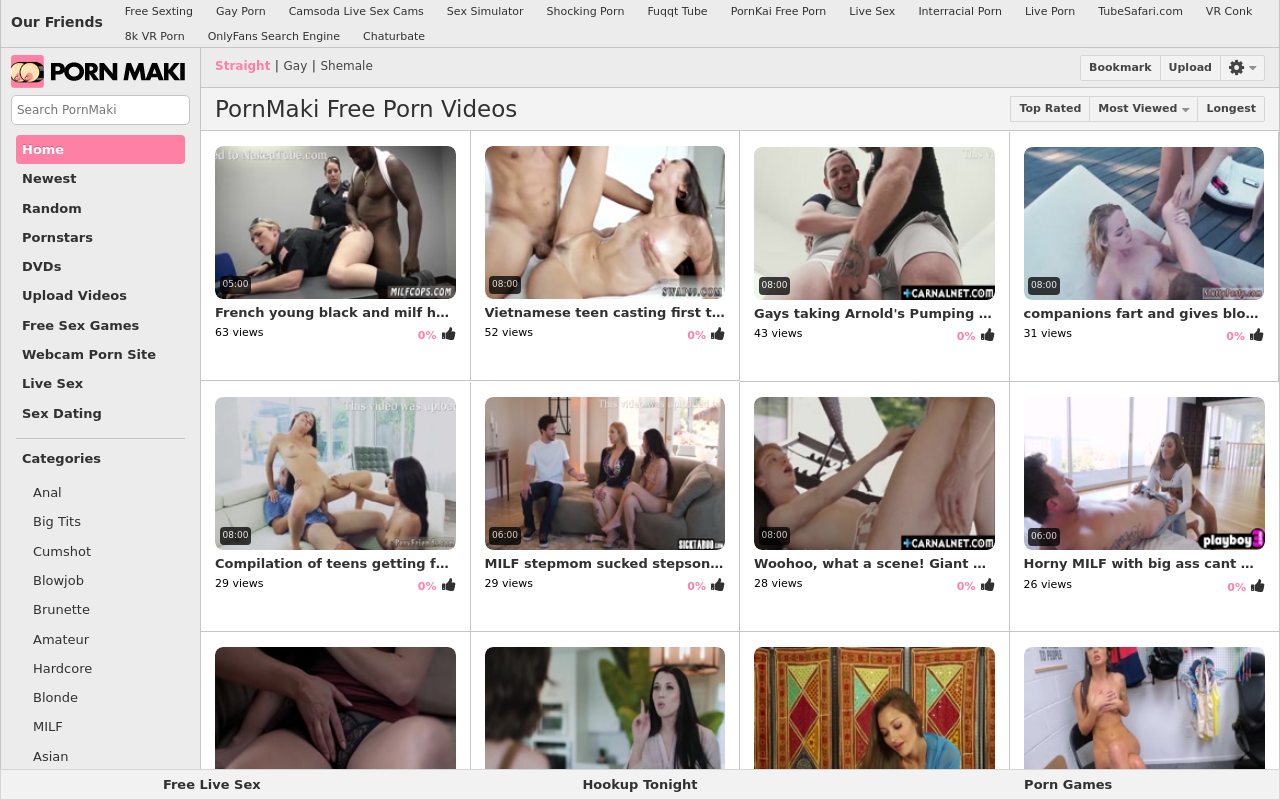 Fetish Dude visits PornMaki
Hello friends: Fetish Dude here and yes, I'm bringing you yet another top-tier review that I hope expands your knowledge of the adult entertainment industry and assists with your ability to access world-class smut. There's a tube by the name of PornMaki and I'm confident that you're going to have a hell of a lot of fun exploring it with me in this particular review. So far it looks good, but I have to do the full review before I get too friendly with the platform. So, let's get into the swing of things and see what PornMaki has to offer.
My first thoughts on PornMaki
The first thing that I want to mention about this place is the fact that they do have a particularly standard layout when you hit the homepage – something I like to see. Some places like to try and spice it up by going crazy with the features and whatever else, but I think that PornMaki does a good job of keeping it real and that's all I can really request from them, right? Now when you do land here, all of the material is sorted based on its upload date, with fresh flicks landing in the library on a daily basis – you can always come back and see dozens of new porn scenes.
If you're not too keen about looking through the PornMaki porn videos with the latest on display, you do have buttons in the top right-hand corner that instead sort based on rating, view count or length. So essentially you can come here and use those as alternative metrics if you want, which I think is a pretty good situation to be in. The preview panes comprise of a thumbnail, view count, length and rating – pretty good stuff. The only thing I'd like to see being added here is the ability to see which scenes are available in high definition with a small icon of some description – that would really assist the user in finding the exact type of content that they're after. All in all, my initial thoughts on PornMaki are certainly positive: these guys have a good grasp of what needs to be done!
Checking out the PornMaki categories
If you're the type of person who enjoys accessing content based on the niche that's explored in each scene, it's probably best for you to look at the categories here on Porn Maki. They're displayed on the left-hand side of the page for most of the areas, but you can also go to a comprehensive area devoted to them, which is my preferred way of access. Here, you'll see stuff like amateur, anal, Asian, Latina, webcam and teen sections so that you can hone in on the type of pornography that gets your dick nice and hard. It's especially good that you can see exactly how many videos each section has, with the average one containing somewhere between 1,000 and 10,000 uploads. I wouldn't suggest that PornMaki is exactly packed with adult material, but it's certainly not lacking in that regard based on everything that I currently see.
A look at PornMaki pornstars
Got a favorite fucker that you just cannot live without seeing in action? Well, the good news for you is that Porn Maki has a section on its website where the best ladies in the business are displayed – alongside all of the skin flicks they've got available on this tube for you to watch! Some of the names that I saw here included the likes of Brandi Love, Anri Okita, Nina Hartley, Jessica Drake and Aletta Ocean: quite a decent assortment of ladies if you ask me. I'm confident that if you see these girls in action, you'll agree that they've got a lot of skill when it comes to fucking in front of a camera. You just cannot beat the world's best ladies taking cocks, right?
My conclusion on PornMaki
It's nice that this place is able to constantly provide you with access to world-class porn videos, so it stands to reason that Fetish Dude is going to sign off on this particular place so you know that what you're getting here is top-tier stuff. I don't like to praise tubes for no reason, but I genuinely feel like Porn Maki is doing a good job and because of that, it's getting my endorsement. In short, Fetish Dude suggests that if you're looking for a free tube with lots of porn, this is one destination that's going to give you what you want – so visit and start jerking!
Thanks a bunch for reading another professional review here by Fetish Dude. Be sure to stop by whenever you need advice on the hottest spots around for XXX content.
Great pornstar archive
Decent content archive
All major categories covered
Some HD footage
Lots of adverts
Limited amateur footage