Pornky Review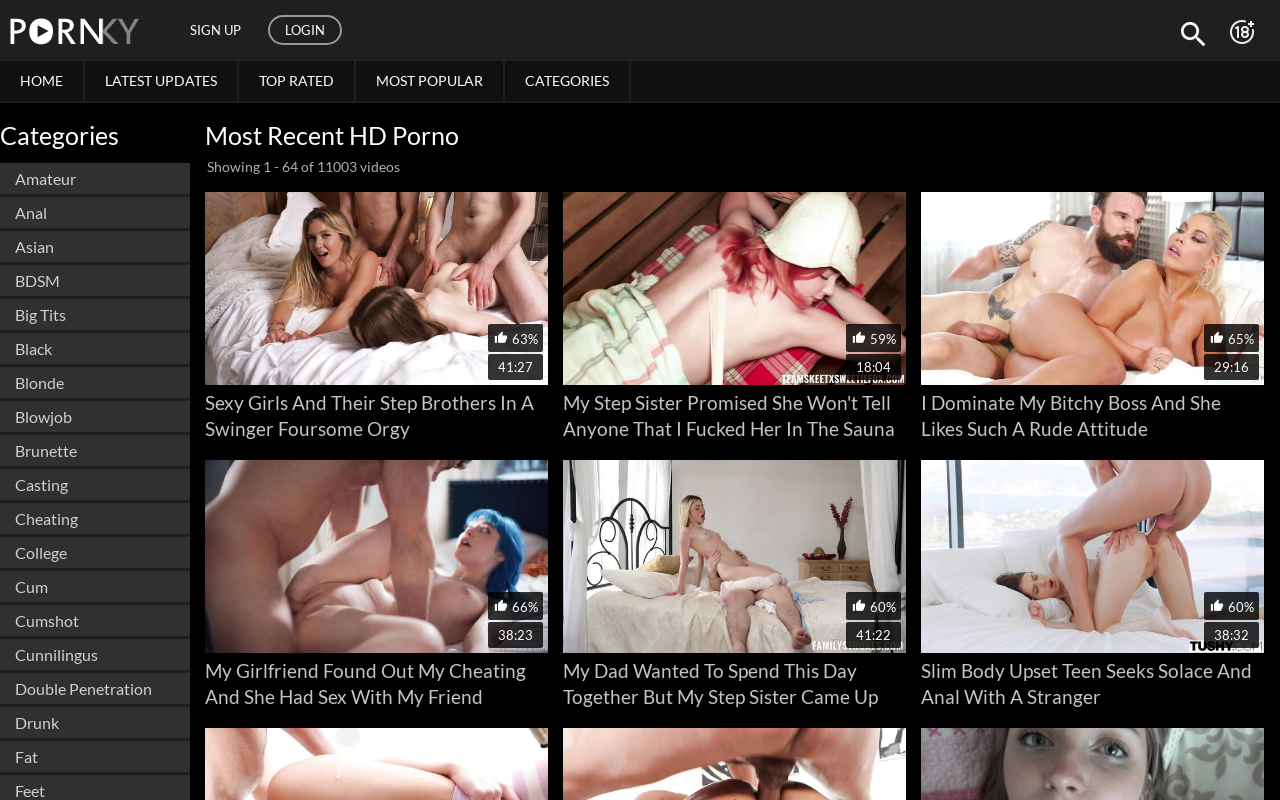 Fetish Dude visits Pornky
Hello friends: you'll be pleased to know that yet again, I'm going to be writing up an analysis on a tube site today. The particular destination I have in mind goes by the title of Pornky: care to join as a head on over for the purposes of writing up a complete review? Although I've actually visited this spot before, it was a lot time ago, and while it might have been decent back then, I want to see how it stands up to my modern requirements for tubes. So please: continue reading on and I'll tell you everything that needs to be known about Pornky.
My initial thoughts on Pornky
The homepage here sticks to what I'd consider to be the main method of content display that most tubes run with – it's generic, but it's great. I'd estimate around 80% of the initial real estate you'll find is devoted to showing you preview panes of scenes that have recently been added to the archive of Pornky. These panes consist of a thumbnail from the video, a title, its like ratio and finally, the length of the production. There aren't any HD indicators that are shown, but I think that might be because the entire database of content here is in 720p or above formats. I suppose we'll find out soon enough, right?
If you scroll down to the bottom of Pornky, you'll be presented with a pagination bar and that's pretty much it, save for a bunch of relatively useless links at the bottom of the site. There are 138 pages of content here, with each one having 64 scenes for you to watch. My math suggests that this brings you to a total of just under 9,000 videos. Okay, it might not be the biggest place out there, but these guys only fuck with the very best in professional porn from what I can tell, so it's not that big of a deal.
Exploring some categories at Pornky
Along the left-hand side of the page you'll find a number of categories that you can click on if you have a particular niche of interest, although alternatively, it's also possible to hit the 'categories' link in the header to see thumbnails alongside them. In my professional opinion, Pornky doesn't have too many porn genres on offer, but that's fine, since they're covering the ones that 99% of people want to look at. You'll find the likes of teen, public, squirting, BDSM and Asian videos here: if you're not interested in any of those niches, I don't know what to say! One nice touch is the fact that you can sort the categories here based on video count, popularity and rating – very few tubes allow you to do this, so I have to give credit to Pornky for having that has an option.
Breaking down the Pornky content
While a lot of tubes will have huge databases of random content, Pornky is very narrow and specific in its approach of material access. They deal exclusively with professional content that comes from the biggest studios out there, with no effort wasted to bring you full-length productions in full HD formats. The quality is fantastic here and far in excess of what most tubes will be able to provide you with. If you're the type of person that absolutely needs to get high quality porn on their PC, this is going to be one spot that will help you a hell of a lot. They've appointed themselves as distributors of world-class adult entertainment and that's just stellar as far as I'm concerned.
Although there isn't a pornstar page here for you to check out the girls taking cocks and fucking wildly, you'll still find a number of great babes throughout all of the porductions. We're talking about the likes of Maya Bijou, Jasmine Jae, Jessie Saint and Sara Jay. Top quality adult entertainment if you ask me!
Wrapping up my Pornky review
I've spent more than enough time here for me to go ahead and give my full, professional recommendation on the project. Look, I know that the numbers are a little on the low side, but they demand all uploads be available in HD and yeah – that's something that cuts out 90% of the crap that other tubes will provide you with. So, in short, Fetish Dude is giving his official endorsement of Pornky and he thinks it's in your rational self-interest to go on over there right now too jerk off over what they have. You'll love it – believe me!
Thanks for taking a look at another XXX analysis written by Fetish Dude. Come back to my site whenever you need more recommendations for great tubes!
Full HD content
Lengthy porn scenes
Great average scene quality
Not many adverts
Relatively small archive
Limited amateur pornography