PornHub Review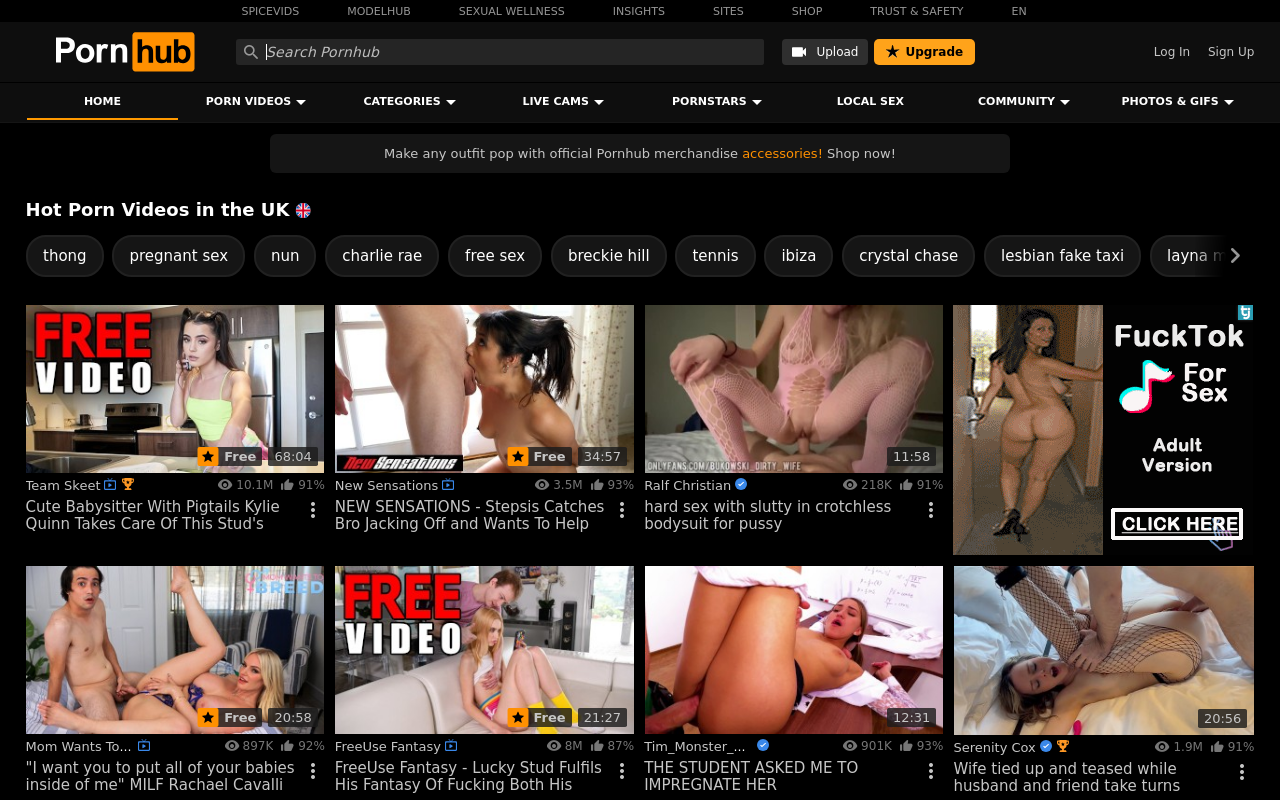 Fetish Dude visits PornHub
I don't think you really need me to go ahead here and tell you about the success and brilliance of PornHub. Now while Fetish Dude always does his best to go into reviews with a neutral perspective for the purposes of giving people honest feedback and advice, I have visited and utilized PornHub several times over the last month alone, so chances are that I'm not going to exactly be the most neutral of third parties. Having said that, I still feel it's worth writing up a review on PornHub so you know exactly what's on offer here and ultimately, what the whole damn thing is about. So, without further ado, let's get into the swing of things and take you on a full tour of PornHub!
The homepage of PornHub
A big focus when it comes to tube sites like this is the homepage experience – something that I feel PornHub does a pretty good job regarding. Right at the top of the content section, you've got a list of 10 videos that you can check out which feature some of the best fucking and sucking action from your local region. This is one of the best elements of PornHub: their ability to recommend and suggest great uploads. You can also click on the link at the top here for your country and it'll show you what else is highly popular – something that Fetish Dude is very happy to come across. Now scrolling down a little, you'll find a new content block section devoted to the most viewed videos. These are the ones that are popular for one reason or another, but might not be as critically acclaimed as the ones at the top. You've also got a few suggested categories below, that if you come back, will tailor them toward your specific preferences. Like petite porn? It'll start to show up. What about Japanese girls? You bet! PornHub has a good overall homepage experience and for that, I salute them.
Exploring categories provided by Porn Hub
If you mouse over the categories dropdown right at the top of the website, you'll see a number of different links and displays here which are pretty cool, as well as direct links to the most popular niches out there. These include the likes of teen, anal, ebony, MILF, lesbian and hentai – suffice to say that if you've got a fairly common interest, PornHub is going to be here to provide you with the material that you desire. Now after clicking on the category link, you'll be taken through to a page that gives you a lot more control over what it is that you want. Along the left-hand side of the page, you'll see all of the major categories on offer, including some lesser preferred ones, such as bukkake, cosplay and schoolgirl content. One of my favorite things about PornHub is the ability for people to go ahead and select multiple niches at once. Simply click on a niche that you like and then hit the plus symbol next to a combination: it'll then show you all of the scenes that are going to offer you the same. It's a fantastic feature and one that I think a lot more tubes could do with. This is part of the reason why PornHub is so damn popular, by the way – they just give you such a huge amount of control over the content that's presented before you.
Note that on the left-hand side of the categories section, you've also got a few other gadgets and tools to mess around with. The duration slider is pretty cool, as is the ability for you to look for only content that's been uploaded by amateur models or that're offered in virtual reality. PornHub is really pushing the limits of the modern tube site and I think that they're always going to be ahead of the pack when it comes to new features and cool ideas. Props has to go to whoever's behind the whole navigation and interface here – it's killer stuff and Fetish Dude really appreciates it.
The pornstars on Porn Hub
It ought to go without saying that if you come to a tube as big as this, you better damn well have the best pornstars around with their material indexed for ease of access! If you hit the pornstars link right at the top of the page, you'll come across the most popular girls in the business and all of the videos that they've appeared in. Some of the names that you might be familiar with here include Abella Danger, Riley Reid, Lana Rhoades, Alexis Texas and Elsa Jean. You can also fiddle around with the filters and whatever else to get the exact preferences you're after. One of my favorite things is being able to select the ethnicity, hair color and age group of the girls in question. Want to find the youngest ebony girls who're involved in the adult business? So damn easy to do that here on Porn Hub!
After filtering and finally picking a girl, you'll then have the ability to look through their database of material. Often this involves seeing their exclusive uploads and highest rated material. Some of the chicks even have a fan club system – similar to premium Snapchat – that you might want to subscribe to if you're really digging the work of the slut in question. PornHub has a lot of exclusive deals here, so it's a great way to find never-seen-before smut of your favorite chicks.
My conclusion on the PornHub platform
I don't think that Fetish Dude has much more to say on Porn Hub. They've got the video database here, the quality and the girls to go along with it – what more could someone looking for a porn tube want? The only downside is that some of the content here is gated behind premium membership, but they're not so pushy with signing up, so yeah – I wouldn't worry all that much. Anyway folks, that's probably the end of this analysis, so I'd like to thank you for coming along for the ride and remember: Fetish Dude is always here to review and rate the best sex tubes out there. Don't like PornHub? Well friend – there are plenty more reviews where this one came from! Take care and happy jerking.
Huge pornstar database
Some VR content
Fast loading speeds
Downloads available
A few adverts
Some paywalled videos