PornerBros Review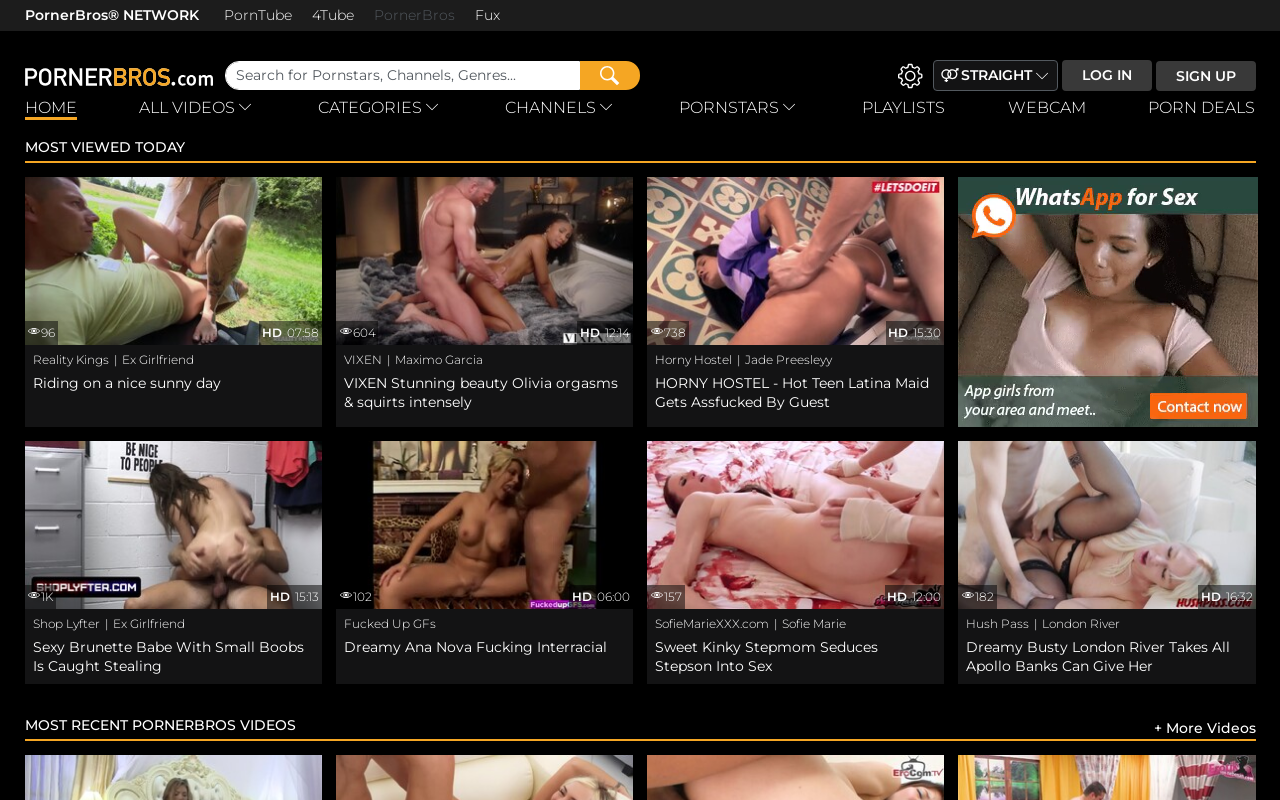 Fetish Dude: a check of PornerBros
I'm not entirely sure how these guys are still in business, because as far as I'm concerned, their name is a blatant rip-off! I'm guessing the CEOs at Warner Brothers are too busy jerking their cocks to care about whether or not this place is actually doing anything wrong. Now as you might have guessed already, Fetish Dude is here to look at the experience provided by PornerBros when you visit them. It's a tube with plenty of clips to watch, but will I admire their XXX efforts, or will it be kicked to the curb? Read on – we'll find out soon enough if PornerBros has the goods.
Initial thoughts on PornerBros
Like all tube reviews, Fetish Dude is going to go ahead here and look at the homepage before doing anything else. As is tradition in the business, PornerBros sticks to the tried and trusted method of showing you content before categories – my preferred method of content sharing. The first block with preview panes is devoted to the videos on the platform which have received the highest amount of views in the last 24 hours – seems reasonable enough to me. Scrolling down a little, you'll find the latest releases added to the database, with all displayed options having been added to the archive within the last few hours. In short, this means that PornerBros is an incredibly active destination for you to get your hands on fresh flicks: that ought to come as a massive benefit to most of the folks out there reading right now!
Now as for the preview names themselves on PornerBros, you'll find that they consist of a thumbnail from the video in question, a title, which channel it came from (if any) and the pornstars featured within. One cool touch I like is that next to the length reference, there's a tab that shows you whether or not the scene is available in HD. I'm a big believer that any earnest porn platform out there should only really be outputting high definition smut these days, so it seems that PornerBros is halfway there, based on the frequency of logos I'm seeing here. So all things considered, I feel like Porner Bros is doing a good job insofar as the homepage is concerned. Now then – let's go looking at the channels!
Channels on PornerBros
For those of you who aren't aware, 'channels' is the word used by tubes to describe content that comes from various premium studios. These places often require cash in order for you to join, but PornerBros has special deals with most of them so you can enjoy some of their paid material without opening your wallet. By default, the channels are sorted here based on the number of likes they have, which seems to be a good method. You'll find that they've got works from the likes of JAV HD, Step Lesbians, Reality Kings, 21 Naturals, Exxxtra Small, Nubile Films and Moms With Boys. Perhaps my favorite take-away from this section is the sheer quantity of scenes on offer as well as the diversity of fetishes that they provide. These are all incredibly positive signs for the platform, but hey – why stop here? Let's do a little shopping on the category area to see what wicked niches are on offer.
PornerBros categories explored
So next up, I went ahead and hit the 'categories' link at the top of the website. Here, you'll find all of the most popular fetishes that PornerBros has dealt with, including the likes of Asian, BBW, blowjob, creampie and amateur. They actually don't have too many extreme offers here, but you'll still be able to find bondage, hentai and fisting if you're feeling a little frisky. After you've selected a niche, you'll then be shown all of the suitable material within that genre. It's sorted based on upload date, but can be switched to rating, length or views if you'd prefer to see it presented in another fashion. Note that it's also possible to use the 'filter' dropdown which will give you the option to only see HD scenes or to select durations. I must admit that I found the customization of results really splendid: I feel like a lot of competitive tubes could learn a thing or two from Porner Bros.
PornerBros: the pornstars in focus
The last section of the site that I want to take a look at is the pornstars page. At the time of writing this review, there were around 6,000 indexed girls, all of which have scenes associated with their name. When you visit this page initially, you'll see that it's sorted by default based on the number of subscribers, so naturally, the most popular girls out there are displayed. Names that I feel like mentioning include Brandi Love, Riley Reid, Alexis Texas, Abella Danger and Elsa Jean: I think it's fair to say that insofar as world-class ass is concerned, these are the best in slot! Most of the best broads also have at least 100 scenes, with some, such as Alison Tyler, clocking in with over 300. Naturally, there is a massive focus here on the professional end of the spectrum: you can find amateur videos if you really want them, but I think that PornerBros is best for those seeking HD action of their favorite pornstars.
Finishing thoughts on PornerBros
Well gang: the results are in, and I think I have to admit that by and large, PornerBros impressed me every damn step of the way. It seems as if they've got a great ability to bring you stellar pornographic clips and I don't see them stopping any time soon. Most folks who go here will be unable to hold in their excitement and will no doubt cum – so that's pretty cool, right? Anyway, it's probably best now that you headed on over to the tube yourself: mark my words, you're going to be glad that I sent you there when you see how good the porn on offer is!
I very much appreciate your visit to the Fetish Dude review area – thanks for coming and be sure to look at all of the other XXX hubs and streaming spots I've recommended over the last year. When it comes to sourcing the hottest spots for jerking off, no one beats PornerBros.
Fantastic pornstar database
New videos added hourly
Plenty of HD footage
Fast loading speeds
Some adverts
Not much amateur porn