PornDig Review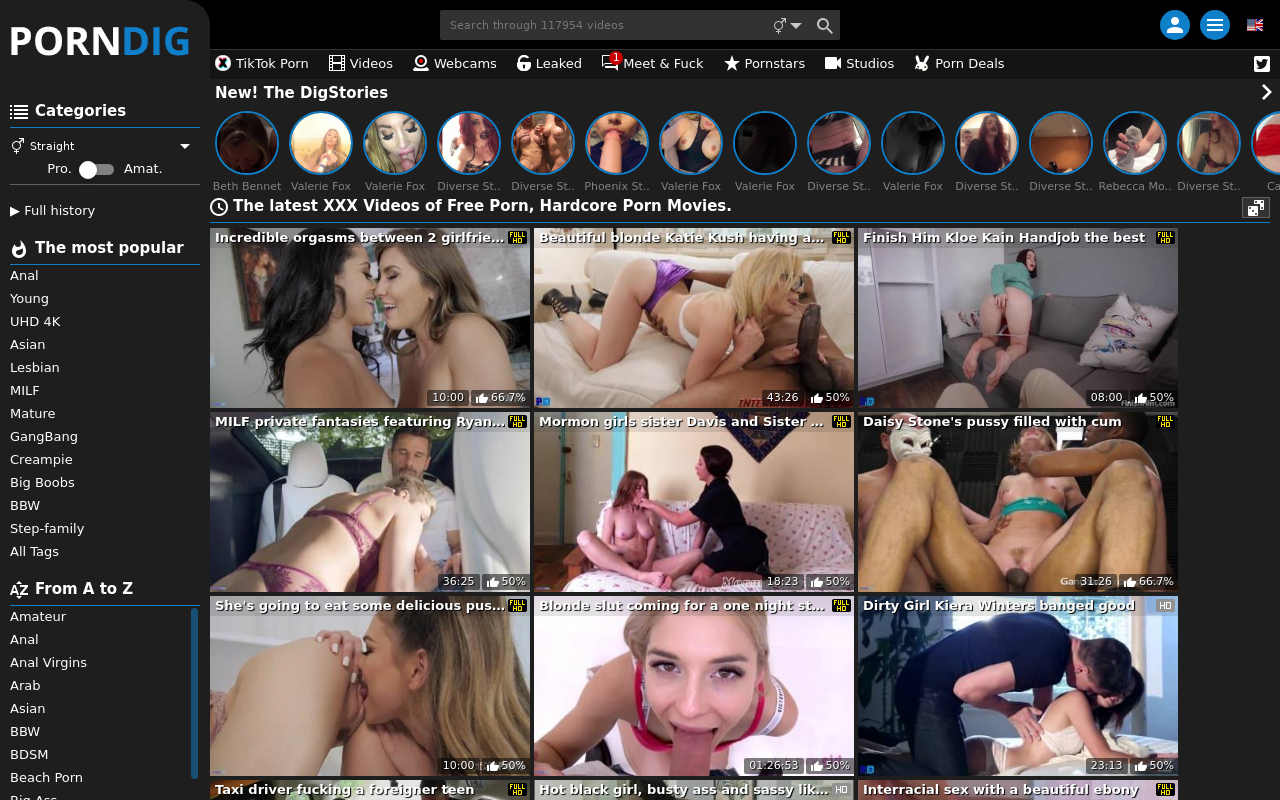 Visiting PornDig for the review
Fetish Dude here – yup, another tube review! These things are becoming a standard part of my experience these days, and I think it's absolutely vital that I continue so that you can know where to go for good quality jerking material. There are lots of spots online that claim to be great when it comes to watching porn online, but I think a lot of them are slow and behind the times when push comes to shove. So, in this analysis, I want to tell you what I found at PornDig and ultimately, give you an indication as to whether or not you ought to make it your go-to for top quality masturbation entertainment. Onward with the review!
The homepage of PornDig
Like all great reviews, I want to go ahead here and talk to you about the homepage of PornDig before anything else. The reason for this is because when you decide that you want to go jerk off to material at Porn Dig, you're likely going to land here first, right? Well, I'm pleased to report that the vast majority of the homepage real estate is devoted to showing you some scenes that you might be interested in watching. By default, the working is based on upload date (as far as I can tell), although it wouldn't appear that there's a way to organize content based on any other metric: weird. Personally, I'd like to see PornDig give you the ability to see high rated clips, or those that are just particularly long. Right now, that's simply not an option!
PornDig preview panes and layout
As you explore this website, you'll find a number of preview panes that contain information which pertains to a particular upload. They're rather minimal here, with a thumbnail provided from the scene, an indication of whether or not it's available in HD, the title, length, number of comments and like ratio. One interesting quirk is that PornDig has a 'Full HD' and 'HD' icon: I'm guessing that the former is 1080p, whereas the latter is 720p. From the looks of the first scenes I'm coming across here, PornDig is very much in the business of giving you access to high definition material. Hell, they've even got some 4K goodness if that's your cup of tea. Sadly, Fetish Dude doesn't have one of those screens just yet – maybe I'll make the investment if places like PornDig continue to offer free 4K porn!
The categories at PornDig
Perhaps one of the most obvious ways for you to get the exact type of porn that you want is via the categories afforded to you by PornDig. It doesn't actually appear to have a section on the site devoted to this (in terms of a page), but you can select what you want to see on the left-hand side. Just above the full A to Z listing, you've got Porn Dig's most popular niches. I was pleased to see the usual suspects here: anal, MILF and massage. If you go down a little, you'll see more boutique offerings, including the likes of BDSM, midgets, fisting, smoking and so on. Suffice to say that no matter what gets you shooting loads, Porn Dig is in a position to make sure that you get it – can't say fairer than that, right?
Exploring a specific PornDig category
I want to put these niches to the test, so I figured it would be smart for me to pick out lesbian as a niche to see what happens next. Firstly, I noticed right at the top of the page that after selecting 1 category, you can go ahead and select 1 or 2 more. This is a nice feature, although I think the design is pretty damn ugly. I'd propose that they tidy that thing up so you're not forced to use a dropdown – what year is this? Now in addition to multiple niche selection, you can also sort based on a bunch of characteristics. Currently, PornDig supports the ability for you to organize their free sex videos based on number of views, rating, comment count, length and upload date. Additionally, you've got a quality dropdown here, which I think is absolutely fantastic. I wish more tubes did this, since you can set a 'minimum' quality for what you want, ranging from 360p all the way up to 4K. My hot tip: hit the 720p option if you're only looking for stuff that's decent.
The pornstar experience with Porn Dig
If you're someone that receives pleasure from watching one particular model taking cock, then it might be in your best interests to visit the pornstars page. As the title suggests, what you're going to see here are the sexiest sluts in the game that really know how to enjoy hardcore sex. Some of the ladies featured include the likes of Lisa Ann, Asa Akira, Riley Reid, Alexis Texas and Brandi Love. My only complaint is the fact that they include male actors here too – turn that off by default and allow me to enable it if I really want to see cocks. Sure, Mandingo and Manuel Ferrara might be hot to a lot of other people out there, but I'm only coming to PornDig because I want to check out the ladies! Fetish Dude is bisexual, but I'd be lying if I said I preferred men over chicks – I know that everyone else feels the same way too!
The final say on PornDig
I don't want to bore you with any more reasons as to why it's a good idea to check out PornDig. Look, this tube is one of the best I've come across and yes: they really are that good when it comes to giving you porn. Although the interface could do with a little work, the features that they have here are some of the best that I've across. If they address a few key problems, I can see Porn Dig easily being one of my top five recommendations. Anyway friends: that's it from me! Thank you so much for reading and have a great day. I've been Fetish Dude and it's about damn time that you went and jerked off your little ding dong.
Pornstar category section
Lots of niches
Quality filter feature
Regular new releases
Some interface issues
Default male pornstar display