Porn4Days Review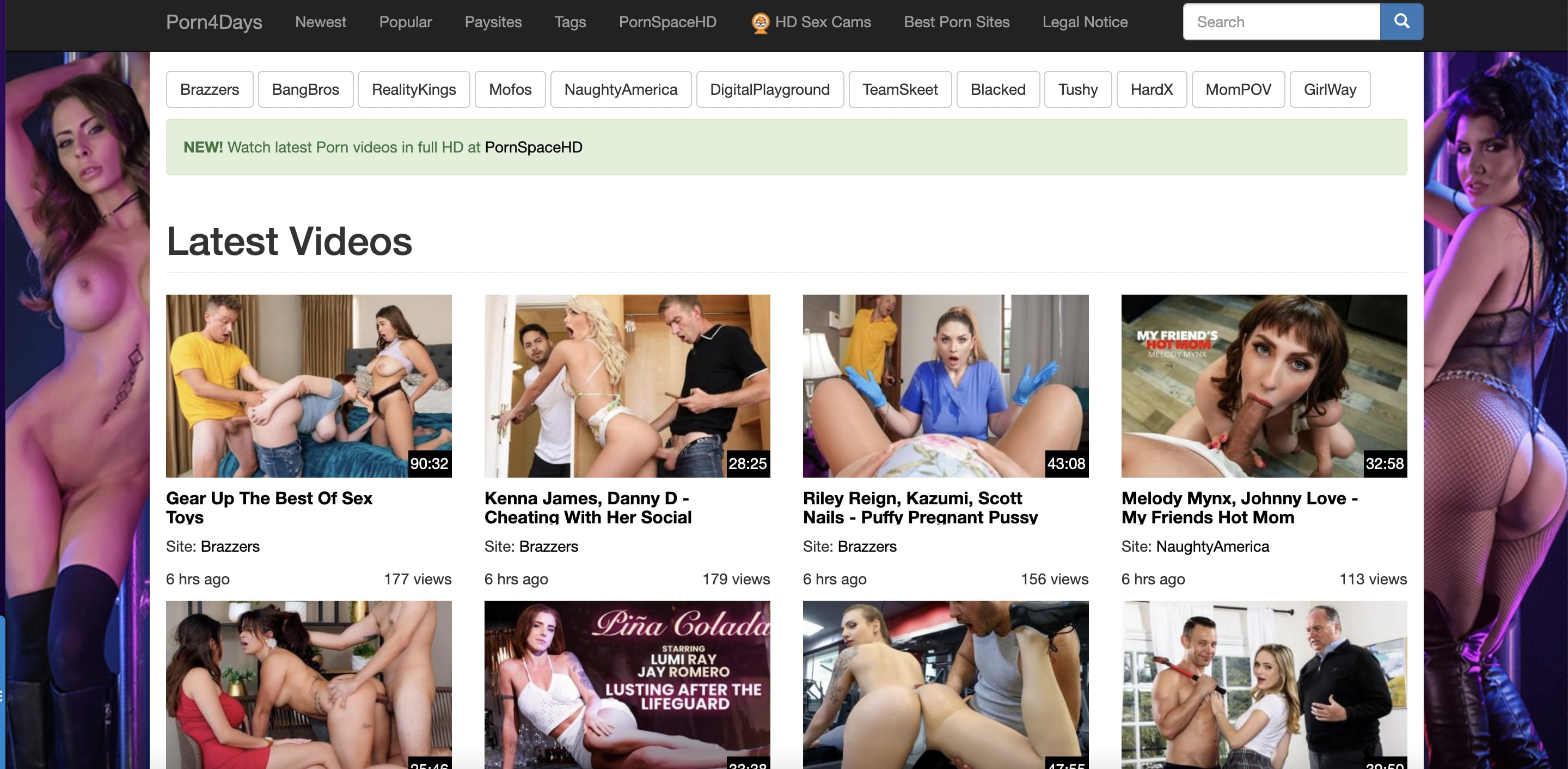 Fetish Dude visits Porn4Days
Okay gang: you know the drill by now, right? I'm Fetish Dude and my job is to scour the Internet for the finest destinations that offer the best, most erotic experiences known to man. I've been working on this project for a long time now and I always enjoy going out there for the purposes of bringing home gold. In this particular case, I'm going to look at a tube called Porn4Days: looks decent on the surface, but will the juice be worth the squeeze? Continue reading and I'll let you know what's what when it comes to this particular video streaming service.
Initial thoughts on Porn4Days
The homepage here is devoted to showing you a bunch of scenes that you can instantly click on for the purposes of watching them. I personally prefer a static display, but the first section you'll come across has a scrolling bar – similar to a slider – that shows off various clicks you might be interested in checking out. Just below that, you'll find the static section of Porn4Days which showcases the latest videos added to the archive. Flicks flow in here on a daily basis, so be sure to come back every day and you'll be sure to have some fresh porn videos to enjoy. The homepage really doesn't have much else, so I suppose it's probably best that Fetish Dude goes ahead and explores other parts of the site. Sound like a plan? Sure does to me!
The Porn4Days channels section
I think it's fair to say that the vast majority of the content that's displayed here comes from professional outlets, so I hope you're in the mood for some top-tier smut that comes from some of the biggest producers on the Internet. Clicking on the 'paysites' navigation link, you'll be shown a bunch of different studios that all provide Porn 4 Days with juicy content. Names that you've likely come across before include Evil Angel, Reality Kings, Perfect Gonzo, Mofos, Team Skeet and Perv City. Fetish Dude is happy to see quite a variety of niches on offer here – that's brilliant for anyone that's particularly interested in enjoying a sub-genre that gets their cocks nice and hard. My only complaint about this particular section fo the website is that you have zero preview thumbnails here – doesn't make much sense to me, but that's how it be.
After picking a channel, you'll then be taken through to all of the videos associated with that outlet. I believe that these are sorted based on upload date by default, but it wouldn't appear that you have any ability to change the structure – quite disappointing if you ask me. Porn4Days ought to go ahead and allow us to organize the material here based on view count, rating, length and number of comments. This is how the adult business works and yeah: it's a damn shame that they don't assist to that end. It would certainly make the exploration of content a hell of a lot easier. Personally, I feel that the 'top rated' buttons are some of the best to use the sites out there. At least Porn4Days has a generic one in the header, but these are bound to any particular channel, which kinda sucks.
Other downsides of Porn4Days
There are quite a few adverts here, which is standard for a tube website, but I still think that it's worth mentioning because I'm not a big fan of that fact. The embed area is okay, but I think that they really ought to allow you to fiddle with the quality if you want to downgrade it. It's nice that you have HD for a lot of the uploads here, but how about you give us 480p choices if we're on a crappy rig or just have a poor Internet connection? I'd also like to see an enlargement button for the video without it going into full-screen: similar to how YouTube does it.
My conclusion on Porn4Days
I think I've ran out of time to dedicate to this particular review – while there were a few issues here, I won't pretend for a minute that this isn't a great spot to get your hands on some seriously good pornography. The main selling point here is your ability to get top-tier porn from a single destination that's full-length, HD and easy to download. Note many tubes provide this, so I'm more than happy to just sign off on the project and say that you ought to check it out. Sure, it might lack amateur porn, but who the hell cares when you've got such gorgeous professional ladies in the mix?
Thanks so much for reading the full review on Porn4Days presented by Fetish Dude. Come back any time for new analysis on the best websites around.
Simple download system
Lots of HD footage
Full-length pro porn
Limited sorting functions
A few adverts