Porn300 Review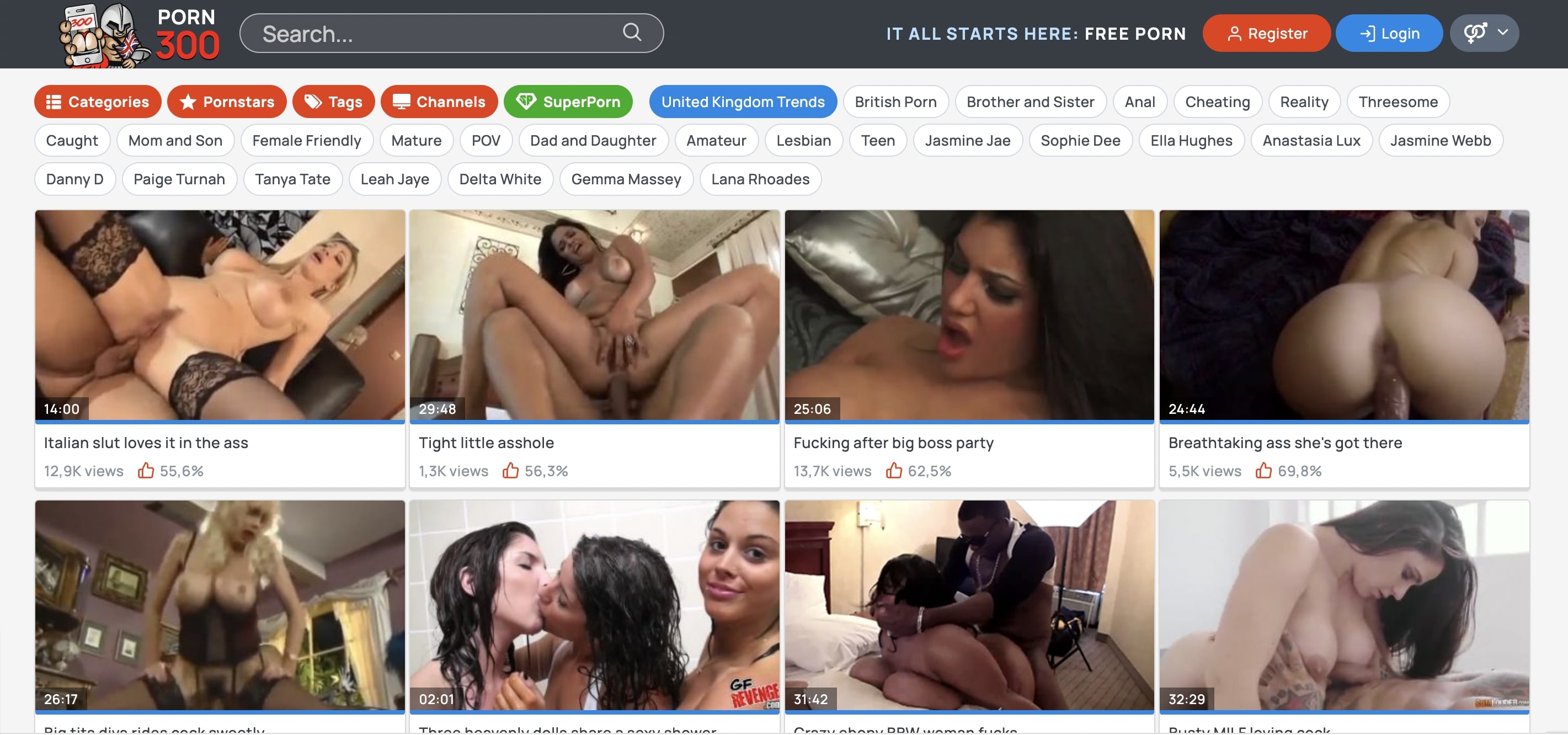 Fetish Dude visits Porn300
Unless you've been living under a rock for the last few years, chances are that you've heard about Porn300. This is, as the name suggests, an erotic destination for you to get your hands on high quality video entertainment that is devoted to the world of mature goodness. Now today, Fetish Dude is going to go ahead and give Porn300 a complete and thorough analysis. I've been here before and I know that what it's got is good, but how good? Well, that's something I'll discover in due time! Read on and we'll learn all about what Porn300 has to offer the average horny punter.
The homepage of Porn300 in focus
So the very first thing I want to mention here is that Porn300 takes a slightly different approach than most websites when it comes to content access. The standard tube will display a bunch of videos on the homepage, but Porn300 elects instead to give you access to the niches first. There are a lot of popular ones here that I'm sure my genre fans will be pleased with: options such as MILF, incest, shemale, teen and schoolgirl porn to kick things off, as well as a pretty decent number of lesbian videos to go with those! Next to each category name, you've also got a count, with most categories having at least a few thousand scenes for you to take a look at.
If you do want to take a look just at the clips on offer without committing yourself to any particular genre, hit the 'videos' button right at the top of the page and they'll quickly load up. The only problem I have with this approach is that currently, it doesn't appear as if Porn300 has a way to sort scenes by different metrics, such as upload date, view count, like ratios and so on. They do have a really big archive, though – I'd estimate around 100,000 scenes at the very least! The preview pane area for the scenes is relatively minimal, with just a preview thumbnail and title to work with. Ideally, I'd like to see them go ahead and provide a little more information, as well as expand the title size to two lines: lots of them get chopped off, so you're not entirely sure what you're looking at.
Porn300 pornstars: what's the deal?
In the header navigation, you'll notice that there's a 'pornstars' button that you can click, which will go ahead and refer you to the list of broads who've featured on the platform before. This is a great way to look at the website if you know who you want to see in action. Some of the sexy minxes featured here include Brandi Love, Tori Black, Angela White, Jynx Maze and Bonnie Rotten: a good all-star cast of fuckers, right? Most of the girls here have dozens of scenes too, so you won't have a shortage of hardcore porn to consume. They do have descriptions and a small amount of information associated with them, but it's pretty minimal, all things considered. I think we can just be happy that they showcase all of the scenes on the website that they've been involved with. Personally, I think that this is the best way for you to go ahead and get porn that you want – so long as you know the names of the chicks you enjoy seeing fucked!
Exploring channels at Porn300
For those who aren't aware, channels are basically the premium studios that produce porn – places that people generally pay in order to access, but that you can find free content of if you head to a spot like Porn300. Lots of the major players are on offer in the channels section of Porn 300, which is always good to see. We're talking about the likes of NubileFilms, MassageRooms, BangBros, AssTraffic and TeamSkeet. Suffice to say that if you're in the business of getting premium smut without the price tag, this is a good place to look. They're regularly updated and well maintained too, so it's going to be quite easy for you to find the hardcore pornography that you want from these places. What I really like about the Porn 300 channels situation is the range of niches on offer here. It doesn't matter whether you're interested in heavenly teen action, deep anal dicking or alternative chicks enjoying gangbangs: Porn300 will hook you up with the goodies you desire.
The average video quality on Porn300
I decided to pick out 15 videos at random in order to test the quality at Porn 300. I won't mess you around here: I'd argue that the quality is unusually poor for a place of this size. The reason I say that is because so few of the uploads are offered in full 720p or 1080p HD formats: the best you get is 480p in most situations. You also don't have any quality controls, so on the off-chance that you do get something in high definition, you wouldn't be able to lower it if you have bandwidth issues or a slow PC. I suspect that they just downscale all of the content to save on storage space and individual bandwidth costs, but yeah – this comes at the cost of general quality for the visitor, so Fetish Dude is less than impressed.
My conclusion on Porn 300
There are lots of things that are good about Porn300, but also a few troubling signs too. I think the lack of high definition uploads is a major problem and so many people out there are going to be disappointed about the fact that they can't enjoy the adult material they want at a reasonable resolution and bitrate. Still, Porn300 does have a huge database and it keeps expanding, so I'm hoping that at some point in the next year or so, they go ahead and bump everything up to 720p at a minimum. We're in the modern era of porn and with so many places offering HD smut, I don't know how long I can keep suggesting Porn300 has a place to visit.
Okay folks: that's my review on Porn 300 complete. Thanks for reading and have a great jerking session – peace!
Huge video database
Pornstar index service
Fast loading speeds
A few adverts
Limited HD material