PlusOne8 Review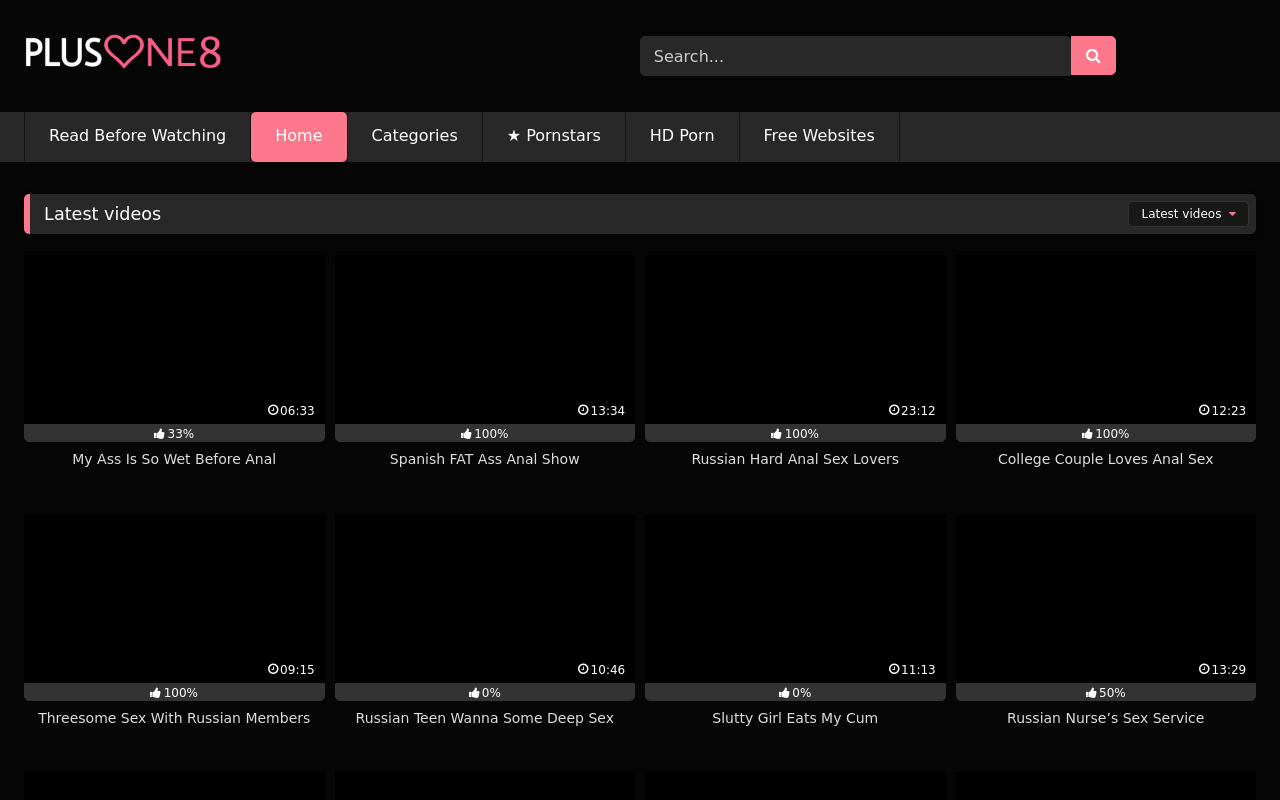 Fetish Dude visits PlusOne8
I'm not entirely sure why these guys decided to brand their porn tube as PlusOne8, but I'm willing to roll with the punch if it turns out to be a good place to go for the average horny porn addict. Fetish Dude's job today is to explore this platform and determine if it's worthy of a recommendation. I'm pretty much an expert these days when it comes to finding out the hottest spots around for adult entertainment, so let's put PlusOne8 to the test and see how well it does, shall we? Read on for Fetish Dude's full, professional opinion on Plus One 8.
Initial security notice on PlusOne8
The very first thing that I want to mention about this project is that currently, you're unable to access the website via HTTPS. This means that if you want to explore their goodies, you're going to have to do it without an encrypted connection. If you're unsure what this means, it essentially allows anyone between you and the server – who has the ability to monitor your connection – to see what you're looking at. This creates a security concern for people on networks they don't control and additionally, for folks in countries where pornography is illegal. Suffice to say that you ought to be careful when visiting PlusOne8 if you're not 100% sure that you can use HTTP and be fine. Okay, enough geeking out – time to look at some porn!
The PlusOne8 homepage
When landing on the homepage here for the first time, the surface-level appearance of PlusOne8 seemed to be totally in line with what I expect from a place such as this. The vast majority of the homepage is devoted to showing you preview panes of videos that PlusOne8 has that you can watch immediately if you decide to click on them. In terms of information you get from the panes, they consist of a video thumbnail, title, like rating, view count and finally, length indicator. This is pretty much what I want from all tubes, except I would like just one tiny additional feature: a HD icon for scenes that are offered in 720p or 1080p formats. That would really make my day, so fingers crossed that PlusOne8 does it in the not too distant future.
By default, the videos are sorted here based on when they were uploaded, so you're getting the most recent goodies displayed first – makes sense, right? There is a dropdown menu in the top right-hand corner of the content box that shows scenes based on their popularity, length and view count if those are more useful metrics given your jerking requirements. Other than that, the only other feature to touch on is the pagination bar at the bottom of the website. This is useful because it allows you to see that with 21 videos on each page and there being 182 pages, the total video archive size here is just over 3,8000 scenes. Suffice to say that this is more than a reasonable number, although still quite a lot smaller than what most competitive tubes are able to offer. Don't worry though – my thoughts on the content are next and it ought to make up for this!
The PlusOne8 porn experience
Almost all of the uploads here come from professional studios where world-class pornstars do the dirty in front of a camera. This is great news for people who want to access media from the biggest production houses out there, because all of your favorites are likely covered. We're talking about the likes of Reality Kings, Brazzers, Team Skeet and so on. Not to mention the fact that a lot of these videos are also full-length, so you'll be getting anywhere from 20 to 40 minutes of hardcore fucking action. To give you an idea of the girls who feature, here are just a few names: Abella Danger, Davina Davis, Blair Willians, Riley Reid and Brandi Love. Pretty good girls, right? They sure know how to pleasure a dick either way.
A final word on PlusOne8
I think that in terms of most requirements, PlusOne8 is up to the task that it sets out to deliver. I had a decent time here, but I can still see room for improvement down the road. Still, Fetish Dude doesn't need all sites to be perfect in order to recommend them, so yeah – it's pretty obvious that PlusOne8 is going to get my endorsement as a result of the facts at hand. They've clearly devoted a lot of time to giving us access to great porn and it's paying dividends. Suffice to say that Fetish Dude is excited going forward – this place already hits the right notes and I'm sure with a few improvements, it'll be top-tier stuff in no time at all.
Thanks a bunch for reading my analysis. Come back any time you need more thoughts and feelings on the best tubes out there.
Pornstar catalogue area
Regular new releasese
Full-length porn
Good average quality
A few adverts
No HTTPS access