PerfectGirls Review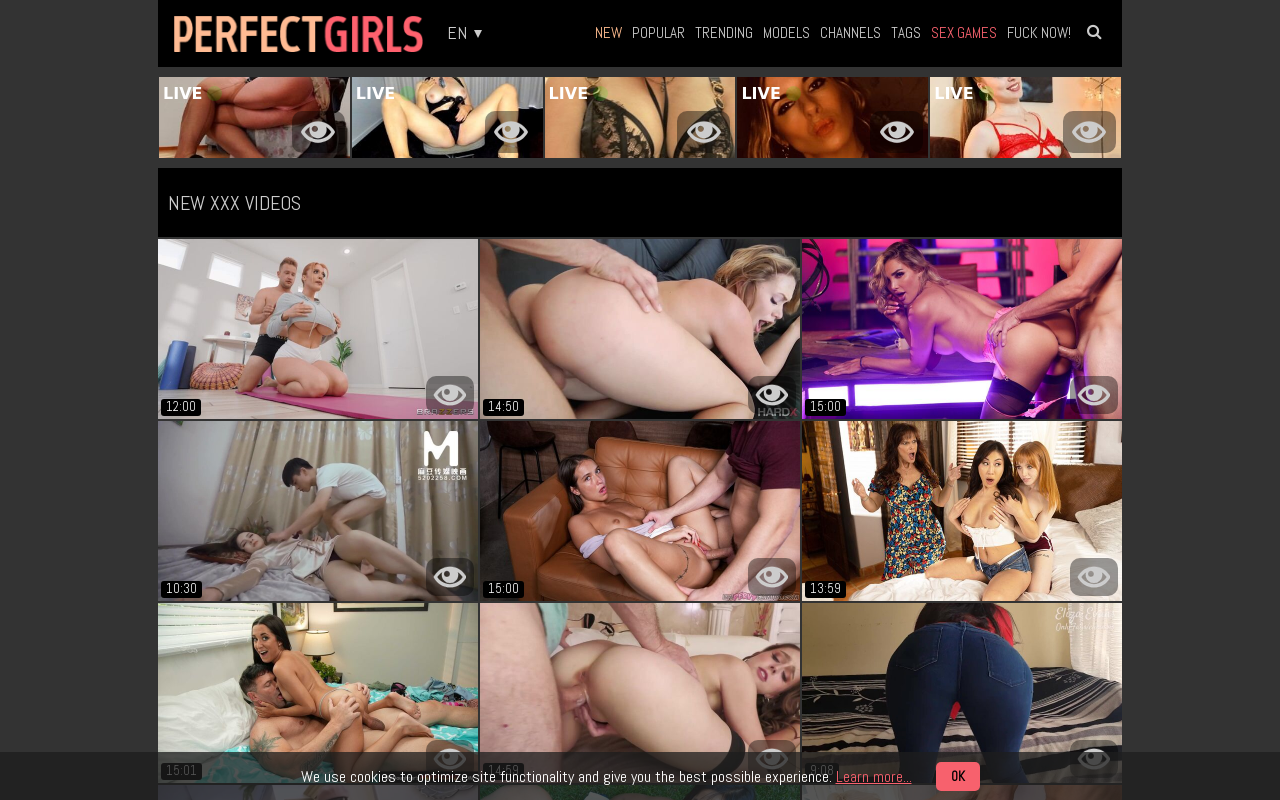 Fetish Dude visits Perfect Girls
Howdy all – welcome to my review website! I'm Fetish Dude and when it comes to uncovering the best places on the Internet to be at for XXX video fun, few people do it better than me. In this review, I'm going to be heading on over to a spot by the name of PerfectGirls to determine if visiting here is actually worth it. With so many tubes online, you've got to have some pretty good stuff going on if you expect to receive a recommendation. So with that being said, how about we continue on and see if PerfectGirls has the goods to make us cum, or is worth avoiding completely. Read on: Fetish Dude will let you know his full thoughts down below.
The homepage of PerfectGirls
So the first thing that I want to look at here is the homepage, seeing as this is where most people are going to be heading whenever they feel like squeezing the hog. PerfectGirls has a relatively standard approach to content display, with the initial landing area containing preview thumbnails from scenes that have only recently been added to the platform. PerfectGirls seems to want to make this their main focus too, since if you scroll down, all you'll find is some pagination to go deeper through the archive. It's fairly basic, but they haven't committed any cardinal sins, so I'll try not to cry too much.
One of the benefits of the pagination display is that Fetish Dude can give you an incredibly accurate reading of the library size here on PerfectGirls. Since there are 52 videos on each page, plus 7077 pages in total, that would make the total number of scenes weigh in at around 368,000 – not too shabby! Another cool feature on the homepage is your ability to hit the 'HD only' button if you feel like filtering out anything below 720p. When doing this, the archive reduced by around two-thirds, meaning that Perfect Girls still has well over 100,000 high definition porn scenes for you to watch. That's a pretty reasonable quantity, so props to the guys for knowing how to pump out the goods that we all need for the purposes of jerking!
Models available on PerfectGirls
Sometimes, it's nice to be able to go ahead and grow your shaft while you look at your favorite model in action. One of the benefits at PerfectGirls is that they actually present a location for you to do this: just click 'pornstars' at the top of the site and you'll see all of the top names in the industry before your very eyes. By default, these are sorted alphabetically, but there is some intended 'popular pornstars' feature which seems to be undergoing maintenance right now, so sadly, I can't get a list of the most popular girls here that you can see. Still, they're accessible alphabetically and you will be able to click on chicks like Brandi Love, Riley Reid, Piper Perri, Janice Griffith and Kendra Lust: not a bad assortment of professional fuckers who've got more than enough experience when it comes to pleasuring big dicks! I think it'd be nice to have some thumbnails attached to these ladies, but I'm not going to cry myself to sleep with the current setup. In this game, you've got to take what you can get when you're horny and your cock just wants to cum!
Looking at the PerfectGirls categories
There are likely quite a few of you out there who would prefer to go ahead and look at content based on genre instead of models featured, which is why it's probably a good idea for you to look at the categories that PerfectGirls makes available. They've got around 25 in total, with lots of the big ones covered, including Latina, BDSM, teen, POV and gangbang. One of the great things about the categories is your ability to then go on and filter the scenes based on a few different preferences, with the exact same HD toggle if you really only want 720p or 1080p goodies. I think that PerfectGirls does a good job of also giving people who are interested in more niche topics what they want via the 'tags' section. There are some real curveballs here and no matter what you're interested in, I'd wager a good chunk of cum that Perfect Girls will be able to provide you with some relevant goodies.
Search feature at PerfectGirls in focus
I decided to take the search feature here for a quick whirl and it was more than reasonable: just typing in 'Asian massage' rendered a number of highly appropriate scenes where sexy Oriental girls were either delivering, or receiving, a massage. PerfectGirls doesn't mess around too much in this regard: some other places would almost certainly serve up a bunch of just massage or just Asian scenes: I like that all I was given was the combination that I requested.
The negatives of PerfectGirls
For the purposes of balance, I do want to touch on the few things I'd improve here. First of all, PerfectGirls doesn't have a channels section, so I can't just go ahead and see porn specifically from Passion HD, Tiny 4K, Sis Loves Me, Kink.com or any other producer for that matter. The material is here for you to access, it's just not organized conveniently. I think that it'd also be a good idea for Perfect Girls to organize their pornstars section a little better, plus throw us a few images, just for identification purposes!
Conclusion on Perfect Girls
Okay friends – that pretty much finishes up everything that I wanted to say on the topic of PerfectGirls. I've had a good time here and I've got a good feeling that if you wait any longer before visiting, you're going to be highly disappointed. At the end of the day, Perfect Girls is a perfectly reasonable place to see hot sluts taking big dicks. Is it the best tube on the planet with zero competition? Nah, but it'll give you a fantastic source of sex videos for you to massage your cock over.
Thank you for reading another top-tier review here by Fetish Dude. Remember to come back any time you need best in slot recommendations on porn sites!
Lots of pornstar archives
HD content filter
350
000+ porn videos
Extensive tag feature
Average scene lengths
No channels page